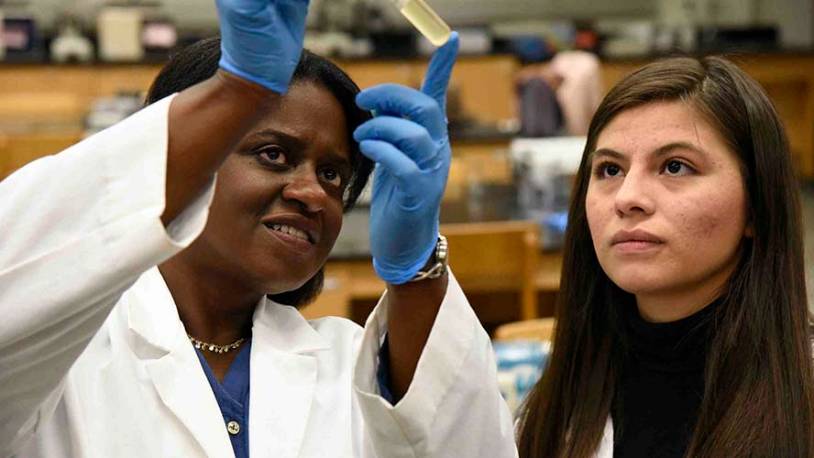 Dr. Rasheeda Hawk, a Life Sciences instructor at Santa Monica College (SMC), calls herself a "biophysicist from South L.A." She attended Crenshaw High School, and graduated from USC in biophysics and physiology. She conducted post-doctoral research at Caltech and at USC's Viterbi School of Engineering, studying breast cancer using photonics (or laser light) to detect minute changes to epigenetic markers on the BRCA gene—the best-known genes linked to breast cancer risk—visible 10-15 years before markers for the disease show up in blood tests.
Many of the students in her Science 10 (Principles and Practice of Scientific Research) class are first-generation college students from under-represented groups, who had little or no research training. They say they identify with Dr. Hawk's background and admire her journey to becoming a scientist.
But it was her creative approach to teaching Science 10—an interdisciplinary research course that replicates what a summer internship would be like at a Research I university—that inspired them to apply for, attend and win prizes at two national STEM (Science, Technology, Engineering, Math) conferences last fall, where four-year undergrads, graduate and post-graduate students compete to present their findings. (Many students who've acquired skills in Science 10 are placed in research labs over the summer and throughout the academic year, including at UCLA, USC, UC Irvine, Caltech, and more).
Not many community colleges offer hands-on lab experience, limiting their presence at such conferences. But, said Dr. Hawk, "The feedback about SMC's students was remarkable, with judges saying it was hard to believe that this level of research was being conducted at a community college."
Small wonder that "amazing" is the one word all of Dr. Hawk's students use when asked to describe her.
Pop-Up Labs and Bioremediation
Science 10 is usually taught in three sections, but Dr. Hawk found a creative approach to combine the three—chemistry, biology, and physics.
Because she participates with a study group in Watts, seeking solutions for toxic soil contamination, she thought the class could examine bioremediation, the use of microorganisms to break down pollutants.
For students with limited research experience, she said, "If you're in biology, you'll try bioremediation of oil in water with different microbes. If you're doing chemistry, we'll find a chemical in soil that microbes can eat. If you're interested in physics, we'll use photonics and optics to see what changes we detect in the other groups' experiments."
In addition to classroom instruction, Rasheeda and a technician created a "pop-up" lab to accommodate all three sections in one space. They borrowed equipment from various departments, setting everything up before—and breaking it all down after—each combined lab session.
And all that hard work paid off.
Tough Competition
SMC's STEM students were selected from among many thousands across the country applying to present abstracts and posters at two conferences: SACNAS (Society for the Advancement of Chicanos/Hispanics and Native Americans in Science), in Salt Lake City, Utah in October 2017; and ABRCMS (Annual Biomedical Research Conference for Minority Students), in Phoenix, Arizona in November 2017. (Students have also in the past attended the Southern California Conferences for Undergraduate Research and Louis Stokes Midwest Center of Excellence conference).
At SACNAS, students presented their Science 10 projects. Kevin Canton Mancia and Nayeli Sanchez reported on "Bioremediation of Toluene with Pseudomonas Aeruginosa" (toluene is a byproduct of petroleum refining and pseudomonas aeruginosa is a microbe); and Garrett Parker and Kristian Romero shared their "Index of Refraction for Assessment of Bioremediation Processes," measuring laser light, shot through liquid, to determine how much of a toxin remained after microbial treatment.
At ABRCMS, Kristian Romero and Cole Ten were two of just seven community college students to win awards; of the 2,000-plus student presenters, only 40 were from community colleges. Their presentations were based on work they did during their summer Science Research Initiative (SRI) at UCLA, an internship exclusive to SMC, for which Science 10 is a prerequisite.
Research Inspires Aspirations
Kristian, a Computer Science Major, presented 'Fall Prevention Exercises for Geriatric Patients Using Interactive Robotics.' "Intervening to prevent falls is more cost-effective, in terms of dollars and recovery time for elderly patients," he said. "We found tai chi ch'uan the best balance training exercise." So, he programmed a robot to teach the routine and interact with patients through speech and voice recognition. Kristian has applied to UC San Diego, where he plans to focus on robotics, on his way to a PhD.
Cole used Bayesian Statistics to predict the effectiveness of various bioremediation processes. A Mechanical Engineering major, he will apply to UC in the Fall, specializing in robotic prosthetic design. "Since high school I've been volunteering for a non-profit, Life Rolls On," he said, "which gives para- and quadriplegic patients in wheelchairs the chance to surf and skate." He maintains a 4.0 GPA, while holding down two jobs, volunteering and attending SMC.
Although Limni Hernandez, a first-generation student and DACA recipient, did not win at ABRCMS, she did present her Science 10 research, 'Bioremediation of Oil Contaminated Water by Oil Eating Microbes.' "I had never done research before, and I'm terrible at public speaking," she said. "But I answered questions from the judges, undergrads and even graduate students successfully." Now inspired to become a researcher, she hopes to transfer to UCLA in Fall 2019, as a civil engineering major.
Skills for Success
Science 10 teaches students how to search through scientific literature, create a hypothesis, design experiments, and write abstracts, skills they need for educational and career advancement. During class, Dr. Hawk told them about these conferences, and months after class ended, students decided on their own that they would apply.
For Nayeli Sanchez, the experience was life-changing. The 25-year-old biology major is licensed as a pharmacy technician and has been working at CVS for seven years, planning to become a pharmacist. "But if I hadn't gone to SACNAS," she said, "I wouldn't have discovered the MD/PhD program. Now I know I want to become a pharmacological medical researcher," She has applied to transfer to UC.
Garrett Parker, a Computer Science major who attended both conferences, has already been accepted to Columbia University for Spring 2018, but wants to complete the prerequisites for UCLA School of Engineering. Although still uncertain about Columbia, he said, "I am 100 percent sure I want to get a PhD in Bioinformatics from UCLA."
And Beyond Research
In addition to research basics, Rasheeda taught students how to network and communicate professionally.
Kevin Mancia said her guidance has really helped him. "As a minority student, I felt empowered." He's a DACA recipient and Math major applying to the UCs and CSU, leading him in an unusual direction for a STEM student. "I want to go to law school, to become a patent lawyer, where a more mathematically logical mind is needed for technical patents."
Most importantly, said Cole Ten, "Dr. Hawk has been an outstanding mentor. She doesn't just tell you what you should do, she helps you come up with ideas and solutions on your own, which helps build our confidence and critical thinking skills.
Diversity Encourages Creativity
Before she joined the faculty, Dr. Hawk was invited to speak at SMC's Spring STEM Symposium. She focused on taking diversity beyond affirmative action and quotas, citing the example of a Native American scientist, working on a study to track what bison eat.
"These animals were sacred to her tribe," she told the audience. "There were too many risks involved with tranquilizing them so the researcher suggested identifying food from the DNA in their fecal matter."
That made the study easier to conduct, safer for the bison, and respectful of the tribe's culture, affirming her thesis that diversity engenders creativity, and that diversity in STEM creates new opportunities.
Dr. Hawk's own creativity—as well as those of other professors—and SMC's steadfast support of STEM students' success will give them an advantage in the future. "Hands-on lab experience at SMC lets students hit the ground running" once they transfer to four-year institutions, she said.
Eventually their education will align with the establishment of a new biotech corridor, being established in Los Angeles County, that she believes "will create a whole new job market, for community college students and college grads. It's a great time for more students and teachers to being to engage in STEM education."
* * *