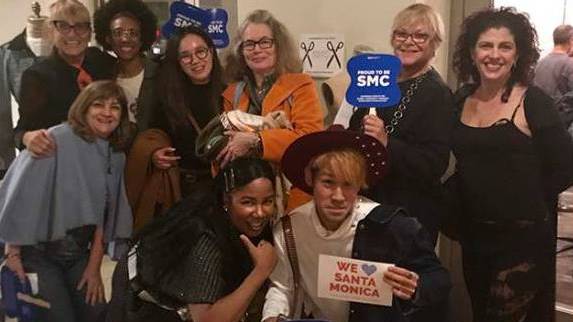 SMC Photojournalism professor and Corsair adviser Gerard Burkhart is out in the Mojave Desert working on his "artist-in-residence" project—Gerard was selected as the Mojave National Preserve Artist in Residence for 2018. So far, he has survived cold weather, a shut-off of water in the campground and a government shutdown, but he has some sublime art to show for it. Check them out on Gerard's website.
---
The Other Conquest ("La Otra Conquista")—the acclaimed feature film written and directed by Salvador Carrasco, SMC film production faculty lead—was screened on January 18 as part of a film series sponsored by the Armand Hammer Endowment for the UCLA Center for Medieval & Renaissance Studies. The screening at UCLA's Royce Hall was followed by a Q&A with Salvador. Set in the wake of the Spanish conquest of Mexico, "La Otra Conquista" explores the personal, social, and spiritual dimensions of conquest through the eyes of a young Aztec scribe.
---
Now, students enrolled in Adelante and Black Collegians can look exceptionally sharp and professional for that interview! Counselor Paul Jimenez is pleased to report that a partnership with the Business and Fashion Design departments gives students access to the career closet and all the options within: a full suit, a shirt or blouse, accessories. "The aspiring student can now walk into any formal occasion feeling empowered and polished just as any young professional should," Paul wrote, and we agree!
---
Entertainment Technology Professor Walt Louie is proud to report that his third collaborative film — produced and directed by Sharon Yamato, and which Walt edited — had its LA premiere at the Tateuchi Democracy Center. This is the third film edited by Walt dealing with issues related to the internment of Japanese Americans during the war. Called "Moving Walls", the film chronicles what happened to the barracks at Wyoming's Heart Mountain concentration camp after World War II. Read a Rafu Shimpo review of the documentary.
---
Philosophy and Social Science Professor Eric Oifer was interviewed by Business Officer, NACUBO's award-winning flagship magazine, about the GRIT Initiative at Santa Monica College. The article was an overview of how SMC developed practices and activities putting non-cognitive strategies at the center of efforts to enhance student success; you can read the Eric Oifer article.
---
Music department faculty member Brian Driscoll was commissioned to write a five-minute anthem for 8-part choir and organ dedicated to the retiring sixth Bishop of the Episcopal Diocese of Los Angeles. The piece, a setting of an excerpt of Rudyard Kipling's poem "If" and extracts and quotes inspired by the Bhagavad Gita, was premiered on November 4, 2017, by the Cathedral Singers of St. Paul's Pro-Cathedral, Los Angeles, led by the cathedral Choirmaster and accompanied by the cathedral Organist, at a benefit dinner and retirement party for 400 guests.
---
And in more faculty accomplishments, Theatre Arts instructor Crystal Robbins was granted Master Teacher status of the Lessac Institute of Voice and Body Work in January. She becomes one of six Lessac Master Teachers in the world. She has taught Lessac work in the Theatre Arts Department at SMC since 2000 and has also created workshops for professionals interested in a comprehensive kinesthetic approach to speech.
---
There's not just one but two fashionable brags from the busy Fashion Design & Merchandising division! The "Beyond The Label Sustainable Fashion Show" at the SMC Pavilion showcased students' "Chop Shop" deconstructed denim and discarded concert tents repurposed into jackets so outstanding that they made the cover of The Apparel News! Associate Professor of Fashion Lorrie Ivas shared SMC's fashion mission to over 300 sustainable-minded style enthusiasts who attended—and the students received much praise!
---
Talk about a woof-worthy brag: SMC Fashion students designed Halloween costumes for canine models and their humans for the LA Haute Dog Fashion Show benefiting Canine Companions for Independence ®. David Arquette was the MC at the style- and charity-centric event. Lorrie Ivas and Jan Ardell were the SMC organizers.
---
It was a literal and figurative journey through history: This past fall, Life Sciences instructor Deborah Novak and her 10 year old daughter completed a three-month American history road trip (9,743 miles through 24 states in a camper van). They started in the north with Native American history, and then journeyed east to study the 13 colonies, and then south for Civil War and Civil Rights. It was the adventure of a lifetime! Don't miss their blog: usroadtrip.blog
---
The SMC Dance Department will take 18 students to study dance in New York City for spring break this April. Students will be introduced to the dance capital of the world, attend master classes, panel discussions, and company rehearsals and performances; they will also do research on the NYC dance scene and attend potential transfer destination universities and arts events.
---
In more laudable brags from the Dance department: this past fall, four SMC Dance majors were chosen to study on scholarship at the 2018 Dance in Florence Italy summer intensive! With support from the SMC Foundation, the Dance Department also hosted BODYTRAFFIC, LA's premiere contemporary dance company for a Company-in-Residence program in the fall. And this March, the department will host Bill Evans, one of the most esteemed dance educators in the world for a residency that includes advanced-level modern dance classes, a piece of choreography for SMC's Synapse Dance Theater and a pedagogy workshop for SMC Dance faculty.
---
Through his Chair of Excellence grant, Dance Professor Mark Tomasic will host a teaching residency with a faculty member from UC Santa Barbara this April. SMC dance majors will have the opportunity to take advanced level classes and learn about transfer opportunities to UCSB.
---
Greg Schreiner, associate professor of piano, has a popular musical revue show called Hollywood Revisited. Greg is proud to report that his show performed at the Greystone Mansion in Beverly Hills as a fundraiser for the Conservancy of the Greystone Mansion. Preceding the show was a dinner hosted by Wolfgang Puck. The show featured Greg and his cast wearing actual costumes worn by the great stars of Hollywood in films from the Golden Age of Hollywood. The show will be performed at the Broad Stage on Oct. 6; see hollywoodrevisited.com for pictures and more.
---
English professor Mario Padilla's story "Le Château Possonniére" won The Tulip Tree Review's Fiction Contest for 2017 and was published. And his collection of stories Scales and Other Stories was nominated by Red Hen Press and Snake Nation Press editors for a Pushcart Award for manuscripts that were finalists and deserve to be published. Congratulations, Mario!
---
Professor Harry Gill gave a TV interview about the movie producer Hal Roach, called "Hollywood Pioneer: The Life and Times of Hal Roach". Harry also wrote a book about him—Roach is most widely known for making the Laurel and Hardy and Our Gang movies.
---
Kevin O. McKeown, Conductor of the SMC Wind Ensemble, was the guest conductor of the ABODA's 2017 State Honours Ensemble Program held at Griffith University in Brisbane, Australia. He had the honor of leading 90 of the top high school wind band students from the Queensland area in a memorable performance, along with a professional development lecture entitled "Band Tuning via Just Intonation" directed at local music education teachers and professors. Kevin is a proud SMC alum, and also conducts the Wind Ensemble at UC Irvine and is Director of Bands at Samohi.
---
Tre'Shawn Hall-Baker, Interim Dean of Human Resources recently completed a Ph.D. in Management with a concentration in Human Resources Management. Her dissertation area of study was (appropriately!) conflict, knowledge management, and collective bargaining in California public schools.
---
It was an athletic sprint of sorts! Nedra Brown, assistant athletic director and the Athletics department is proud to report that a first-ever "Priority Registration" event was held for student athletes in Fall 2017…and it was a huge success, with over 150 student athletes registered for the Winter and Spring semesters. Athletics is particularly grateful to the Counseling and Academic Affairs colleagues who assisted in this effort.
---
Modern Languages instructor Hagit Arieli-Chai is pleased to report that her presentation/lecture "Technology in the Hebrew Classroom: Incorporating Technology in the Classroom Using the Three Modes of Communication" was well-received at College of the Canyons! The goal of the lecture was to show how technology in a second language instruction allows students to reach global competency, and meet American Council of the Teaching of Language competency standards.
---
Santa Monica College is now an IRS-approved Volunteer Income Tax Assistance (VITA) Center! VITA site coordinator for SMC, Accounting Professor Cesar Rubio reports that we are now officially known as SMC VITA, and will be providing FREE tax return preparation services to eligible students, staff and community starting February 9 through April 7. For more details on days and hours of operation, please visit the Business Department website.
---
Vicki Rothman is proud to report that SMC career counselors are better equipped than ever to help students prepare for their dream careers—thanks to certification trainings they participated in Spring 2017 for the Strong Interest Inventory and MBTI career assessments. Check out the Career Services Center's website for more information on all their services. A past SMC in Focus feature article on the Center is also available.
---
Laurie Heyman, Administrative Assistant in the Human Resources department is the patient liaison for a group called FSH LA Connects (all of the members have a genetic mutation which results in a type of muscular dystrophy called Fascioscapulohumerol Muscular Dystrophy, or FSHD for short). Last fall, Laurie coordinated a first-ever Los Angeles area patient conference under the sponsorship of the nonprofit FSH Society. 75 attendees interacted with scientists, doctors and physical therapists about cutting edge research—there is currently no cure or drug therapies for FSHD. Santa Monica College's Bundy campus was the venue…and Laurie gives a special shout-out to Linda Sullivan, Associate Dean of Facilities Programming, for making this happen!
* * *