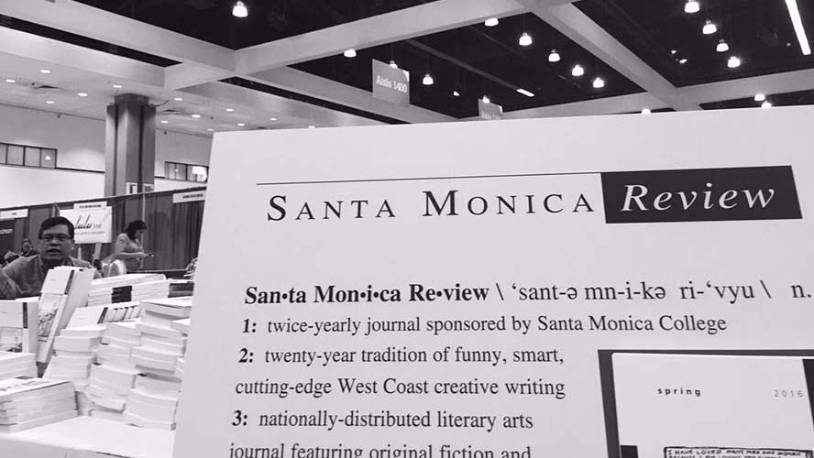 This year—fall 2018—marks the 30th anniversary of Santa Monica Review (SMR). The national literary arts journal published by Santa Monica College (SMC) showcases the work of established authors alongside emerging writers, with a focus on West Coast fiction and nonfiction; it happens to be the only nationally-distributed literary journal at a community college.
SMC publishes the Review twice a year as part of its mission to promote literacy and the literary arts, and to support writers. A number of stories, essays, and other works that have appeared in the Review have also been selected for publication in the annual Pushcart Prize, Best American Short Stories, and PEN/O. Henry anthologies.
SMC has also hosted a booth featuring Santa Monica Review, with free copies as gifts, at the annual Los Angeles Times Festival of Books for most of the life of the festival.
How it All Began
"The idea for Santa Monica Review sprang, as nearly as I can tell, straight from the brain of then-SMC President Dr. Richard Moore," said poet, novelist, and SMR founding editor Jim Krusoe. "It was 1988, and I was being considered for a full-time teaching position at the College."
Dr. Moore, Superintendent/President of SMC from 1974 to 1994, was known for his innovative and creative approaches to encouraging learning. "It was only when I was at my actual job interview that Dr. Moore asked me what I thought about starting a literary journal," said Jim. "I gulped and—because I really, really needed a job—I answered I thought it was a great idea."
Jim, who had prior experience editing two literary magazines, pointed out to Dr. Moore that if it was to be a serious journal, it should not be expected to pay for itself. "I knew of no literary journal that ever turned a profit," said Jim. "Dr. Moore thought for a minute, weighing this information, and we shook hands on it. I got the job, along with the Review."
Jim quickly established the Review's credibility as a serious literary arts magazine with an eclectic mix of works by national and international writers. The Review also gave new writers "a chance to have their work seen with the best," he said. "Our early issues featured Ann Beattie, Joyce Carol Oates, Charles Baxter, Barry Hannah, Ron Carlson, and Guy Davenport, all of whom were generous enough to lend work—for payment in copies!—to a start-up magazine. In those early issues, we also debuted writers who are still publishing in the Review and elsewhere."
Jim edited the Review for its first six years, then handed the position to Lee Montgomery and continued teaching at SMC and juggling his own writing projects. Under Lee—who went on to author the award-winning The Things Between Us, A Memoir and Whose World Is This? Stories—the Review published work by writers Aimee Bender, T.C. Boyle, Michelle Latiolais, Carolyn See, Judith Freeman, and Rikki Ducornet, among others.
Andrew Tonkovich took on the role of Santa Monica Review editor in 1999. "I had been a student, as so many LA-area writers were, of Jim Krusoe," said Andrew. "Later, when I was team-teaching a sociology class, Jim found me in the SMC cafeteria during office hours and asked me to edit the magazine."
Andrew—who also hosts Bibliocracy Radio, a weekly literary arts program featuring discussions and author interviews and readings on KPFK (90.7 FM; kpfk.org)—continues as SMR's editor today. "It's exactly the best job in the world for me, a reader, activist, teacher," he said.
Finding New Voices
Under Andrew, the Review has featured work by Victoria Patterson, Diane Lefer, Alisa Slaughter, Paul J. Willis, and Gary Amdahl, among others. "I like to imagine the magazine has filled a nice niche," said Andrew, "with fiction and nonfiction that is smart, funny, sometimes experimental, and voice-driven, with a commitment to publishing West Coast folks, as well as women, who are underrepresented, not to mention finding room for work like longer short stories and, occasionally, novellas. Those two forms have nowhere to go except smaller lit mags like the Review."
For writers, SMR is a friendly platform to launch from or try out something different. The Review's reputation attracts "lots of submissions, and I read nearly everything, just to keep myself honest," said Andrew. "I occasionally solicit from writers whose work I have admired in other West Coast mags. I read a lot generally, partly by way of Bibliocracy Radio."
For author Gary Amdahl, the Review opened new directions for his work. "I moved to Southern California around the turn of the millennium, after a decade in the Northeast," said Gary. "I'd managed to get a couple stories published in Fiction and Gordon Lish's The Quarterly, and was reviewing for NYTBR, The Nation, and some other dailies and weeklies, but it was extremely slow going."
Amdahl met author Greg Bills at the University of Redlands. "Bills suggested I send something to SMR," said Gary. "Eight stories and one novella later, I was able to find a publisher for a collection, Visigoth, which won the Milkweed Editions National Fiction Prize. Andrew and SMR made it happen."
Author Alisa Slaughter, who had already had one of her stories published in a respected journal and was employed as a creative writing instructor, said she felt she "didn't have anything to back up my borrowed authority. Luckily, I sent out 'over the transom,' one of the few short stories I managed to compose, to Santa Monica Review, and Andrew accepted it with unusual warmth and welcome. I see that story—'Failing Elevation'—as the beginning of the time I began to truly work as a writer."
Alisa credits the Review for giving her the mental space and freedom to observe and appreciate the deep structure connecting the places she writes about. "The Review is a treat for readers," she said, "but it is also a small machine for creating courage in writers, due to its openness to a wide range of prose forms and its general sense that all ideas and approaches could walk in the door and find a way to invite a reader to take a chair. I'm quite certain that part of my own identity as a literary person and a teacher has developed out of the magazine's eclectic, vibrant tendencies."
To read more about the journal—including upcoming SMR events and guidelines for submissions—visit the SMR's website. You can also find SMR on Facebook: "Santa Monica Review."
Santa Monica Review is sold at the SMR website, SMC's Campus Store, Beyond Baroque, Small World Books in Venice, and other local booksellers. Copies may also be ordered by mail (Santa Monica Review, c/o Santa Monica College, 1900 Pico Blvd., Santa Monica 90405), and subscriptions are available. Individual copies cost $7; annual subscriptions are $12.
* * *