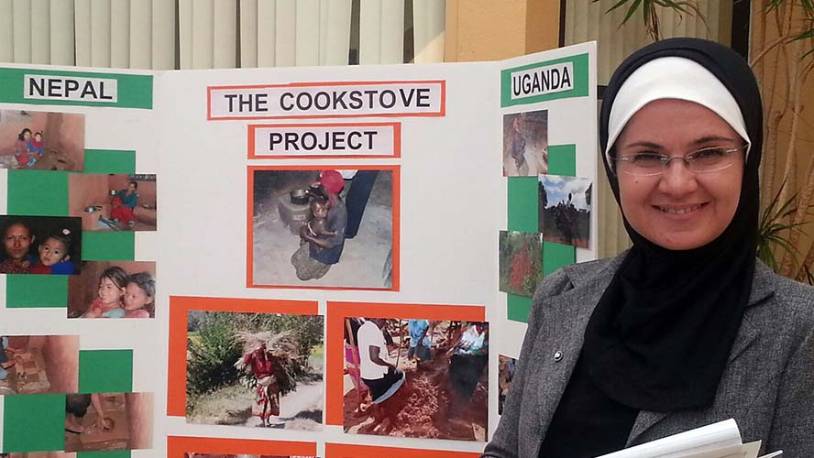 This March, Nilofar Ghasami will be at the United Nations headquarters in New York. Nilofar, who is a Financial Aid student services specialist at Santa Monica College, was selected as the United Nations Association Pacific-Los Angeles' delegate to the 62nd session of the Commission on the Status of Women. Along with representatives of UN member states worldwide, Nilofar will participate in discussions about the challenges and opportunities in achieving gender equality and the empowerment of rural women and girls.
Few there may know the kind of obstacles Nilofar has had to overcome to be who she is today: an educated, independent woman who holds an EdD in Educational Leadership, and a fiery advocate for refugee and immigrant students. Few may know that she almost did not graduate from high school in Iran. But Nilofar wanted to face her fears. She shared her truly inspiring life story with SMC in Focus. You'll want to read this to the end.
A Destiny Arranged
Nilofar was born and raised in Tehran, Iran's capital. Her middle-class family belonged to an ethnic group whose clan-name evoked a lion, the king of the jungle.
"My grandmother used to say that 'a lion is a lion. It doesn't matter if it's a female or male'," remembers Nilofar. At the age of 17—while still in high school as an honors student—Nilofar was married; it was an arranged marriage. There was a rule that disqualified married students from attending high school and then taking the diploma exam under the school's auspices. An option remained: Nilofar could study on her own, and then take the exam. But life happened; she had her first child. The second followed soon after. Before she'd turned 20, Nilofar was the mother of two boys.
"So… getting the high school diploma become just a dream," she said. By the time her boys were in preschool, Nilofar decided to go to a school of fashion design. She earned a diploma. After this success, she said to herself: "Face your fear, Go ahead, and just take your [high school] exam." After almost seven years since she'd been in high school, Nilofar bought all the senior-level textbooks, studied at home for six months, and then took the high school diploma exam. She passed.
The Long Journey Begins
Nilofar and her family would move twice: first to Germany, and subsequently to the United States, in pursuit of a better life for their sons. It was 1998 when they arrived in the U.S. Things were not easy. Her ex-husband earned about $1,000 a month – rent for their apartment alone was $750 – and Nilofar worked as a babysitter for a Sweden family (In addition to Farsi, she was able then to speak only German). She also did alterations for neighbors, working as a seamstress in her spare time and using the only skill she possesed to earn money.
Unsatisfied with the quality of education in the boys' elementary school Nilofar looked for good public schools, and zeroed in on Beverly Hills.
In order to get an apartment, they needed two months' deposit. "God knows how we can do it," Nilofar remembers thinking. She took on a telemarketing job in 1999, working the night shift. After saving up the money, they moved to an apartment in Beverly Hills.
Soon after, with a desire to speak English fluently, Nilofar signed up for an ESL class.
On the Floor, an Epiphany
Around the same time, Nilofar landed her first "real" full time job: as a tailor in a high-end Beverly Hills boutique on Rodeo Drive. She altered clothes for $15 per hour with full insurance. It was in this boutique that Nilofar had an epiphany which would change her life's trajectory.
One day, a celebrity client came in; Nilofar had to fix the hem of her pants.
"I was sitting on the floor, working on the hem, and she was standing tall," Nilofar remembers. "When I looked up at her, I felt so low… even though that was part of my job. I suddenly felt that I was human, and inside me was more potential."
That realization at first made her feel sad, then motivated her to "somehow do something" to change her life. "You know, I was alone here, there were no friends or family to guide me. Some friends advised my ex that I should open a daycare…that would match my kind and loving personality." So, he decided to send her to college to obtain certification in Early Childhood Education to open a daycare center.
"He made the rules and I had to follow them," Nilofar said. She asked a friend to help her enroll for classes at SMC. That winter in 2001, she enrolled in an introductory computer science course.
A Few Bumps, but Then…
That first semester was rough. Nilofar had trouble comprehending the course material, and she did not even have a computer. She ended up with two W's (Withdrawals) on her transcript. The next semester, she decided to try "just" a Psychology class.
"I was so happy after 14 years, coming back to higher education," said Nilofar. She would go on to earn all three certificates offered by the Early Childhood Education (ECE) department at SMC – including the Early Intervention Assistant focus, to work with children who have special needs – and an Associate in Science degree in ECE.
And Then. And Then. And Then.
In the third year of her studies at SMC, Nilofar wrote a personal statement to be considered for a scholarship. It spoke about how her studies at SMC were part of an intensely demanding personal life and schedule. It spoke of how she rose at four a.m., said her prayers (Nilofar is a devout Muslim), did her homework before fixing breakfast and lunch for her children, took them to school, then headed to SMC for classes, worked after classes as student help, then picked up her children from school to take them to after-school activities, helped them with homework, fixed dinner, took care of all her family's domestic needs, and went to bed to begin again at four a.m.
"The counselor who read my statement looked at my transcript and said, 'All A's and B's and you're telling me you get four hours of sleep?'" said Nilofar.
She had done it—excelled in college. Earned those certificates and a degree. Then a friend asked her if she'd applied for transfer, to a university.
"I said, 'No, that is too much'," remembers Nilofar. Because there was just one thing: the only reason Nilofar's then-husband had 'allowed' her to go to SMC was because he wanted her to get certified, so that they could run a childcare center.
"He didn't expect me to be successful," Nilofar said. In spite of that, she decided to listen to her friend and apply to a university. She looked at a list of schools and picked California State University, Los Angeles…well, because it had 'Los Angeles' in its name."
And Then, She was Unstoppable
"It's so funny because fear is your most powerful enemy," says Nilofar, as she remembers how she almost did not follow through – she did not hear of acceptance to Cal State LA, and only made inquiries after a friend (interventions by friends are a common thread in Nilofar's story) told her she ought to follow up with the university's admissions office. Nilofar found out that there had been a technical issue and a letter of acceptance had not been mailed; although she had missed the orientation, she would be able to begin in the Early Childhood Education department. (She also landed a student-help job practically on the spot).
That was 2003. She got her picture ID, was ready to begin university.
"But I was unable to shout out and be happy… because I knew I had to find a way to deliver the news to my ex," said Nilofar.
She told herself to be brave and "just tell him the truth." She pled her case: telling her ex that she would continue to take care of the kids, and provide for the family through an on-campus job. "But just allow me to go to school," she told him.
Of the memory of this supplication, Nilofar said "that was so sad."
She'd go on to earn her Bachelor's Degree in Child Development in just five quarters, with a 3.7 GPA. Around the time that she earned this degree, she also got a job at her alma mater – SMC – as a temporary counseling aide in 2004.
A fellow SMC colleague told her about a newly-established graduate program at Cal State LA his wife was enrolled in; he thought it would be a great fit for Nilofar. He suggested Nilofar speak to the program's director, Dr. Martin Brodwin, a renowned research scholar and teacher. When she met Dr. Brodwin, Nilofar was struck by his resemblance to her father. He informed her of the program's requirements and said, "I think you are going to be a very good candidate… we need people like you."
Out of 60 applicants, 25 were selected, and one of them was Nilofar. She graduated in 2008 with a Master of Science, Counseling in Higher Education – Rehabilitation. As an honors student who qualified for a special grant, she attended tuition-free, another reason why she was able to attend.
"I thought 'I'm done, that's enough'," said Nilofar. But fate, God, a higher force had other plans for her.
A New Beginning
After she finished grad school – with a 3.6 GPA – things rapidly got worse at home, and in 2010, Nilofar divorced her husband. Her boys were 24 and 23, and she "did not see any reason to be sad anymore," especially since they had left home.
Because of her culture's expectations and a desire to give her kids the benefit of a two-parent home, Nilofar had made the sacrifice of staying in the stifling, unhappy marriage. She rented an apartment for herself – the first time she'd lived alone in her life. But it was – is – not easy to rid herself of the effects of a lifetime of negativity.
"It's not easy, to start from zero again," said Nilofar, "even though that negative is not there anymore, your mind keeps repeating those negative messages. It took me years to believe in myself, to realize that I deserve to have a better life. "
In 2013, she applied to a doctoral program at Cal State LA; she graduated in 2016 with an EdD in Educational Leadership and published her dissertation, "Experiences and Challenges of Iranian Immigrants in Higher Education in California." In April 2017, she presented her research – which outlined the difficulties and obstacles facing Middle Eastern students in higher education – to the American Educational Research Association.
Her dissertation and research would become one of many threads in the tapestry Nilofar decided to make of her life, of everything she'd experienced, and above all, of her strong passion to see students at a disadvantage achieve – not just Middle Eastern Students, all students. She would become deeply involved as an advocate for immigrant students, mentoring them on her own time, becoming a member of organizations like the United Nations Association, serving on various SMC campus committees and with the California School Employees Association, and working with students as the co-advisor of the SMC Persian Club, among many others. Nilofar also met with Congresswoman Karen Bass to present the needs of immigrant students that had come to her attention in the course of her research and work.
The Guiding Light
There are two things, said Nilofar, which guided her through difficult times. The first is her faith. "My day starts with prayer, so I cover my eyes and ask my God—whatever you call, god, energy—to make me a very effective person," said Nilofar.
"And the second thing is my children. I was the first person in my family to go through higher education – I wanted to be a good example." Nilofar feels the same desire to inspire towards her students, as a role model from the Middle East, as she does for her boys.
Steve Myrow, retired SMC Associate Dean of Financial Aid and Scholarships, who has known and supervised Nilofar for many years, had the following to say about her: "She is committed to SMC's mission and is dedicated to helping students achieve their goals and dreams. She was always there to help students and staff…with a smile. Nilofar is an example for students and staff—not because of her personal achievements…but for her humanity."
An SMC alum by the name of Gianmarco Denis, one of many Nilofar helped overcome challenges, wrote this about her: "As students, many teachers and educators will pass through our lives without remembrance. Yet, a special few will leave a lasting impression…[Dr. Nilofar's] level of attention and knowledge was excellent, and the help I received was exceptional. It took a special person like [her] to assist me with the extra help I needed…and I will never forget that."
To paraphrase Booker T. Washington's quote, "Success is to be measured not so much by the position that one has reached in life as by the obstacles which she has overcome." It is not hard to see that, by all means of measurement, Nilofar Ghasami is living out her success story.
* * *