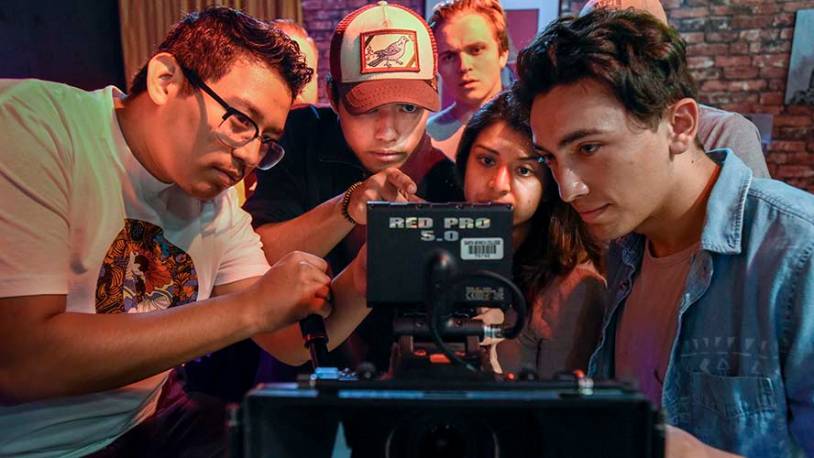 Imagine an app developer in a connected workspace, sitting next to a filmmaker, finalizing the script for a documentary. They strike up a conversation, and the chance meeting inspires an action campaign supporting the movie's cause on social media and mobile devices. Or picture a graphic designer, reviewing a drawing on her laptop screen, observed by an interior architectural design student. The pattern would look perfect in the lobby he's designing for a hotel project. A potential partnership is sparked.
If KCRW (89.9 FM), the NPR station licensed to Santa Monica College, needs a fresh approach to an on-air and online marketing campaign, there's a Promo Pathway student waiting to create it, just across the courtyard from the station's new three-story building, on the same campus.
These are the kinds of creative connections imagined and built into the DNA of the brand-new Santa Monica College Center for Media and Design (CMD), a $115 million high-tech campus located in the heart of the area in Los Angeles's Westside known as Silicon Beach, home to major media firms and some 500 technological startups. The CMD unites all of SMC's media content development programs on one campus.
With its stunning contemporary architecture; technologically-equipped classrooms; computer lab; film, audio, and video production suites; broadcast booths; a complete radio broadcast suite; green screen; collaborative spaces; and a gorgeous 180-seat theatre and auditorium, the CMD is an unparalleled facility for professional-grade, digitally-focused education at the college level. (A café is also in the works).
And those built-in cubbies with connectivity, in quiet corners and public spaces, in hallways and across the bridge between buildings, provide impromptu workspaces designed to catalyze creative sparks between students across the nine academic disciplines housed there.
It's a Real World
At CMD, students can earn Associate degrees or short-term certificates that prepare them for direct entry into the job market in nine areas— Film Production, Entertainment Technology, Film Production, Film Studies, Graphic Design, Interior Architectural Design, Journalism, Media Production, and Promo Pathways—and a groundbreaking Bachelor of Science in Interaction Design (IxD), which cuts across all digital disciplines and is the first of its kind to be offered at a community college.
SMC's Center for Media and Design's dedicated instructors—industry experts with real-world experience—are helping to train students for the creative jobs of today and tomorrow.
"We're working on real world projects," said 28-year old Michelle Aberizk, an Interior Architectural Design student, who has a BA from UC Berkeley but wanted to expand her creative and career opportunities.
"Our professor and advisor, Josephine Hao, put us into an actual design competition situation," said Michelle, "where our team designed a winery and the graphic design students created the labels and signage."
In other cases, students discover opportunities they never knew existed. Evan Pierre, among the first cohort of 20 IxD students who will graduate this summer with Bachelor of Science degrees, worked in live entertainment for five years before coming to SMC. When he decided to seek higher education, he said, he was faced with a choice.
"I could pursue a degree in Design Media Art at UCLA for over $100,000, and come out of it essentially with an art degree," Evan said. "Or I could come to SMC for the IxD program, and for $12,000 to $15,000 all told, I could receive a bachelor's degree in a budding field with high job demand."
IxD, explained Program Director Nicola Vruwink, is an exciting new field, "where innovations such as mobile apps, wearable technology, connected appliances, self-driving cars, and Augmented and Virtual Reality are creating strong demand for a new kind of designer who understands the user and employs a human-centered approach."
And the training has paid off already. With two other members of his cohort, Evan created Playground Vision, a partnership that designed the CMD website and is about to embark on creating the new IxD website.
Old School and New Media
SMC's award-winning student newspaper, The Corsair, also works with graphic design students who create illustrations for the paper. In addition to its online presence, The Corsair is one of the few remaining community college newspapers still publishing in print.
Marisa Vasquez, who finished the last of her three semesters with the paper as Editor-in-Chief, believes that the practice of publishing a print document on deadline teaches invaluable teamwork and management skills.
Moving from a small classroom on the main campus, the new workspace and classroom were welcome improvements; the newsroom at CMD is equipped with dozens of new computers and technology. "We don't need whiteboards and dry erase markers anymore. We have these great new touchscreen monitors in our classroom, where we can pull up stories from our laptops, or do critiques of the paper or our website!"
Film Gets a Cinematic Update
Since his arrival at SMC, Film Production Faculty Lead Salvador Carrasco has been inspiring students to create award-winning films that have screened at the American Pavilion at Cannes, BAFTA (British Academy of Film and Television Arts), as well as at numerous regional, national, and local film festivals. Just a few of their awards include Best Short Drama at the San Diego Film Festival; Best Student Film at the Prague Independent Film Festival; and Winner at the Women's Independent Film Festival.
SMC alum Carrie Finklea, who now works as a production manager at the high-end company Ayzenberg, was an actor who became a filmmaker at SMC, under Salvador's guidance. In addition to her SMC thesis film "Spaghetti Romance," which screened at Cannes, she recently produced a film for USC, which was nominated for a Student Academy Award, and won the Silver (second place) award.
"I'm a little jealous," Carrie said, about the facilities and equipment the film department now has at the CMD. "The technology, the cameras, the green room, the mixing stage, editing booths—they rival professional studios. But the beauty of what SMC's Film program does is to give you the courage to take that first step, and the confidence to find your own voice."
Driven by One Mission
Consistent with the mission of the college and CMD, the philosophy of SMC's film production program is to offer a high level of education at the lowest possible cost.
"What our students experience on a daily basis," said Salvador Carrasco, "emulates a professional working environment that helps make their transition and integration into the workforce a tangible reality. What I'm proudest of are the thesis films that we make, the fact that half of our filmmakers are women, and the soft skills that we teach."
Carrie is paying it forward: "I haven't been in the class for over a year and a half, but I keep coming back to mentor student producers and support them in any way I can. And I bring them in to work on my projects, too; SMC inspires a sense of community and responsibility."
These are early days for the collaborative creative community envisioned by the CMD's leaders. But, said Interior Architectural Design student Josh Haag, the physical design of the campus will undoubtedly encourage the vision. "The layout is fluid, you go through the outdoor courtyard, the buildings wrap around you, and these asymmetrical, geometric shapes and contrasting colors take you on a journey. It has inspired me to think outside the box."
* * *