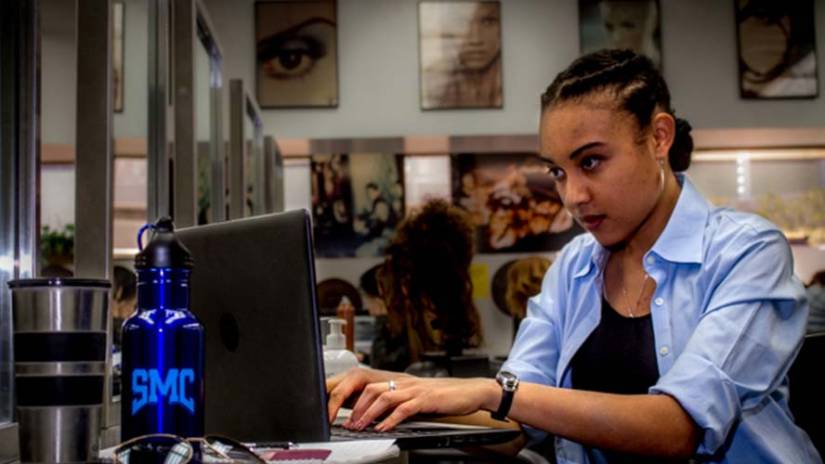 The salon and spa industry remains a growing sector of the economy — and one of the few where women often dominate. When Dermalogica founder Jane Wurwand wanted to empower more salon workers with the skills to open and better manage their own businesses, she turned to Santa Monica College—and its Office of Workforce & Economic Development—to help make it happen.
Together with Dermalogica's philanthropic arm, Financial Independence Through Entrepreneurship (FITE), SMC developed an online, seven-week curriculum covering topics such as financing and capability analysis, salon operations, taxes, leases, insurance, marketing and communications, building a clientele, merchandising and inventory, human resources, management style, and business ethics.
Teaming up to create the course were SMC Cosmetology Department Chair Deborah Perret, instructor Samantha Manuel, and Steven Sedky, a faculty member in the Business Department. Samantha has more than 10 years of salon ownership experience but had never taught an online class, while Steven brought distance-learning expertise to the enterprise, as well as his own business acumen and knowledge of Canvas, SMC's online teaching platform. They developed the program together, with Samantha handling teaching duties.
"When I started my salon business, I didn't have the opportunity to go through a program like this," Samantha says. "I really feel like all the information we've put together would have been really useful for me in hindsight."
A Program with No Borders
So far, two cohorts of students — spring 2017 and fall 2017 — have completed the program, which will continue being refined to keep pace with industry realities and enhance its benefit to students. For instance, Samantha wants to help students walk out of the class with a business plan started.
"I had no idea how to manage my business finances," says Ayo Figueroa, who took the program last year from her home in Maryland. "Learning about business plan development and profit/loss statements was extremely helpful."
Virginia resident Erin Nichols found the course inspiring as well as educational. "I log onto education.dermalogica several times a week to read articles and study products, and I saw the opportunity to take this class. What attracted me most was the question 'What would make me financially independent?'"
A beauty professional with more than 15 years of experience, Erin felt frustrated by always having to work for someone else. After taking the course, her attitude has changed and her ambition grown. "I am a firm believer that when you seek the education, nothing or no one can ever take that away from you," she says. She has since has earned her master esthetician instructor's license, as well as enrolled in more online courses through her local college.
Erin also appreciated that, even though she took the course from her home computer, she felt camaraderie with her fellow students. "I liked receiving feedback from other classmates in the discussion section," she says.
Unbounded by geography, the course has already attracted students from as far away as South Africa. "I was overwhelmed when I saw how widely we could reach," Samantha says.
Before the Dive
The program's success has also spawned a spin-off, shorter, self-paced version, again developed in partnership with Dermalogica.
Launched April 2, 2018, the new global Entrepreneurship Accelerator is a six-hour jump-start into salon entrepreneurship. The initiative was officially unveiled at a major event at UCLA on International Women's Day in March.
"A lot of people in the industry have cosmetology training but no business training," Steven Sedky notes. "This project is all about supporting women entrepreneurs."
Porscha Barclay, who was among the first cohort of students in the pilot course in spring 2017, agrees. "I wanted to learn about the salon industry from a business perspective, which is not emphasized in beauty college."
According to Lori MacGregor, Dermalogica's director of public relations, the company received a lot of feedback from people who wanted to enroll in the seven-week course but could not be accommodated because of space limitations. She says the new, shorter version is more of a "top-line curriculum that touches on what you would need to have success in your business. The idea is that when you complete this course, you will be eligible to take the seven-week course, which is a deeper dive into the curriculum."
Of the longstanding partnership with SMC, she adds: "SMC is in our own backyard, and they're very big on international studies. So they were kind of hitting all the points of the type of student we wanted to cater to for this program."
Unlike SMC's noted Salon Entrepreneurship Certificate, the Entrepreneurship Accelerator carries no academic credit. But it does carry the same advantage of practical, real-world lessons derived from firsthand business experience. And instead of being offered through SMC's online platform, it is being disseminated via Dermalogica's own online platform.
Those participating in both offerings also learn what it takes to build clientele and manage employees in the fast-paced 21st century cosmetology arena. This includes the vital tool of social media. As Dermalogica Global Programs Manager Laika de los Santos notes, "With the rise of social media, a lot of people who run their own business right now haven't been able to catch up with what they need to do." So the courses can actually give aspiring entrepreneurs an advantage over some of their more established peers.
Jane Wurwand wants all women to have the same chance at business success that she enjoyed as an immigrant from the United Kingdom in the 1980s. "We started when we bootstrapped up the company on $14,000 of self-funding," Jane recalls. From there, Dermalogica grew into the leading skincare brand in salons and spas around the world.
Of course, most Accelerator students may not start a global brand, but with cosmetology skills, hard work, and the business knowledge built by these online courses, they can make their own mark in the industry and achieve financial independence.
"I am so thankful to Santa Monica College, Dermalogica, FITE, Professor Manuel, and last but certainly not least Jane Wurwand," Erin says. "As a single mom, I knew I had to make changes for my family and for me as a woman. I was fearful of taking online classes, but Professor Manuel was always encouraging, and she played a huge role in my confidence in enrolling back in school. I cannot stop talking about all that I've learned to whomever will listen."
For more information, and to apply for the Entrepreneurship Accelerator, visit joinfite.org.
* * *