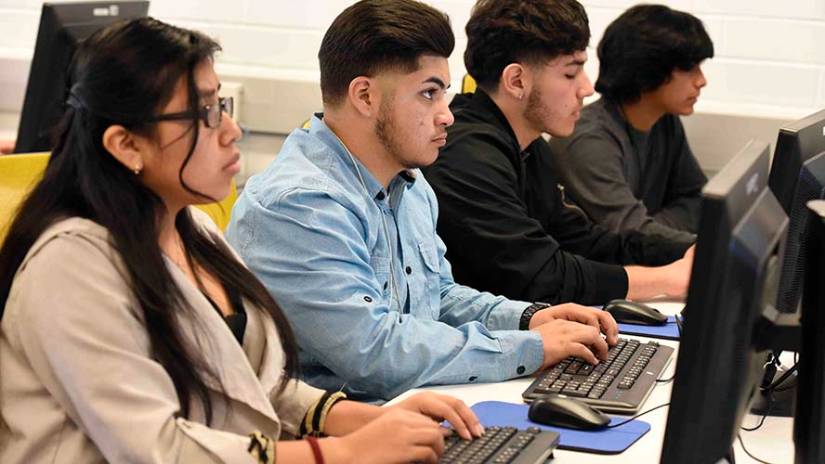 Netflix, Uber, and other corporate giants, along with many startup businesses, have taken to the cloud. Cloud computing delivers vast data capacity without requiring expensive on-site servers and is widely considered the biggest growth arena in technology today. It's also providing a world of new opportunity for Santa Monica College students.
Since Amazon uses the largest number of servers in the world to satisfy the needs of its vast retail customer base, its dominance of the cloud was inevitable. Indeed, Amazon is revolutionizing cloud-based computing so rapidly that the tech profession is struggling to catch up. Fortunately for students and the field, SMC is leading the way to filling the need for certified experts in the platform. The company's Amazon Web Services (AWS) branch offers cloud services through paid subscriptions, providing everything from computing power and database storage to content delivery and more.
In just 15 units, SMC's Cloud Computing Certificate gets students ready to handle both AWS hardware and software. Courses cover programming, database management, security, and other essentials. SMC is currently one of only three community colleges in the nation offering such in-depth training, according to Professor Howard Stahl, who chairs the Computer Science & Information Systems department.
Amazon's AWS branch offers cloud services through paid subscriptions, providing everything from computing power and database storage to content delivery and more. However, AWS has become so popular with businesses, and in such a short time, that the industry lacks certified experts.
As a result, Amazon itself has been cheering SMC's development of the certificate through its AWS Educate Global Initiative. "A few years ago — just one random January — we heard from the person running AWS Educate, saying, 'I hear really good things about Santa Monica College,'" Howard recalls with a chuckle. "Have you ever thought about doing this?"
The answer to Howard was obvious, and that cold call quickly blossomed into a fruitful collaboration. "The people from AWS Educate have been helping us for almost three years now," he says.
David Murray, an AWS solution architect, is among those sharing his expertise in helping shape the curriculum. "We've been advising about how best to prepare students, so no gap exists between what our partners are looking for in hiring and what Santa Monica College is teaching.
For David, the best part of working with SMC "is helping local people and businesses join together in what I think is an awesome enterprise."
Beyond Amazon, Other Industry Partners Weigh in
Numerous technology and other businesses in the region share the enthusiasm. In addition to Amazon, Silicon Beach companies Reliam and Onica are partnering with SMC to ensure the mutually beneficial success of its program and students. Both Reliam and Onica have helped refine the curriculum and plan to offer SMC students internships beginning in summer 2018. They also are working with SMC on a career day and "hack-a-thon" event to help give students additional real-life experience and opportunities to make connections with future employers eager to meet them. As SMC's cloud computing program grows, additional partnerships will doubtlessly follow.
Thanks to SMC's community commitment, even high school students are getting in on the act. "We're working with Roosevelt High School in East Los Angeles," Howard says. Such outreach adds the cloud to the aspirational horizons of the school's motivated students, who are bussed to SMC's Center for Media and Design campus to spend their Saturdays experiencing and learning the cloud and the potential it offers.
"It's great that Santa Monica College is putting this program in place, because AWS is going to be one of the most important technology platforms of the next 20 or 30 years," says Simon Anderson, CEO of Reliam, which manages cloud services and consults in the sector. He compares the growing move toward cloud computing with other paradigm-changing technologies, such as the shift from mainframe to desktop computing and the advent of the internet and web-based applications. He explains that cloud computing is growing dramatically because it frees companies of the need to operate their own data servers and storage on site.
Reliam, Simon notes, "is part of the big public cloud computing trend where you're seeing a massive shift from companies running their own data centers or servers and storage in their own data centers to running applications on the public clouds."
Thanks to this revolution, he adds, "we have great opportunities for young, talented, ambitious engineers and cloud operations team members to come join us."
Onica, which also provides cloud services and is an AWS premier consulting partner, is SMC's other major corporate collaborator in creating the certificate and ensuring its offerings meet industry needs. Since both businesses are experienced in serving clients' needs, they also provide SMC with the customer's perspective in tweaking the certificate's focus, notes Natallia Beliakova, Onica head of operations.
"We can explain what is really important and what matters less," Natallia says. "So we add the real-life customer experience to what students are being taught." Of Onica's plans to participate in hackathons to help students hone their skills outside the classroom, she adds: "They can talk to the people who are at the forefront of cloud implementations every day and really get the answers they need to prepare for their careers in the cloud."
The demand for such experience will only grow in the years ahead. The popularity of AWS has already made the solution architect certification among the most prized in the industry. Employers currently pay an average salary of $121,000 a year to graduates with the training.
Sky's the Limit
SMC instructor Vicky Seno, who teaches some of the certificate's more advanced courses, holds that certification and is dedicated to helping her students earn it as well. "There are a lot of cloud providers, but AWS is definitely the leader," she says. "And it's constantly being updated, so keeping the material new is important."
With 20 years of information technology experience, Vicky has seen innumerable changes to the field and is confident AWS is here to stay. "I've been around long enough to know how hard it was before cloud computing," she says. "I can't say enough good things about AWS, because everyone benefits from it."
Coming to the program with a professional background in software testing, student Jason Baldoni appreciates the curriculum's real-world approach. "I really like the labs and that they keep you up to date about new developments with AWS," he says. "They give you lots of hands-on training."
Jason also looks forward to applying for the corporate partners' internships so he can build experience and put the knowledge he's gaining to work. "After certification, I want to work as a developer or something along those lines," he says. "I know that with Amazon and other companies close by, there are lots of opportunities to learn how to help businesses use AWS."
Forty-five students are graduating with the newly launched program this spring, with another cohort right behind. From there, the sky's the limit as even more businesses — and SMC students — take to the cloud.
"SMC is definitely ahead of the game academically," Natallia observes. Both the college and its corporate partners are dedicated to keeping it that way.
"We hope to work with SMC for the long term," David Murray says.
* * *