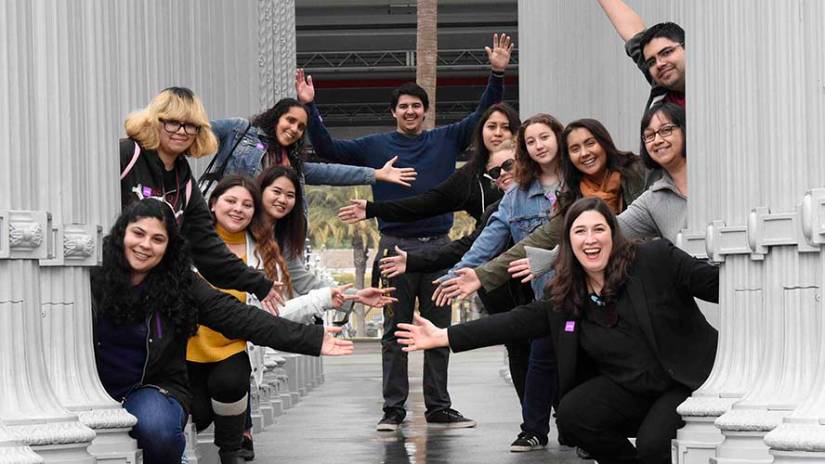 On a recent Saturday morning, as Santa Monica College Assistant Professor Briana Simmons led her art history classes through the "Painted in Mexico: 1700-1790" exhibit at the Los Angeles County Museum of Art (LACMA), the enthusiasm became contagious. "This was the first museum experience for nearly half the students," Briana notes, knowing it definitely would not be the last.
Not only were the students taking in every detail, but other patrons started following along as Briana discussed the works. "They noticed her wealth of knowledge as we asked questions," SMC student Zoe Zarkades says. "And she kind of turned into a museum worker for a moment, going around and answering all sorts of questions."
The LACMA exhibit is part of Pacific Standard Time: LA/LA—an ambitious, multi-institution exploration of Latin American and Latino art in Los Angeles. Some 90 arts institutions in Southern California are participating in Pacific Standard Time, which began in September 2017 with some exhibits continuing through August 2018.
"Los Angeles is a Latin American city, with a lot of Chicano and Latin American artists," Briana says. "I wanted to take advantage of this once-in-a-lifetime opportunity for our students. Some of these pieces of art have never been seen outside their home country before."
This academic year, Briana's classes have also viewed LACMA's "City and Cosmos: The Arts of Teotihuacan" exhibit and "Axé Bahia: Art in an Afro-Brazilian Metropolis" at UCLA's Fowler Museum, and visited the Getty Center to see "Golden Kingdoms: Luxury and Legacy in the Ancient Americas." The latter included some 300 masterpieces tracing the development of luxury arts in the Americas from 1000 BC to the arrival of Europeans in the early 16th century.
Discovering a New World
Briana joined the Santa Monica College faculty in fall 2017 and has already made an indelible impression. Museums can be intimidating for some people, she acknowledges — especially if they have never visited one before.
"I wanted them to feel at ease, so they could truly express what the artwork meant to them and impressed upon them," Briana explains. So in addition to the conversations that day, students challenged their growing confidence in verbalizing the visual by writing papers that compared two items in an exhibit.
Briana currently teaches two courses in Latin American Art History that, between them, span pre-history to contemporary times. She also teaches Introduction to African Art History and a section of Western Art History. Even when students only sign up for her courses to fulfill requirements, they become captivated by her explorations of great works through the ages, how they tie together, and their relevance today.
Chukwuemeka Ofoeze confesses to being one such student. Originally from Nigeria, he came to SMC to study petroleum engineering. Focused on that goal, his main interest was getting a general education requirement out of the way. He decided on Briana's Latin American Art History course covering the region's art, architecture, and visual culture from pre-history to the population's first contact with Europeans.
"It ended up being one of the best decisions I made last semester," he says. "Not only did I learn about the ancient Latin American cultures, but I also got to see many of the arts and sculptures discussed in class in person."
Seeing the LA/LA exhibit added greatly to an already rich experience for the SMC students. The ambitious endeavor celebrated our region's cultural history through thematically linked presentations.
Briana laid the groundwork by covering a number of the works in class before the museum visits. "For example, we learned a lot about the Virgin of Guadalupe and read excerpts from the Book of Revelation," Zoe Zarkades says, "so it was kind of amazing to see all these depictions of her in different artworks."
The students quickly realized that seeing art in person delivered an entirely different, more visceral experience. "The trip to the museum added life to everything I was taught," Chukwuemeka Ofoeze says, noting that the experience also made it more fun to learn.
So Much to Explore
Briana's research focuses on visual history, specializing in the art, architecture and development of Latin America and Africa, as well as the African diaspora that continues influencing the rest of the world. Having earned her PhD from the University of California, Santa Barbara, she was eager to bring her expertise to SMC.
"I really wanted to work with [Professor and Head of Art History] Walter Meyer, because he's very forward-thinking," she says. "SMC's Western art program is very well-established, but there's lots of interest — and room to grow — in courses related to Latin American and African art, so it's a great fit for me."
Nursing major Brenda Islas Romero took the class to learn more about Latin American countries. "I was in love with it as soon as I walked in through the door," she says.
Born in Mexico but raised in North Carolina, Brenda says that seeing the LA/LA contents up close "made her feel great to be in Los Angeles. There wasn't a lot of diversity where I grew up, so I'm in awe of all the museums and cultures represented here. It's really great that I can enjoy all this whenever I want."
She also appreciated getting in touch with her cultural roots through both the class and the exhibit. "I feel like a lot of my history was being put out there for the world to see."
Brenda, who describes SMC as a factor in wanting to move to Southern California, is even considering shifting her academic focus toward more art history courses. "I loved being able to look at all these cultures and their different practices, traditions, and principles," she says.
Unlike most of her classmates, Zoe Zarkades, who holds a degree from the University of Washington and came to SMC to add Spanish to her professional teaching skills, had previously studied art history. Still, she found the experience of studying with Briana Simmons unlike any other. "I've never had the opportunity to go see the art in person, so this was really a unique experience," she says.
Zoe is actually taking two of Briana's courses this semester. "And we're going back to the museum when this exhibit leaves and a new one starts," she says. "She's just so passionate and devoted to student learning that it's really inspirational."
Brenda agrees. "Ms. Simmons is definitely one of the people who made me think, 'Wow, I'm really glad I went with this school.'"
Although the LA/LA exhibitions will end soon, Briana sees lots of other opportunities in the future for her students. "The Fowler Museum is putting on an African art exhibit next year, and the permanent collection at LACMA has many Latin American treasures. There's so much art to explore in Los Angeles."
* * *