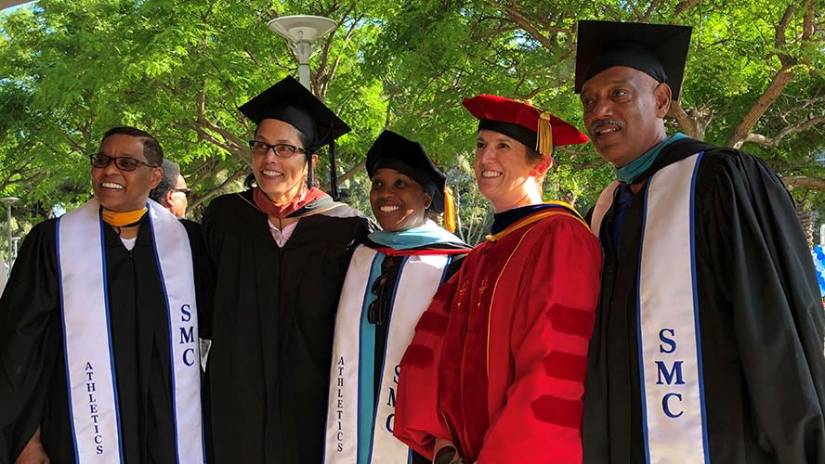 Dr. Georgia Lorenz, who is currently SMC's Vice President of Academic Affairs, was named president-elect of Seminole State College of Florida in April, becoming the school's third president. The school's board of trustees approved Dr. Lorenz unanimously on April 11. The selection of Seminole State's president-elect was the culmination of an eight-month national search. Seminole State College of Florida, established in 1965, serves nearly 30,000 students across six sites in Central Florida, and online. Dr. Lorenz has worked in SMC's Academic Affairs division for over a decade—as Director of Instructional Services; Associate Dean of Instructional Services; Dean of Instructional Services; and, finally, as VP of Academic Affairs. She will be missed at SMC, but we wish her all the best in her new role in the Sunshine State!
---
She describes herself as a "mild-mannered Administrative Clerk, in the Science Learning Resources Center"—by day. However, by night, Nichelle Monroe makes music—she is a multi-talented singer and songwriter. This spring, she released a dance music tune, in the Soulful House (Dance) music genre. The recording, entitled "My Truth" was co-written with Evan Landes of the Groove Junkies ("MOHO" Morehouse records) and William "Reelsoul" Rodriquez. "My Truth" made it to the coveted #1 spot on Traxsource's TOP 20, in the Soulful House genre. "My Truth" is available for download at several digital music outlets including Spotify, Traxsource, and iTunes.
---
The co-directors of the SMC Public Policy Institute (PPI)—Richard Tahvildaran-Jesswein and Shari Davis—are proud to celebrate the completion of the 7th Annual Spring Public Policy Symposium, "Healing: Mending Lives and Seeking Healthfulness Through Innovative Policies and Approaches." Through these annual symposiums, PPI helps students and the greater community explore how individuals can take concrete steps to influence the world around them. This year's symposium featured two documentary screenings (one an Academy Award winner and the other, a student film recognized at the American Pavilion at Cannes), and multiple dynamic panel discussions. More information on the PPI.
---
Yukiko Tsuboi, Associate Professor of Japanese, received a $1,000 grant from The Japan Foundation to start an extensive reading project for Japanese Program students. Yukiko also served as the main judge for the speech contest organized by the Orange County Japanese American Association on March 25.
---
The Hirschl & Adler Modern art gallery in New York—which is unveiling a new space with an inaugural exhibition "Bread & Salt"—features the work of Marc Trujillo, SMC Art professor. Marc's work is featured in "Bread & Salt" alongside gallery artists such as María Elena González, David Ligare, Andy Mister, John Moore, Stone Roberts, among others. You can check out some of Marc's paintings on the Hirschl & Adler website.
---
Emeritus instructor Kathy Cass wears many hats: she is a yoga therapist, a dance/movement therapist, and Ayurvedic health counselor. She shared her many skills by presenting twice at the Expressive Therapies Summit Los Angeles in April. She presented "Ayurvedic Counseling in Clinical Practice: Balancing Seasonal and Life Rhythms" In addition, she co-facilitated a two-day intensive with a team from UCLA Arts and Healing, "Social Emotional Arts on a Shoestring for Individuals & Groups in All Settings".
---
Art History professor Briana Simmons and the Art department is so pleased to report that two students Jihye Choi and Eman Al-Alami received the prestigious Mellon Summer Academy fellowship from the Los Angeles County Museum of Art (LACMA), focusing on curatorial practices. Congrats to Jihye and Eman and their professors!
---
Nedra Brown—Assistant Athletic Director—wants to share an "awesome initiative" that the Athletics department has started. They formed a "Student-Athlete Leadership Team" that consists of two members recommended by their respective coaches to assist with leadership within athletics. The primary purpose of the Leadership Team, Nedra wrote, is to "nurture the leadership qualities our student-athletes have and help to identify others".
---
SMC employees care about others in ways that go beyond . . . and Photography professor Albert Stein is living proof. A volunteer at UCLA's Jules Stein Eye Institute, Albert was featured on the institute's blog; he talked about how his father inspired his curiosity for the healing process, and why he volunteers. Check out the Albert Stein feature here.
---
Denise Kinsella and the International Education department is excited to share that Santa Monica College has won the President's "E Award for Exports". The President's "E" Award for Exports is awarded to a firm or organization that has made significant contributions to the increase of American exports (SMC's education of international students is considered an export). SMC—the only community college among the 43 honorees—was granted the award in recognition of the college's "sustained commitment to export expansion." The "E" Awards Committee was impressed with Santa Monica College's leadership role in the use of partnerships and creative program development to create opportunities for underrepresented markets. Interim Associate Dean of International Education Catherine Weir received the award from U.S. Secretary of Commerce Wilbur Ross at a ceremony kicking off World Trade Week in Washington, D.C., on May 21.
---
The SMC Jazz Vocal Ensemble (directed by Andreas Preponis) performed at the 2018 Oceanside Jazz Festival in April. Plus, ensemble member tenor Paul Plata received an outstanding soloist award and a scholarship to the Long Beach Vocal Jazz Academy in August.
---
Eve Adler, Associate Dean of the Health Sciences Department, and Senior Fellow & co-producer of HealthCetera, a project of the George Washington University School of Nursing just produced a new segment on music and mental health. In this segment, Eve Adler interviews Lori Meono, Psy.D, a counselor at Santa Monica College. Dr. Meono has worked extensively, looking into the integration of music and psychology with diverse groups and populations. Listen to the Eve Adler podcast.
---
A brag from the Department of Modern Languages and Cultures: Dr. Alejandro Lee, professor of Spanish, is in demand this year! He was invited to present Chino Latinos: Diasporic Asians in Latin America for the "Passport to Asia" events at Arizona State University, West campus, on April 9, and his alma mater, Pitzer College, also invited him to deliver a workshop, "El español como lengua heredada" (Spanish as a Heritage Language) on April 20.
---
Another brag from the Modern Languages department! Associate Professor of French Dr. Aurélie Chevant-Aksoy attended the NEMLA (Northeast Modern Language Association) Convention in April 2018 at which she chaired a panel titled "Global Perspectives: Fostering Interdisciplinarity in the French Curriculum" that discussed ways to increase students' completion rate in language programs. She also chaired the roundtable "Inclusion and Exclusion: Teaching LGBT issues in the French Language Classroom", during which she presented on the use of graphic novels and comic books in creating inclusive discourse on LGBTQ issues in the language classroom. Dr. Chevant-Aksoyalso also published the article "Aux frontières de l'histoire coloniale et de l'héritage matriarcal du Vietnam dans Rapaces d'Anna Moi" in the ninth issue of the French journal Litter @Incognita, in September 2017.
---
David Javelosa—who heads up the Game Development program at SMC's Center for Media and Design—wears another, very musical hat. He has been active as a performing musician and independent recording artist since the 1980s and has also composed chamber music (he produced and showcased his opera "One Day Less" at the Edye Second Space at the SMC Performing Arts Center in 2010). This year he is involved in a new vinyl re-release of some of his '80s music as David Microwave, on the Dark Entries label. Professor Javelosa is also instrumental in bringing the Indiecade festival to the new CMD campus this fall. Indiecade is considered the "Sundance of video games" in the interactive entertainment industry.
---
Gerard Burkhart, Photojournalism professor and adviser to The Corsair, was artist-in-residence at the Mojave National Preserve project. The Pierce College student newspaper The Roundup featured Gerard and his work (he's an adjunct instructor there). You can read the article here and check out more of Gerard's work on Gerard Burkhart's site.
* * *