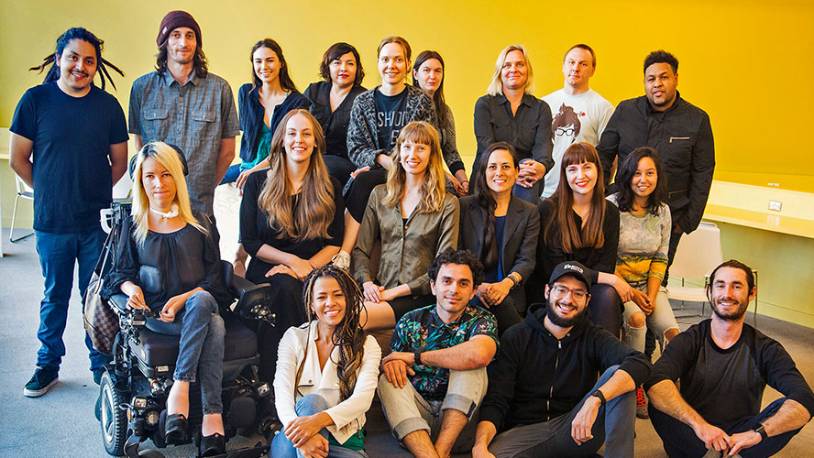 The first graduates of Santa Monica College's Bachelor of Science in Interaction Design (IxD) plan to pursue a broad range of options in this dynamic, burgeoning field. One is passionate about a career in museum exhibition design. Three have teamed up to launch their own user-experience design studio. Another is interested in interactive storytelling.
Santa Monica College is the first California community college to develop such a program; in 2015, the California Community Colleges Board of Governors selected SMC to be among 15 community colleges in California that would offer baccalaureate degrees as part of a pilot program created by the state legislature (SB 850).
The IxD degree blends the fields of design, user experience, and technology to improve people's interface with the digital platforms they use every day — such as smart appliances and mobile devices — as well as interactions with physical spaces and even other humans. Interaction designers ensure that products and experiences are appealing, effective, and intuitive for users. But the tools and knowledge gained through SMC's program can apply to any number of arenas.
"I came into the program thinking I would focus on systems or visual design, and I'm coming out of it knowing I want to use my interaction design skills to shape human experiences in the workplace through human resources, organizational design, and culture development," says Amanda Sanchez, one of the program's 18 newly minted alumni. "Design thinking has become almost second nature now. It's part of who I am and how I think."
A Program for Everyone
Faculty member Selwa Sweidan adds: "While each cohort of students takes the same classes for two years, the students have very different instincts and design approaches. The program exposes them to a wide range of opportunities, allows them to develop their own voice, and prepares them for both current and emerging innovations."
As a designer with clients ranging from Benetton to Unilever Japan who is also exploring the potential of artificial intelligence and other emerging technologies, Selwa exemplifies how SMC's IxD faculty members combine real-world expertise with creative innovation. (Selwa is co-founder of Artificial Knowing, an Artificial Intelligence Design consultancy.)
"Our professors are really passionate and talented," says Kaitlin Jetviroj. She also appreciates being able to study with faculty who hold degrees from prestigious institutions like ArtCenter College of Design and Parsons — at a fraction of the tuition of such programs, which can cost $160,000 or more for tuition alone, compared with roughly $10,000 for the entire four-year program at SMC.
"When you compare the class offerings at SMC against those of the art colleges and more expensive programs, you're getting a pretty comparable experience here," Casey McCallister says. And with SMC's focus on preparing students with skills that are immediately applicable on the job market, she adds, "We really feel like we're ready to hit the ground running once we graduate."
SMC's affordability was an attractive feature to Ana Interiano, who is married with children. After working for several years as a graphic designer, she joined the inaugural IxD cohort to expand her experience and skills so she could "focus on working on designing meaningful projects that have a positive impact on people."
Like Ana, Casey wanted a midcareer change — although the program is actually enabling her to fulfill her original ambition of working for a museum. She previously took courses at SMC with the aim of majoring in art history, but the 2008 economic meltdown forced a change in her plans. She became a law clerk, helping people at an immigration law firm, but her creative itch remained unscratched. Then her boyfriend, now fiancé — who makes apps for Apple products — asked her for feedback on one of his projects and suggested she consider a career in interaction design. After Googling the term, she thought "this is the kind of stuff that I love."
Casey returned to SMC and took fine arts courses in preparation to transfer to a four-year institution for an IxD degree. She benefited from another SMC faculty trait — an eagerness to connect students to opportunities beyond campus. User Experience instructor Jill Vacarra offered McAllister an internship at her agency, Primitive Spark.
"I hadn't even gotten into the IxD program yet, but this course at SMC was so applicable that I could get a job in the field before I even started," McAllister says. "SMC has its fingers on the pulse of what employers are looking for, especially in Silicon Beach, where tech is a really huge industry."
The confidence built by that experience, along with the skills developed in the IxD program, led McCallister to become an exhibit design intern at the Natural History Museum of Los Angeles. "It occurred to me that I didn't have to give up on my dream," she recalls. "I could take the design skills that SMC gave me and circle back to plan A, my dream job at a museum."
Shaping Conscientious, Practical Designers
In addition to internship opportunities, students also engage in group projects with charitable and corporate partners. Projects for this cohort included working with the American Heart Association in addressing the problem of food deserts — communities without convenient access to healthy grocery options — and consulting for business software company SAP on ways to improve the shopping experience at thrift stores and retail entities such as Forever 21.
As someone who aspires to use interaction design for improving lives and communities, Ana Interiano found the food desert project particularly inspiring. "We had to do a lot of ethnography and field research in a specific area of South L.A.," she explains. "My group chose Watts, and we went there every weekend to figure out why it was a food desert and what our team could do to make things better."
Another project enabled the class to make its mark on SMC's Center for Media and Design (CMD) campus, home of the IxD program.
Opened in 2017, the $115 million CMD campus also houses programs in animation, digital media and game design, journalism, graphic design and interior architectural design, as well as the KCRW Media Center. The campus features state-of-the-art studios, production facilities, and an auditorium. "Whatever equipment students need, they have," Selwa Sweidan says.
Of course, even the most expert design can leave room for improvement, so the IxD course Design for Community Change called upon students to enhance the campus experience for students as well as for the public.
"We created a bunch of prototypes and set them up to get feedback from students," Alexander (AJ) Mody says. "Some of them actually made it to fruition. For example, there are now signs that make wayfinding easier."
With a background in technology and web development, Alexander enjoys how interaction design combines emerging technologies with the human touch. "There's all sorts of inspiring stuff going on with haptic [sense of touch] design," he observes. "People can literally feel words at this point — beyond Braille. They're using ultrasound to project words and 3D imagery to feel."
Like his classmates, Alexander says the IxD program provides a firm foundation from which a variety of careers can be launched. "I feel like I can go anywhere with these tools and methods." Right now, his path is entrepreneurial. He and two classmates have launched a user-experience design company called Playground Vision.
Despite their varied interests, the students in SMC's first graduating IxD class enjoyed frequent collaborations and formed lasting bonds through the program's cohort model.
"Going through the two years with a cohort was just so much more than I could have imagined," Amanda Sanchez says. "If anyone were to ask about the best part of the program, I would say the relationships I've formed with the group. We each entered with very different experiences but then all came together."
Casey McCallister agrees, adding, "We're all rooting for each other and helping each other."
* * *