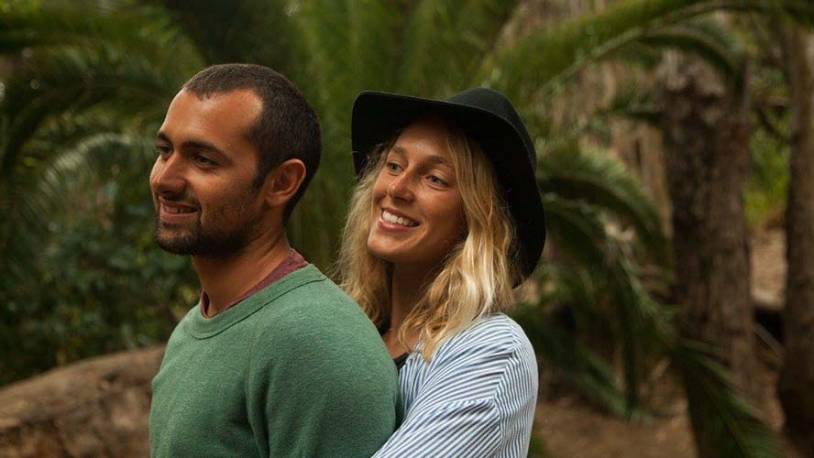 Francesco Camuffo and Beatrice Lanza met in their hometown Chioggia, a village outside of Venice, Italy, when he was 16 and she was 13. They've been together ever since. "I knew right away, but it took him a little longer to figure it out," Beatrice says with a laugh.
They came to Santa Monica College together, where Francesco (now 24) is about to graduate as a film production major, on his way to becoming a professional cinematographer. Beatrice, a 21-year-old art major, specializes in ceramics and plans to transfer in Fall 2019 either to Otis College of Art and Design or Art Center College of Design.
Francesco already had an Italian undergraduate degree in new media, focused on photography, web, and graphic design. But when he began seeking higher and more experiential filmmaking education, he found little he could afford financially to build upon—and progress—what he already knew. Until a friend told him about SMC's award-winning film production program.
"At the Center for Media and Design," says Francesco, "the facilities, the equipment, the instruction, it's all state-of-the-art, so when I graduate I'll have that certificate of achievement to prove I'm ready to work in the field."
Francesco just completed work as Director of Photography on SMC's most recent Film 33 thesis short film, "Out of Touch," directed by classmate Bobby Murphy. "I have always worked as a one-man band, mostly documentary style, but the experience of collaborating on set taught me so much," Francesco says.
SMC student films have won numerous accolades—including a BAFTA nomination, the Panavision Limelight Award at the Ojai Film Festival, Best Short Drama at the San Diego Film Festival, Best Short at the Prague Independent Film Festival, Special Mention at the International Festival of Film Schools in Munich, and Winner at the Women's Independent Film Festival—and have been selected to screen in numerous prestigious domestic and international film festivals. Plus, this spring, "Life in Color" became the fourth SMC student film to be accepted into the American Pavilion at Cannes.
The Mentor's Impact
Francesco and Beatrice also share Art professor Christopher Badger as their faculty advisor in the selective SMC Art Mentor Program. "Beatrice was outstanding in my 3-D Design class," Chris says, "so mature and serious, and she was such an exceptional talent that I invited her to join the Art Mentor program."
When Beatrice showed Chris a film that she and Francesco made of a four-month surfing trip they had taken around the world, the professor was so impressed by Francesco's skills as a cinematographer that he made the slightly unconventional decision to invite them both into the Art Mentor Program.
Although traditionally only art students join the Art Mentor program, Chris's goal is to build a group of students with a diverse set of skills for creative interaction and collaboration across disciplines.
Along with the technological knowledge he brings, Chris says that Francesco demonstrated a desire to expand his practice into more experimental ways of making moving images. "He and his art student colleagues have been well served by having someone with those technical chops in the program."
With another Art Mentor student, Francesco co-created a video installation that was showcased at the March 2018 Santa Monica Airport Art Walk. Chris offers a description of the work: "After making these beautiful landscape videos of desert sunsets, Francesco took the pixels, split them out into abstract images that run alongside the original untreated video. They're projected onto a screen, the ceiling and the floors, surrounding the viewer in a non-narrative video sculptural environment."
Opportunities at SMC—and Beyond
Among the many resources that SMC offers students are paid internships and jobs in their chosen field of study.
Beatrice assists renowned Los Angeles ceramic artist Mirena Kim, which not only gives her professional experience but also access to the studio to do some of her own work.
Francesco is an intern at a Hollywood production company and works as a student assistant to SMC's Public Information Officer, Grace Singh Smith. She put his video skills to work creating student profile videos for the online newsletter SMC in Focus. Francesco also created videos to support the College's enrollment efforts. You can check out the very funny short video here.
Inspired by the Waves
If they could, Francesco and Beatrice would have stayed in Australia, but it's too long a journey for their families in Italy to make. But they also fell in love with California, and if they can, they would like to stay here—perhaps even create a production company of their own.
While it was the quality of SMC's education that drew them in, the college's proximity to the beach made the choice easy for two die-hard surfers.
"Surfing is a magical moment in my day," says Beatrice, calling it a supreme form of meditation. "The solitude helps me think about my life, the choices I'm making, and the stories I want to tell. It's a powerful creative tool, and it's taught me to respect Mother Nature."
Francesco, whose work often focuses on surf culture, believes that surfers have a specific call to the ocean. "Finding balance in life and on the board is a feeling that intrigues me, and I want to explore it."
He hopes his passion for the sea will inspire others. "I'm working on a script that has surfing and plastic pollution as the main themes," says Francesco. "It's a shame what we are doing to our planet, and we are now seeing the consequences on our beautiful shores. We need to raise awareness, and this will be my contribution."
* * *