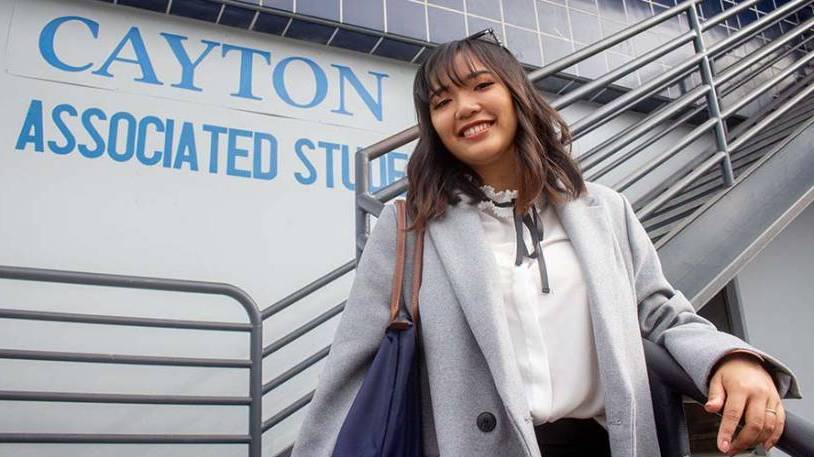 Stella Singleton-Jones joined a select company of artists including Paul Cezanne, Claude Monet and Frederic Remington when the White House added her sculpture "Unity" to its permanent collection. She had completed the work in 2009, while a student at Santa Monica College.
Believing the artwork should belong to the entire nation, she Googled the White House's address and shipped it off as an act of faith. "May this 'Unity' sculpture serve as a constant reminder that change is possible when we the people unite as one," she wrote in her letter to President Barack Obama.
Within weeks, White House Curator William G. Allman called to say the White House had accepted her gift "and that they really loved it," Stella recalls. After two years of display in the Oval Office, it was added to the White House archives in 2011.
President Obama also called her to express his appreciation. "Unfortunately, I was unavailable, but he left a message on my phone," Stella says.
Tragic Interruption
Stella first received recognition for her talent in eighth grade, winning a contest that enabled her to enter an internship program at the prestigious Otis College of Art and Design. For the next two years, she honed her talents there after school and on Saturdays.
Later, she entered SMC to further expand her artistic horizons. "That's where I discovered my true talent as an abstract sculptress working in stone," she says.
"Her talent and creativity were obvious from the beginning," says Professor Don Hartman, who first met Stella when she was a student in his Beginning Sculpture class at SMC. "I could see that she had a strong determination to succeed."
Then she transferred to UCLA for a liberal arts degree, where tragedy stopped her studies.
"My brother, Derek, who was my number-one supporter, developed meningococcal spinal meningitis and was hospitalized at UCLA," she says. Physicians were unable to save him, and, after his death, Stella found it too painful to return to class. She put her artistic impulses aside and took a job as a word processor.
Then the meningitis that took Derek's life nearly claimed hers as well.
Awakenings
"Our mom and dad were each missing half of the gene in their blood," Stella explains. "My brother and I were born with the whole gene missing." The condition, complement c blood deficiency, left their immune systems highly vulnerable to infections like this breed of meningitis. The disease rendered Stella comatose.
"I came home from work, went to bed and woke up two-and-a-half weeks later, not knowing where I was," Stella says. She was in the hospital, quarantined and surrounded by medical staff wearing protective gear. "They were covered in white. I could only see their eyes."
For a while, doctors didn't think she would survive. "A lawyer came in my room so I could sign everything over to my parents," she recalls. Fortunately, a cure was eventually found in the form of constant, intense doses of vitamin C to break her fever.
Back at SMC and Beyond
When her doctor recommended Stella return to her studies, she came back to SMC — once again enrolling in a course taught by Don. "I took one class in art to see if I still had my creativity, because I had been away from sculpting for almost 20 years," she says. "It really just started as therapy for myself."
Stella's first sculpture after returning to SMC was titled "Them Bones." She drew inspiration from her struggle with meningitis. "I was hospitalized for three-and-a-half months and had to learn to walk and talk all over again," she says.
A fellow student saw it and suggested she enter it in an art contest. But Stella considered the work as part of her physical therapy rather than a piece worthy of other eyes. "To my amazement, he entered the sculpture in competition at a gallery in Long Beach — and they accepted it," she says. "He came back to SMC with the paperwork and said, 'Congratulations!'"
"Her work was remarkable," Don says. "I believe she truly found herself in these classes."
Since then, Stella's work has adorned museums, galleries, private collections and pre-shows for such ceremonies as the Oscars, Emmys, BET Awards and ESPY Awards. Her work can also be seen at her website: sculpturesbystella.com.
As part of her desire to give back, she visits elementary schools, high schools and colleges to encourage new generations of artists. "I would love to see arts instruction back in the schools," she says.
When asked about overcoming meningitis, Stella replies, "I tell people, 'God's not ready for me yet. I still have a lot of things to do.'"
* * *