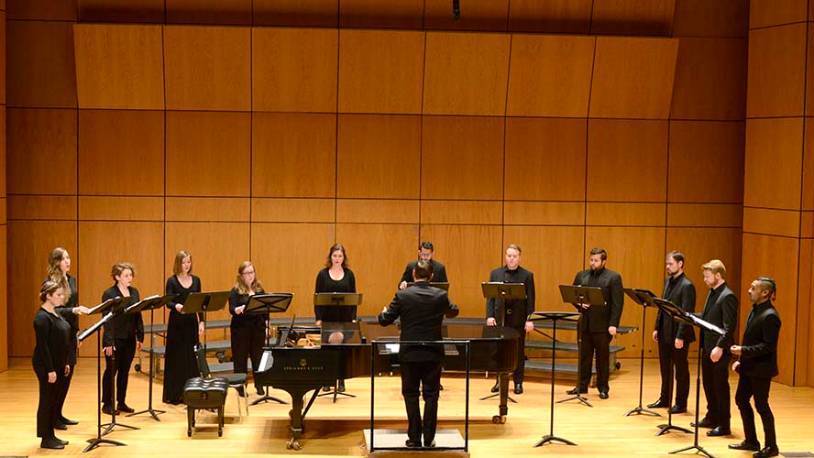 Film Studies instructor Dr. Michael Bolus plays record producer Lester Bihari in the new Eddie Murphy movie, Dolemite is my Name, a "fun, joyous, raunchy, energetic film" directed by Craig Brewer (of Hustle and Flow, Black Snake Moan, Empire, and Coming to America II fame). You can check out Dolemite trailer here.
---
Santa Monica College (SMC) Art Professor Anne Marie Karlsen was featured in Collaboration of Design & Art magazine for her floor-to-ceiling public art project at Lawndale City Hall Civic Plaza. The artwork, which "visually extends out and welcomes people" entering the plaza, features photo collage panels readable from both within and without the library.
---
Led by Cosmetology Professor Jacqueline Monge, cosmetology student Sheila Japitana won a student competition put on by Super Cuts called Super Sunday. The theme was "The Great Gatsby 1920's Revival." Photos of the models were submitted to the judges, and the top ten contestants were invited to a gala at the Newport Beach Marriott Hotel (SMC cosmetology student Rika Inove was the model). Go here for pics and more information on the Great Gatsby 1920's Revival.
---
Luis Andrade, Communication and Media Studies professor, received an award from the GLBTQ division of the National Communication Association at their conference for a manuscript study coauthored with his colleague Professor Deven E. Cooper, titled "The Psychic Life of Antiblackness on Grindr." The award is given to the top manuscript from a long list of submissions and is peer reviewed—the study will be published in a journal later this year. Luis also received a top award from the same division, titled "Vale Verga (It's Worth a Cock (Nothing)): The Queer of Color World-Making Consejos of Fernanda, an Aging Undocumented Jota."
---
Karriann Farrell Hinds is proud to report that the SMC Public Policy Institute hosted the 2019 Fall Arts & Cultural Affairs Forum, "Hip Hop For Democracy," Nov. 16 – Dec. 8 exploring how expression through the arts—including dance, visual arts, poetry, and music—influences ideas, change perceptions, and makes change happen through community advocacy. SMC students and faculty from multiple departments and community members collaborated and participated, illustrating the importance of free expression in establishing and sustaining our democracy.
---
During the Tick Fire in October, Philosophy & Social Sciences professor Gail Livings found herself in a desperate situation. The ranch where she boards her horse, Blaze, was under mandatory evacuation and loading horses on trailers – only her horse would not load! Trying to return to the ranch, she discovered that all roads were closed. So she did the only thing she could: she parked her car and hiked five miles to the ranch to be with Blaze. Once there, she realized how close the fire had come to the ranch and the urgency of the situation. Gail decided to spend the night with Blaze in his stall; together they watched the spot fires and flare-ups on the hill sides. Channel 7 stopped by the next day, and Gail told them of the harrowing experience she shared with Blaze. We are so glad Blaze—and Gail—are both okay!
---
An SMC Emeritus class taught by Tony Abatemarco had a very special visitor, Associate Dean Scott Silverman is pleased to report. Academy Award-nominated actor Elliott Gould was a guest lecturer at Tony's Comedy Through a Jewish Lens class!
---
Jeremiah Selvey, Professor of Choral/Vocal Music and Director of Choral Activities, has—wait for it—four brags! First: in September, Jeremiah released a recording with his professional ensemble Chorosynthesis Singers and co-director Wendy Moy, who were in residence as part of the Choral Scholars program at SMC. Empowering Silenced Voices, released on the Centaur Records label, includes 16 new works on themes of social consciousness. You can stream the album on all major platforms, including Spotify and YouTube. Secondly: as part of a celebration for World AIDS Day, December 2018, Jeremiah Selvey and Chorosynthesis Singers, along with co-director Wendy Moy, Director of Choral Activities at Connecticut College, were named the Choral Scholars of Santa Monica College. They collaborated with some SMC Chamber Choir students in the world premiere of Seven Living Words of the HIV Positive by Thomas Schuttenhelm. Thirdly: Jeremiah, Wendy Moy, and Chorosynthesis Singers were named the 2019 Dayton Artists in Residence at Connecticut College, where Dr. Selvey served as guest conductor. The ensemble gave lectures and collaborated in performance with Conn Coll Choirs over the course of the week, including the West Coast Premiere of Seven Living Words of the HIV Positive by Thomas Schuttenhelm and other socially conscious works. And finally: in June, Jeremiah Selvey presented on a panel with Wendy Moy and Stephen Sieck at the Chorus America National Conference in Philadelphia. Their session—Fostering Social Consciousness through Choral Music: Programming, Equity, and Real Conversation—explored ways to build equity through repertoire, inclusive language, transformative rehearsal activities, and audience engagement. Plus, Chorosynthesis Singers is organizing a choral consortium for a 19-minute work to be composed by Kala Pierson and Melissa Dunphy that celebrates the centennial of the 19th Amendment. The texts will highlight words by women about suffrage through the lens of dissenters and minorities, thus highlighting the additional work yet to be done. This work will be premiered in September 2020 at SMC.
---
SMC Art Professor Carlson Hatton was featured in the Los Angeles Times about his upcoming art project with LA Metro—Carlson mentioned Santa Monica College and his students in the article! Read the LA Times article here.
---
Spanish professor Dr. Alejandro Lee has several brags! He was invited to present "Popurrí de actividades para las clases de L2 y HL" at the California Community College Foreign Language Council annual conference held October 19 at Rio Hondo College. Earlier in October, Alejandro was also invited to speak at a class for Spanish heritage learners of the Claremont Colleges on "Food/Homeland/Identity" at Pitzer College. Plus, he was elected to serve as the Community College Representative for the American Association of Teachers of Spanish and Portuguese for 2020-2023. He was also invited to represent the humanities at the Careers in Community Colleges for Graduate Students and Postdoctoral Scholars, organized by the UCLA Career Center in November.
---
Fashion Design professor Sofi Khachmanyan has been working on her Ph. D. for the past seven years; she defended her dissertation this past summer. The topic was "Symbolism of the Catholicos' Vestments in the Armenian Church and its Reflections in Medievial Manuscript Painting." She did her Ph.D. in the Institute of Arts per Academy of Science in Armenia. Sofi celebrated defending her dissertation with a trip to Germany, Italy, and France with her son!
---
Adjunct Professor Sheila Laffey gave a Green Screen presentation on November 10 at the Ojai Film Festival. This included a series of humorous eco shorts, including Nature's RX, Meatrix, Grocery Store Wars, Message from the Future narrated by Rep. Alexandria Ocasio-Cortez, and a Nahko music video. Laffey will be offering seven film events through her Green Screen film series at the SMC Center of Media & Design in the Spring semester, sponsored by Global Citizenship.
* * *