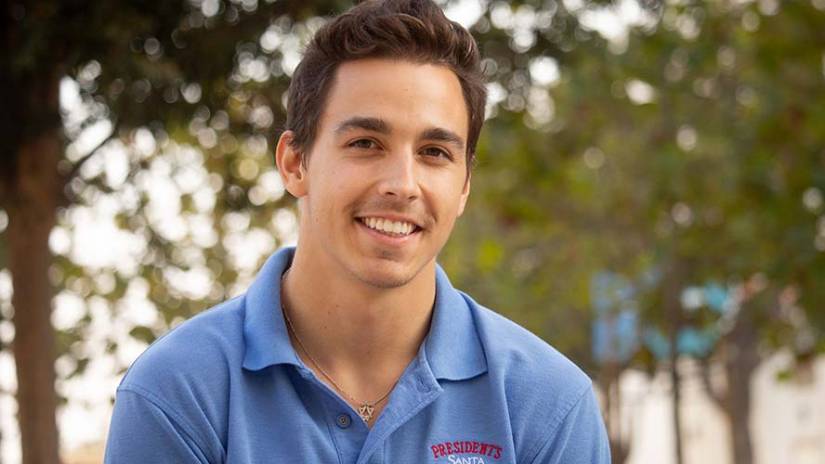 When Turkish Santa Monica College student Yanki Evliyaoglu slid into debilitating anxiety-depression, it was her Brazilian roommate Alec Bodolay who jumped into the breach.
As graduation loomed, Yanki felt overwhelmed by uncertainty. Should she return to Ankara, go to Europe, stay in L.A.? Numb with fear, she could hardly find the will to leave the sofa.
"Alec was the person who dragged me to the gym, the pool or the supermarket," recalls the recent SMC graduate, who earned her A.A. in Theater Arts and Technical Theater in June.
While Yanki's other friends grew distant, her roommate stuck like glue. Alec would insist Yanki help in the kitchen while he cooked. He took her out for walks. When all else failed, he would join her on the couch and make conversation about the TV show she was watching.
He did this while juggling a full load as a neuroscience pre-major and holding down two jobs—one as a math tutor, another as a worker with the SMC Recycling Department. He did it while leading workshops at Sustainable Works and running events at the Phi Theta Kappa honors society.
"I would call Alec a lot to ask when he'd be home, because I knew he could distract me from all the thoughts that anxiety brings," Yanki recalls. "He was the most helpful person in my life. He's one of the best people I know here," she adds, her voice filling with emotion as she speaks on what, it turns out, is her last day in the United States.
Yanki returned to Turkey on November 10. With professional therapy and Alec's round-the-clock encouragement, her anxiety has abated. Her path forward is coming into focus: she'll try teaching drama in Ankara for now; down the road, she intends to break into the technical theater world of London or Rome.
Caring Carioca
Helping others comes naturally to Alec, who is one of about 70 Brazilian students at SMC. Like most Cariocas (Rio de Janeiro natives), he takes pride in his culture's warm, friendly, laid-back reputation.
"I try to help everybody a little bit every day," says the 21-year-old student, who will earn his associate degree in general science next June.
Lately, he's been focusing on Corsairs who are numerically challenged. For more than a year, Alec has worked in the Mathematics Tutorial Lab—first as an embedded tutor in classrooms; more recently, staffing the drop-in desk.
The job calls for more than computational chops.
"It's not that they can't solve the problems," Alec says, of his tutees. "Often they have some psychological barrier. So I'll just talk to them for 15 minutes or a half hour, to try to make them see math through my eyes."
Alec had aced the SMC math placement test when he first arrived, having already completed a year of college-level engineering in his homeland. His father and brother are both engineers, but Alec realized "it didn't work for me. I wasn't really happy." Internet research led him to neuroscience and to Santa Monica College.
He hadn't anticipated being part of a large international community and was "shocked" to find 3,400 foreign students from 100 countries here. Unlike many, he already spoke good English, but the transition was still hard. He struggled with homesickness his first year and coped by burying himself in his studies.
Gradually, by throwing himself headlong at every challenge and opportunity, Alec transformed himself into the community-minded, connected Corsair he is today.
No Churrasco for This Vegan
It all started in Poliana Raymer's Biology 9: Environmental Biology class. Alec had never before encountered the concept of sustainability, and his teacher, who is also a member of the college's Environmental Affairs Committee and faculty advisor to Club Grow, exposed him to exciting new ideas.
"I discovered this whole world of the disposal system," he says. Pretty soon, Alec was working 20 hours a week for SMC's Recycling Department, collecting the contents of recycling bins.
It's dirty, physical labor.
"We would sort through the bags with our bare hands, separating plastic, glass, metal," he says. "It's hard work, but also rewarding. It gives perspective to see what happens to the stuff we throw away."
Frustratingly, he also saw how ignorance thwarts recycling efforts. For example, he says, "some people would put their trash inside a water bottle. That stuff is impossible to get out. It all becomes trash. I think people have good intentions," he adds, "but they don't understand how the system works."
Eager to enlighten them, Alec got involved with Sustainable Works. The program is based in the Center for Environmental and Urban Studies, next door to Recycling. After training to be a Sustainability Workshop leader, he started teaching the program's eight-week modules on water, energy, transportation, chemicals, food and other topics. He personalized his talks, explaining, for example, why he had decided to become vegan. (There's no churrasco on the menu for this Brazilian.) To drive home the sustainability message, he illustrated his presentations with jarring photos of slaughterhouses, deforestation and the "tons and tons" of waste created by animal agriculture.
He kept on finding new ways to be helpful. As he drove around campus emptying recycling bins, people would wave down his electric cart to ask for directions, which he happily provided. He liked doing it so much, in fact, that he applied to become a President's Ambassador. In this official capacity, he now spends several hours a week welcoming guests to campus, answering their questions and directing them to their destination. It was while training for the ambassador role last spring that Alec learned how to spot mental health problems, which in turn allowed him to recognize the deep anxiety plaguing his roommate.
"I was just there for her," he says, recalling the night he broached the sensitive subject. "Even though Yanki was buried in her own world, she started talking to me and she started crying."
International Relations
"I'm really proud of Alec," says Poliana, who sees her friend and former student regularly. "He goes out on a limb for others. I feel like he just walked in and showed what he had to offer—and he had so much to offer! He's making a difference."
Poliana shares a special connection with Alec, being Brazilian herself and the faculty advisor to SMC's Brazil Club.
"I was once an international student myself," she says. "I know how hard they work. It takes so much more effort to get that A. They do a lot more reading. It takes longer to understand things. All the new information, a new language—it becomes overwhelming."
Alec has done well academically notwithstanding those handicaps. He maintains a 3.7 GPA though his course load is intense. This semester, he's taking Organic Chemistry, Genetics and Molecular Biology and Music Theory.
He's also active in the Phi Theta Kappa honors society. Having served as a commissioner under the PTK fellowship director last year, he decided to run for the secretary position in 2019 precisely because it forces him to confront his greatest self-identified weaknesses: "time management, reliability and discipline."
Since becoming PTK secretary, he says, "I'm a thousand times more organized. I'm doing transfer applications, succeeding in my classes and doing all these jobs at the same time. I'm feeling great! And I still have sanity by the end of the day. I would be going crazy right now if I wasn't organized."
Alec's first choice for transfer school is UCLA, but he's applying to several other UCs and to Stanford. From there he hopes to go on to medical school, with the eventual goal of pursuing research in neurology.
As he contemplates leaving SMC, Alec reflects on the important lessons he's learned. Asked what advice he would give international students, he offers this:
"Go out of your comfort zone. There is going to be something to learn from every experience. It's going to be rewarding, even it's a bad one. Also, never doubt your capabilities. We have limits, but we can surpass those limits if we want to."
* * *