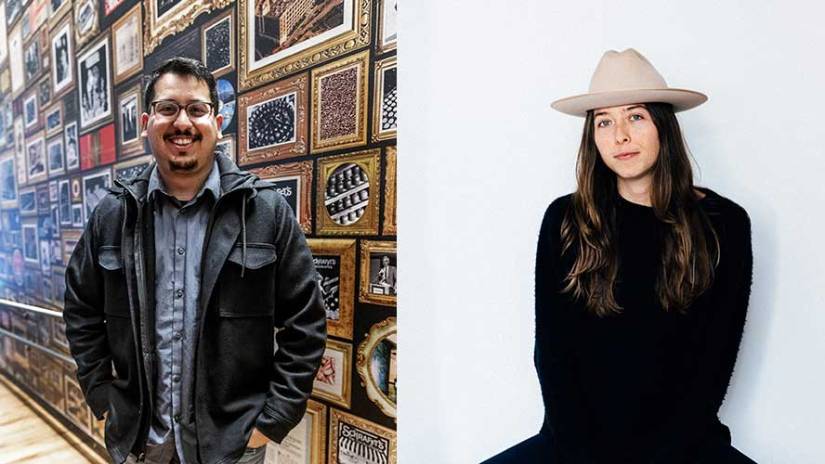 If a fortune teller had divined that Bridgette Ricketts and Roland Gonzales would soon live in Portland and work as designers for Nike, the two SMC graphic design majors would have laughed in her face.
Less than a year ago, sneakers and swooshes weren't even on their radar.
But in July, both accepted full-time employment as "design assists" with the footwear and sports apparel company. During the previous six months, the two Corsairs had apprenticed in the Nike x Design program, receiving on-the-job training and mentoring at the company's Beaverton, Oregon, headquarters.
"Becoming a designer at Nike is kind of like winning the lottery," says Bridgette, 25. "They get thousands of applicants a month for positions. Beating the odds is insane."
Hundreds of L.A. area community-college students had submitted their portfolios for consideration. When the dust settled, Roland and Bridgette were among the 13 apprentices chosen. They had a month to pack their things and head for Portland.
"It was an amazing situation, to come up here and learn Nike's creative processes and try another career path you didn't see yourself doing before," says Bridgette.
The former varsity volleyball player from Malibu High School had never before paid much attention to athletic apparel. "I wasn't a sneaker-head," she says. "I didn't really look at shoes, though I always ran in Nikes."
SMC Lends a Hand
She and Roland first learned about the Nike x Design apprenticeships in an informational session organized by SMC Career Services advisor Ann Marie Leahy and Fashion faculty member Lorrie Ivas. Nike creatives and talent scouts—working in concert with Bixel Exchange, the Center for Technology and Innovation at the L.A. Area Chamber of Commerce—rolled out the program last fall at three Los Angeles-area community colleges.
The goal: to inject greater diversity into the $20-billion U.S. sneaker industry.
SMC faculty in Marketing and Fashion held a series of portfolio review workshops, and 60 Corsairs ended up submitting entries to Nike. Six advanced to the day-long "design combine" held in downtown Los Angeles last November. They would compete for 13 slots in a field of 52 finalists.
"Combine" and Conquer
The weekend before, the Malibu fires had upended Bridgette's life. Evacuated from her family's home, she was crashing at a friend's place in Santa Monica when she received the Nike design briefs. They called for standalone entries in four categories: footwear design, color and material, graphic design, and apparel design.
On the day of the high-pressure draw-fest, working from 7 am into the wee hours at designated workstations, each finalist had to complete all four assignments, but they could only present one design to the Nike judges. Going out on a limb, Bridgette chose her footwear solution, even though she had zero prior experience in shoe design. A 2014 graduate of the Fashion Institute of Design & Merchandising (FIDM), she had worked in boutique clothing fabrication and home decor materials for several years. She was exploring a transition to graphic design when she started taking courses SMC in 2017.
Roland, too, was retooling at SMC. He and Bridgette became friends in their first graphic design studio.
The 29-year-old Santa Monica native had spent a couple of years at the Art Institute of California, but he left without a degree in 2011 to pursue a freelance career. He enrolled at SMC in 2017 to come up to speed on new releases of Adobe's professional software suite.
It was Roland who delivered the good news to Bridgette that they'd both been selected for the Nike apprenticeship. She was over the moon when she saw his text message. He had spotted her name alongside his own in the congratulatory group email sent out by Nike.
Dog Days
Like Bridgette, Roland is no sneaker-head, though he played baseball and water polo at Culver City High School. If anything, Roland's passion is dogs. For the past few years, on top of freelancing he worked as a graphic artist for the Gentle Pit, a mission-driven women's apparel company committed to "rebranding" pit bulls through beautiful design. He also moonlighted as a kennel supervisor at an upscale board-and-train facility and volunteered at a dog rescue in his spare time.
Before the Nike apprenticeship came along, Roland had never dreamed of leaving L.A.
"But I fell in love with Portland," he says. Determined to somehow stay there, he independently applied for openings at Nike while apprenticing. When he got the call offering him a berth at the company—in a position he had not actually applied for—"there was a sense of relief and excitement and real happiness," he says. "I was already committed, but to find out … it really felt great!"
Roland's permanent assignment is in the graphic design department of the women's Nike Sportswear division, with a focus on specialty Ts for tennis and skateboarding.
His 3-year-old Corgi mix, Ace, recently joined him in his new apartment in Portland.
Lacing Up for Bootcamp
The apprenticeship began last January with a two-week bootcamp at Pensole Academy, founded in 2010 by footwear design legend D'Wayne Edwards.
Edwards famously broke into the industry at 19, becoming the youngest and one of a very few African-American footwear designers of his generation. He landed the job after months of stuffing his original shoe sketches into the suggestion box at L.A. Gear, where he worked as a file clerk while taking night classes at SMC. His designs eventually sold more than $1 billion worldwide.
At the Pensole Academy bootcamp in January, Edwards worked closely with all the apprentices, but especially with the three concentrating on footwear.
"He was always there," says Bridgette, "always pushing us. He asked questions I had never been asked before and really challenge us."
"It was very, very intensive," says Roland, who huddled with Pensole graphic design instructors, but also consulted regularly with Edwards. "It was all about teamwork, tight deadlines, quick turnovers. You had to use all your professional skills and tools to complete the project."
Working in cross-category teams, the apprentices had three weeks to create a head-to-toe look for a specific athlete.
"I can't say exactly who it was," says Roland, "but it was a man, not a celebrity you would think of, who does not compete in a standard sport." The apprentices scrupulously guard Nike's trade secrets. The $28 billion company is the world's most valuable fashion brand.
Winging Toward Victory at Nike
After training at Pensole, the apprentices spent five months at the Nike campus in nearby Beaverton, receiving immersive on-the-job training and committed mentorship in their designated departments. Bridgette worked as a footwear designer on the kids team. Roland was a graphic designer on the apparel team in men's field sports. This incomparable career-building experience was supplemented by a series of specially devised hands-on workshops in Nike's Blue Ribbon Studio makerspace, with additional learning in strategic visual thinking and narrative creation.
Beyond exposure to creative agencies and cultural institutions across the Portland metro area, in April, the apprentices took a junket to the East Coast. They observed the inner workings of Nike's New York offices and Converse's Boston headquarters while exploring the arts scene, galleries and street culture of both cities.
For their final projects at the Beaverton campus, the apprentices regrouped in multi-category teams and responded to a design challenge with one month to work. This culminated in a final presentation to a packed house, with apprentices receiving encouraging feedback directly from Nike's Chief Design Officer and other senior design leaders.
"You walk away with a book of contacts—that's probably the biggest value," says Bridgette, whose permanent assignment is on the graphic design team in the men's Sportswear division.
As a parting gift at the graduation ceremony, each apprentice received a yearbook and Air Force Ones engraved with the inaugural 2019 Nike x Design logo.
"I still have mine in a box," says Roland, laughing. "I don't want to take them out."
For Bridgette and Roland, being hired by Nike means curtailing their education at SMC. That's a bittersweet tradeoff, but Roland intends to continue his studies in Portland as time permits.
Bridgette is less clear about the future, but no less excited. Looking back on her journey—one no soothsayer could have foreseen—she sees purpose and direction.
"I feel multidimensional," she says. "I can tackle anything. I don't feel like I'm just a graphic designer. If I'm presented a brief on furniture, I can respond to it. It makes sense that I'm here."
* * *