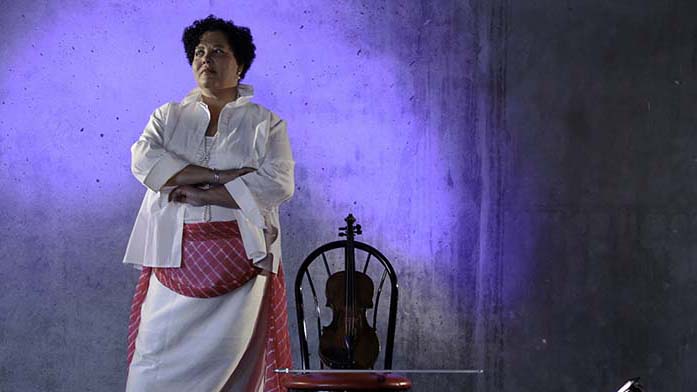 Lesa Terry hadn't felt such butterflies in years. A seasoned pro, she wasn't worried about coaxing beautiful tones from Baby Love, her 200-year-old Italian violin.
What she dreaded was tripping over her tongue. As she botched her lines again, Lesa eyed Tom Hanks warily across the set.
It was 2018, and the L.A.-based violinist and longtime SMC music instructor was recreating a scene from her own past: a 1997 appearance in episode 1718 of "Mr. Roger's Neighborhood."
Producers of "A Beautiful Day in the Neighborhood" had called out of the blue a month earlier. They wanted to reunite the Uptown String Quartet for a scene in the movie.
The chamber group had disbanded 22 years ago. Violinist Diane Monroe now lived in Philadelphia, and violist Maxine Roach was in New Jersey. Cellist Eileen Folson had passed away in 2007.
But after two days of intense rehearsals, with cellist Tahirah Whittington standing in for Eileen, the Uptown String Quartet was back in the groove.
"It was an extraordinary experience," Lesa says, of the week spent filming their scene. "We had to do a thousand takes, but everybody was so loving and supportive. Every time we played, they applauded afterwards—the film crew, everybody."
When the filmmakers had first called, Lesa couldn't imagine why they wanted to highlight the Uptown String Quartet as the movie's only musical act. Scores of world-famous artists had appeared on the beloved PBS series over its 33-year run.
It wasn't until she saw the completed movie that Lesa understood. Rejecting limitations had been a key message for Mr. Rogers.
"And when you think about a string quartet, it's four men dressed in tuxes and tails playing European classical music," she says "But maybe not. It might be four African American women playing their own compositions and reinterpreting music from the African American continuum."
All That Jazz
Fred Rogers was a big fan of bebop and played jazz piano himself. He'd befriended legends like Charlie Parker, Dizzy Gillespie, Miles Davis, and Max Roach. It was through their connection with Max that the Uptown String Quartet was invited on "Mr. Rogers' Neighborhood" in the first place.
The renowned jazz drummer had put together the quartet in the mid 1980s to showcase the skill of his classically trained daughter, Maxine. Lesa was recruited early on, along with Diane and Eileen. Their debut album, "Max Roach Presents the Uptown String Quartet," earned a 1990 Grammy nomination.
The idea was to produce a full, jazz sound— "rhythm, harmony, melody, all of it," Lesa says—on the instruments of a European string quartet. No rhythm section. No wind instruments.
It's a common misconception that string instruments, bass excepted, are foreign to the jazz ensemble. In reality, "they were always part of it," Lesa says. "African culture brought a long-established fiddle tradition to the American South."
Lesa's musical heroes are mid-century jazz violinists Ginger Smock and Stuff Smith. Ginger was a classically trained black woman making waves on the male-dominated LA jazz scene. As for Stuff, his violin "swang so hard" that when Lesa first heard it on a recording, she mistook it for saxophone.
Musical Journey of Discovery
Throughout Lesa's childhood, her Pasadena home was filled with music.
"I'm bi-racial," she says. "I got my introduction to European classical music through my mother. And my father was African American and Native American, so that's where the jazz and other musical forms come in." (Jazz trumpet legend Clark Terry was a cousin, and "the person most responsible for teaching me how to feel and incorporate jazz swing on the violin.")
Lesa fell in love with the violin at 8. Her twin Mona studied piano and harp. Another sister, Zela, took up the cello. (She is now principal cellist with the Nice Philharmonic and Opera Orchestra.)
"My mother's dream was to have a piano trio. She would play recordings of the Heifetz-Piatigorsky-Rubinstein trio, hoping we would choose that path."
Lesa majored in violin at Pasadena City College and transferred to Cal State Northridge. In 1981, she left school just one course shy of her bachelor's in music and began her professional career. From philharmonic jobs in Atlanta and Nashville, she moved to New York City's recording studios and Broadway's orchestra pits. She toured and recorded with many artists and ensembles, notably the Max Roach Double Quartet and the Uptown String Quartet.
Moving back to Los Angeles in 1998, Lesa resolved to finish her education. That single course in African American history, needed to earn her degree, was a game-changer.
"It just opened up an entirely different world to me," she says. A scholar's world.
She went on for a master's in Afro-Latin music performance at Cal State LA and segued into UCLA's doctoral program in ethnomusicology, specializing in jazz history and African American fiddling. Field investigations took her to Indonesia, Equatorial Guinea, Jamaica, Spain and Scotland. Around the same time, she began teaching jazz history and composing her own jazz-based concert music.
Teaching from the Heart
At SMC, Lesa has taught three sections of "Music 33, Jazz and American Culture" each semester for the past 10 years, along with several other courses.
"She's an incredible teacher—the kind you're going to remember all your life," says former student Saul Isler '19, who graduated last spring from Santa Monica College at the age of 85.
Saul didn't much care for jazz before taking Lesa's course.
"But I got into it very quickly because she brought it to us in such a lively manner," he says. "She teaches with passion. Sometimes she is moved to tears by something in a student's essay."
Saul now follows Lesa "like some 85-year-old groupie," he says, with a chuckle. He recently heard her at a "Jazz at LACMA" concert and an SMC Chamber Choir performance.
Still, he knew nothing about her role in "A Beautiful Day in the Neighborhood" and was shocked to see her in the hit movie.
"I said: 'Oh my God, there's Lesa.'"
When he asked why she'd kept mum about it, Lesa just shrugged.
"She's very modest about what she does," Saul says, "but a whole lot of people—hundreds of thousands, millions maybe—have seen it."
New Wine in Old Bottles
Lesa continue to innovate with musical hybrids.
"Someone once called Uptown String Quartet 'new wine in old bottles,'" she says. "That's a really good way to describe it."
She set traditional spirituals like "Swing Low, Sweet Chariot" to solo jazz violin in her 2001 CD, "Lesa Terry, A City Called Heaven." In 2006, she founded the Women's Jazz Orchestra of Los Angeles. The 21-member string and rhythm band, which Lesa directs, has performed at the Playboy Jazz Festival, Hollywood Bowl and Ford Amphitheater.
These days, she focuses on transmitting her aesthetic ideas to the next generation.
Her latest project is a children's book co-authored with her twin, Mona, about the early childhood of their famous cousin, Clark Terry, who pioneered the jazz flugelhorn.
In late January, Lesa coached a high school string ensemble in Costa Mesa preparing for a Martin Luther King Jr. Day performance at an African American church. "We Shall Overcome" was on the program. To help young white musicians interpret the civil rights protest anthem, Lesa had them think about obstacles they'd struggled to overcome in their own lives. It made a striking difference in their artistry, she says.
She uses a similar strategy with students in her SMC jazz history sections.
"I have everybody write a 'blues.' It doesn't have to be music. They can deliver a poem or spoken-word. They can dance it or shout it. We're talking about the human condition and what new sounds you can create to express it."
"A Beautiful Day in the Neighborhood" puts a spotlight on the animating vision behind Uptown String Quartet and the idea of "new wine in old bottles."
Will it gain traction?
"We'll see who picks up the baton and runs with it," Lesa says. "The seed has been planted. For me, personally, just getting to explore and be part of something so groundbreaking is enough."
* * *