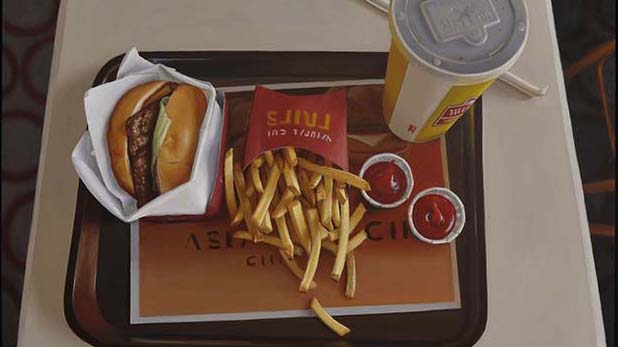 The voice of SMC Music Professor Janelle DeStefano can be heard on the recent release of Star Wars Episode IX: The Rise of Skywalker as a member of the Los Angeles Master Chorale. Recording sessions were conducted by the 87-year-old icon composer John Williams and writer/producer J.J. Abrams. The release of Star Wars: The Rise of Skywalker concludes the nine-movie, four-decade epic Star Wars saga. Congrats, Janelle!
---
SMC Art Professor Marc Trujillo has a first solo show in Rome! From the gallery's website: "FAST at the Bruno Lisi Gallery is the first exhibition in Europe by the American artist Marc Trujillo curated by Camilla Boemio." On Marc's work: "American painter Marc Trujillo depicts in his paintings places that are omnipresent in American urban and suburban landscapes such as gas stations, shopping malls, big chain stores, and restaurants. Trujillo's paintings portray daily scenes that take place in non-places par excellence: fast-food restaurants, corridors of department stores, long terminal corridors of airports. The scenes are extraordinarily insignificant. In their omnipresent nature, the paintings present an anti-place. . ." Read more on the gallery's site here.
---
In a wonderful case of a Corsair doing double time as a Bruin, Kevin McKeown—who is an SMC alum and conducts the SMC Wind Ensemble—recently became Interim Director of Marching & Athletic Bands at UCLA. He will also conduct the university's Symphonic Band in the winter and spring quarter. Kevin has quite the career – he is also conductor of the UC Irvine Wind Ensemble and is Director of Bands at Santa Monica High School. Congrats, Kevin! You make us #ProudtobeSMC!
---
As of November 2019, Early Childhood Education Professor, Laura Manson, is now an National Geographic Certified Educator. National Geographic Educators are committed to teaching their students about the world and how it works, empowering them to succeed and to make it a better place. Her capstone project was focused on working with children two-and-a-half to five years old exploring the topic Water All Around Us.
---
The Fashion Department, as usual, has been exceptionally busy and either hosted or were hosted by several industry giants this past fall. These included Donald Robertson, SVP of Estee Lauder Co. Special Projects (co-founder of M.A.C., Viva Glam and many more Lauder brands) who invited Lorrie Ivas's Visual Display class to his new art gallery; alum Minika Ko who has her own line & invited students to her LA Fashion Week fashion show; and alum Edward Luis, ecommerce Men's + Eyewear Manager of TOMS, and Raquel Medina, assistant buyer for Hot Topic who participated in a Cool Careers Fall 2019 panel on campus. In November, SMC Fashion students & alum volunteered backstage at the bi-annual charity fashion show held by designer vintage store The Colleagues; and Matthew Rolston, renowned celebrity photographer who's photographed Madonna, Beyonce, and Prince gave a presentation, signed his latest book, and held a lively Q&A. Finally, in December, SMC Fashion student volunteers helped organize and run Style & Sustainability: A Fashion Revolution at the Lexus Santa Monica landmark showroom. Professor Lorrie Ivas writes that it was "a lovely way to start the holidays and close the semester—ecologically."
---
SMC Film Studies instructor Michael Peter Bolus recently had a book published. The Light in the Dark: The Evolution, Mechanics, and Purpose of Cinema (Cognella Press) is an anthology featuring insightful essays from some of the world's foremost film scholars and historians. Michael also plays record producer Lester Bihari in the new Eddie Murphy film, Dolemite is my Name!
---
When the echo of one's heartbeat is the sole intimate companion, one is trapped within the confines of loneliness, unable to communicate fears, yearnings and pain. Phyllis Press, an SMC Emeritus instructor, has published "The Three Secrets of Living Alone" (available on Amazon) written for those who, at an older age, have experienced the loss of love. The book reveals this lonely inner world and offers proven solutions to the silent suffering. The book illuminates the darkness seniors reluctantly enter at the intersection of aging, and simultaneously losing a partner.
---
SMC English instructor Angie Kirk was the recipient of the 2019 ECC Academic Senate Achievement Award for Distinguished Teaching and Student Learning. She also was recognized as a 2019 ECC EOPS/CalWorks Outstanding Instructor who goes "above and beyond" to help students succeed. And she was again nominated in 2019 for the ECC Outstanding Adjunct Instructor award. Congrats, Angie!
---
Ilaan Egeland Mazzini, Director of Education & Community Programs at The Broad Stage is pleased to report that SMC student Brianna Hernandez spent ten weeks as a production intern at the college's performing arts center; Brianna's internship was made possible with support from the LA County Department of Art & Culture. A double major in Theatre and Architectural Interior Design, Brianna has created sets for several college theatre productions and short films. During her internship, Brianna designed the plaza environment for The Broad Stage's newest free outdoor programming, POP.
---
SMC piano professor Greg Schreiner had a busy year performing with his show, Hollywood Revisited. His concert tour included the Greystone Mansion in Beverly Hills and the Gallo Theatre in Modesto. Using his piano skills to accompany singers and dancers wearing the original costumes worn by the great stars of Hollywood, he presented an evening full of glitz and glamour which also included educating audiences about the Golden Age of Hollywood.
---
In January, SMC's Photography, Fashion & Cosmetology departments teamed up to offer free family portraits to first responders who'd helped save life and property during the recent California wildfires. During some "downtime" between shoots, SMC student volunteer/photographer Marci Manclow offered to help document Fashion Professor's Lorrie Ivas's students—also volunteers—in action. Allison Harvey, Jess Monroe, alum Erick Mercer (on break from Kent State), Patricia Lange and Stephanie Novelo struck a pose recreating Annie Leibovitz's iconic sitting portrait of the living editors for the "In Vogue: The Editor's Eye" HBO documentary.
* * *