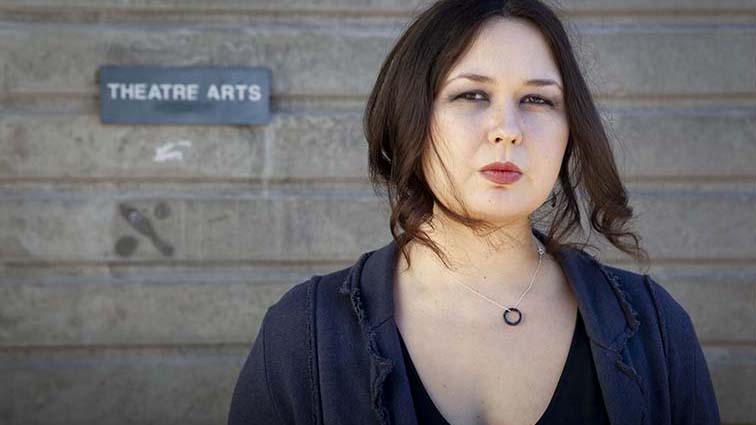 Born and raised in Ukraine, Daria Volynska studied art from an early age. Her first instructors were her father and grandfather, who both worked as sculptors, and she watched raptly as they transformed inert wooden blocks into works of art. But when the time came to carve out her own creative path, she chose another medium — the vibrant light, color and imagery of projection design. That path also took her to the United States and Santa Monica College, where she added theater to her artistic portfolio.
"I knew SMC had strong theater and art departments," Daria says. "I want to combine classical art with the latest technology to create a new vision of the stage."
It's an ambitious career goal, but SMC Theater Arts Chair Perviz Sawoski believes Daria has to talent to ultimately realize it. "Her work speaks volumes," Perviz says. "It's very creative, intuitive and sophisticated."
Flamenco Macbeth Competition Daria's artistry was on full display as projection designer for SMC's production of Flamenco Macbeth!, which infused Shakespeare's classic with Spanish-flavored music and dance. Perviz, who adapted and directed the version, charged Daria with designing projections that complemented the action as they swirled around the cast.
"I suggested some imagery, like blood or ravens, and she created an almost three-dimensional world where there weren't just images in back, but also two other projectors with something happening on the floor of the stage and the walls," Perviz explains. "The backdrop was three arches, so Daria had to modify her design to only fit the arches and not show on the area behind. She had to map out her own program to make that happen. I've had other student designers who did lovely work — but nothing to this level of sophistication I saw Daria do."
Originally performed at SMC last year, Flamenco Macbeth! was one of just six entries selected for the 2020 Regional Kennedy Center American College Theater Festival (KCACTF). In addition to having her work seen in the production, Daria was also nominated for a design award at the festival.
Theatrical Turn
An autoimmune disease interrupted Daria's journey, forcing her to use a wheelchair while she struggled to regain her memory and motor function. But the most painful part was not being able to hold a pencil or paintbrush. Physical therapy, backed by strong determination and the support of her husband, helped get her back on her feet. She still uses a cane for balance, but can draw and paint again.
Theater, she says, enabled Daria get to get her life back — and put her dreams back on track. "SMC helped me find my vocation and get my first experience in stagecraft," she says. "Before that I had only created video installations and designs for galleries."
When she needed the wheelchair, Daria says she appreciated how accessible SMC's campus is to the physically impaired. "I could go anywhere," she says. "The teachers and students were all supportive and accommodating."
More importantly, they spurred her on to advance her commitment to set and projection design. "SMC gives me a place to practice what I study," she says.
Artistic Ambition In addition to the visual arts, Daria's creative experience also includes singing and playing guitar in a band. Her art has been exhibited in area galleries as well as on campus, and she also has directed videos and done painting and printmaking. "I couldn't imagine doing anything other than producing art," she says.
Her artistic influences include Marc Chagall, Gustav Klimt and Alexander Rodchenko. She also currently draws inspiration from Léon Bakst, who, like Daria, extended his career beyond painting to encompass theatrical costume and set design. However, she also loves world literature — including Shakespeare, Chekhov and Fitzgerald — as well as the music of Johann Sebastian Bach, Modest Mussorgsky and the Doors.
So Daria was naturally drawn to the theater, which unites language, sound and spectacle. "I want to combine classic theater with modern art to create something exciting and interactive," she says.
She may still have to be cautious when walking, but she remains daring in her art. "For Flamenco Macbeth! she created something that I couldn't even imagine would work," Perviz says. "But it did."
Daria has earned a certificate in technical theater from SMC and is now pursuing an associate's degree in Art and Technical Theatre. She plans to transfer to the Yale School of Drama, UCLA or Columbia to continue her artistic journey. Beyond that, she dreams of the possibility of creating projection and set design for Broadway, Los Angeles Opera and any other big stage.
She recently received the KCACTF meritorious achievement award for her work on three plays: Flamengo Macbeth, The Seagull and Willy Wonka – TYA Version.
"Follow your dreams, never give up," Daria says, "and you can achieve whatever you want."
* * *