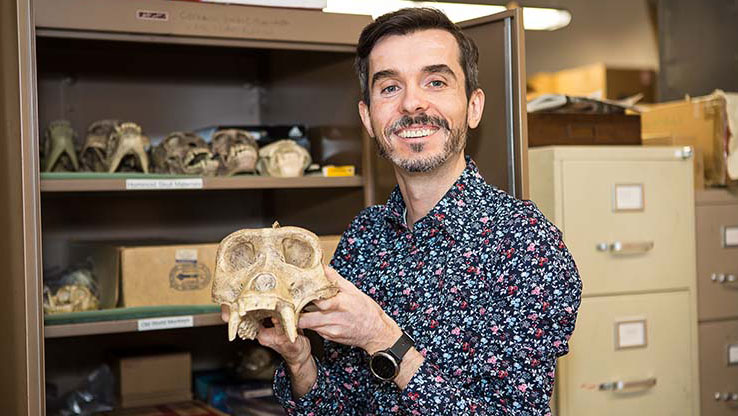 Born in Ireland, Santa Monica College Professor Ciarán Brewster — the youngest of eight boys — watched as five of his brothers immigrated to the United States, one after another. When he was 16, his parents took him to New York to visit.
"The city was like nothing I'd ever seen before — everything was so big," says Ciarán, whose hometown of Longford has a population just topping 10,000. He resolved to join his older siblings in moving to the U.S., and, at 18, achieved that goal. He gained admission to Pennsylvania's Mercyhurst University, which offered scholarships to Irish students.
There he discovered his passion for physical anthropology, particularly the subfield of forensic anthropology, which he shares with students as a faculty member of SMC's Earth Sciences Department. Physical anthropology explores the biological development of humans through a scientific and evolutionary lens, while forensic anthropology applies the scientific principles of physical anthropology to legal cases, with a focus on the human skeleton. In the course of his lively career, Ciarán has joined expeditions ranging from a site in Armenia where a 5,500-year-old-shoe — the oldest known footwear in the world — was discovered, to Gorham's Cave in Gibraltar — one of the last known refuges of Neanderthals.
"I was always interested in science," he says. "Growing up, I would ask my parents to buy me atlases, fact books and The Guinness Book of World Records." Originally, he wanted to to study forensic sciences by majoring in chemistry or biology. "I envisioned myself as a criminologist in the lab, wearing the white jacket with goggles and looking at a test tube," he confesses.
But during college orientation, he met a student who was majoring in anthropology with a concentration in forensic anthropology. "He told me about how he got to assist in crime-scene recoveries, working with skeletal remains, trying to figure out who a person was and how he or she died," Ciarán recalls.
So, he enrolled in an anthropology course and "fell in love right from the beginning." And should any of Ciarán's students arrive at their initial class without a deep interest in the subjects taught — which also include genetics and population evolution — he invariably instills it.
Role Model
"Evolution and human development might be a little confusing for many people, but Professor Brewster teaches it in a way that makes it accessible to everyone," says Nimi Agassi, an international student from Israel studying film at SMC. "I really enjoyed the lab practices, the documentaries and the way he links the different phases of our evolution like a story," Nimi says.
Nimi also notes that, as Ciarán was once an international student himself, he "has helped me [adjust] as a foreigner in the U.S."
Dee Cappell was a liberal arts major when she "accidentally" enrolled in one of Ciarán's courses. It led her to switch majors. "I recognized on that first day that Dr. Brewster was a teacher who would influence my life," she says. In anthropology, "I discovered a field of study that is everything I've ever loved," she says. "I just didn't know it was called anthropology."
As a vegan, Dee also felt gratitude that physical anthropology fulfills the same science requirement as biology — "but without the dissection of animals."
Anthropology major Marissa Batchelor agrees that Ciarán provides support as well as instruction. "He really cares about students' wellbeing and success," she says. He even let her help others by encouraging her to tutor fellow students — which in turn has put her on the path to becoming a professor. "I always knew I wanted to be anthropologist but didn't discover my passion for teaching until I became a tutor," she says.
Marissa is also the secretary of SMC's Anthropology Club, for which Ciarán serves as faculty advisor. The club offers field trips that include visits to the San Diego Zoo to study the primates.
"Every semester I take students there," Ciarán says. "In my opinion, it's the best zoo in the world, and I joke that it's my happy place."
Memories of 9/11
Not all events, however, are so joyous. Ciarán was a junior on September 11, 2001, when terrorists hijacked and crashed airliners into the twin towers of Manhattan's World Trade Center. "It was a really scary experience because I had family in New York at the time," Ciarán recalls. "The phone lines were down, so it was impossible to get in touch with my brothers to see if they were OK." Fortunately, they were all far away from the devastation.
But Ciarán would soon have a more direct experience with that tragic day's aftermath. On United Airlines Flight 93, passengers had wrested control from the terrorists, sacrificing their own lives to prevent further carnage. "The plane went down in Somerset County, in Pennsylvania," he says. "Some of our faculty helped with the recovery and then, later, we went down as a group of students."
Following extensive efforts by crime-scene recovery teams from the FBI, CIA and other agencies, Ciarán remembers, "months and months later, we were still finding bits of human remains, parts of the airplane. It was surreal."
CSI: SMC
Ciarán cites the popularity of the TV series Bones as increasing the profile of forensic anthropology. "The thing that I love about that show is you have a positive portrayal of a strong female character — something we don't often see in fictional portrayals of science," he says. "It's not surprising that in my forensic anthropology class, I tend to get 80 percent-plus enrollment of female students."
That class brings the experience of examining crime scenes to SMC students but without the need for real-life tragedy. "We do a mock crime-scene recovery," he says. "I come up with different crime scenes, and divide students into groups to work on them."
The scenes might generate apprehensive looks from passersby on the main campus quad, but the skills built are worth it. "You learn how to identify the age, race, sex and ancestry of bones," Marissa says.
"Students apply all the knowledge gained over the course of the semester to figure out how to cover the crime scene — and, back in the lab, analyze the evidence to deduce how to identify this person and the means of death," Ciarán explains. At the project's end, the students write up their reports, like any forensic anthropologist would, and present their findings before the class.
In addition, Ciarán takes students from his forensic anthropology class to visit the Los Angeles County Department of Medical Examiner-Coroner. "Students get to see how a coroner's office works," he says. "They also get to observe autopsies and tour the crypt where the bodies are kept."
Inclusivity
Ciarán's commitment to student success extends beyond his field. He established tutors at both SMC's Science Learning Resource Center and STEM (science, technology, engineering and mathematics) Lab, and has worked on a number of grants. One brought in $2.5 million from the National Science Foundation to enhance SMC's commitment to equity and inclusiveness in STEM education. Along with Director of Academic Affairs Initiatives Edna Chavarry, Ciarán is the project's co-principal investigator. Dean of Student Equity & STEM Programs Melanie Bocanegra serves as principal investigator.
As president of the Anthropology Club, Dee witnessed Ciarán's commitment to inclusivity firsthand. "He reminded us that not all students have equal access to transportation — especially those facing financial hardships," she says. "He made us aware there are many homeless and hungry students on campus who may not be able to afford club activities like the San Diego Zoo trip."
So, even though Ciarán had previously negotiated with the zoo for reduced ticket prices, he and club members who could afford it chipped in to subsidize those who would otherwise be forced to miss the opportunity.
Even if students don't pursue anthropology beyond SMC, Ciarán notes that the skills he teaches are inclusive as well. "Working in a team, writing reports, giving presentations, conducting independent research — those are all skills that transfer to other professional disciplines," he adds.
The lessons learned extend even further, to the future of humankind itself.
Nimi says: "Professor Brewster inspired me and made me think like no other class has had. The subject of evolution and human development might be a little confusing for many people, but he teaches it in a way that makes it accessible. It's crucial for every human out there to know the story of our species, especially if we want to better understand ourselves and our future."
* * *