Santa Monica College's 451 classified employees—non-teaching personnel, excluding managers and administrators—play a crucial role, often behind the scenes, in ensuring that the college can fulfill its educational mission. They are specialists, administrative assistants, custodial staff, and so much more. They are often the first point-of-contact for SMC students, both new and prospective. Many have spent years at the college; many had their lives transformed here and return to make a difference.


How to go about showcasing the breadth of talent and personality that's present in SMC's classified employees? SMC in Focus settled on the Classified Professional Development Committee (CPDC), a group of individuals who work closely with their faculty counterparts on the Professional Development Committee, to help their colleagues keep abreast of new skills and support them in navigating uncertain waters (like the online environment imposed by COVID-19).


Estela Ruezga, Senior Academic Records Evaluator and Admissions and Records; Cyrus Fernandez, Professional Development Coordinator, Human Resources; Carla Alvarado, Student Services Specialist for the Center for Students with Disabilities; Jose Hernandez, Admissions and Records Supervisor; and Aaron De La Torre, EOPS Specialist sat down with SMC in Focus and shared their thoughts on what brought (and keeps) them at SMC, their work-life balance right now, what/who helped shape them, and so much more. Read on!
(Please note that not all CPDC members were available for this interview, and that it has been edited for the sake of clarity and brevity).
SMC in Focus: How long have you guys been at Santa Monica College? What brought you here?
Estela Ruezga: I have been with the college for 15 years, 12 of those years have been with admissions and records. I was born and raised in Santa Monica, actually right across the street from SMC. Growing up, the college was always part of my childhood . . . going across the street to the pool; I did that daily in the summer. And I was a high school concurrent student of SMC. So when I saw the opportunity to work there, I definitely jumped on that.
Cyrus Fernandez: I've actually been with SMC for nine months . . . it's been an interesting and amazing nine months. I got to see it pre-COVID and now my entire life has been shaped by COIVID and all the current environment that we're all in. What brought me here? The amazing people. I was a Long Beach City College kid, started there as a student, but I always heard Santa Monica was a fantastic institution. Having [already] worked at a couple of institutions across the nation I was drawn to the people, the mission, the fact that this institution lives and breathes its equity, diversity, and inclusion mission, and how everybody was so on board and ready to implement that change. That came out when I started talking to a few people here and there and even in my interview, and I just thought, "What a wonderful place." I think this is definitely it.
Carla Alvarado: Like Estela, I was born and raised in Santa Monica. I always worked in Santa Monica for the most part, but I wanted to have a fulfilling job that helped others. It took me 10 years to finally get a job at SMC. I worked first in Admissions and subsequently, in the Center for Students with Disabilities.
Jose Hernandez: I've been with Santa Monica College now for . . . a little bit over two years. I'm originally from Southern California. I took a position at De Anza College as their Senior Enrollment Services Supervisor. My family and I needed to move back down south. So I started looking for opportunities in Southern California and Santa Monica College came up. And here I am!
Aaron De La Torre: I grew up in East LA. But through a family member here in Santa Monica, I was able to attend Santa Monica schools. Then I moved on to SMC. So I've been here—I'm going to just do the total—probably around 11 years, [counting my time as] a student worker. I started off as a student worker in EOPS. Then went on to be a clerk in EOPS, left, got my bachelor's degree, came back, dabbled in Admissions. And then I found my way back into EOPS as a specialist!


SMC in Focus: Do you enjoy working at SMC—and what's the part of your job you enjoy the most?
Carla Alvarado: I enjoy working at the Center for Students with Disabilities because I'm helping the students I feel need the most help. They are stigmatized their whole lives, and I feel that [what I do] makes a difference. And because they . . . find our office as a safe haven, you get to know them, they become family.
Estela Ruezga: Three of my 15 years here, I worked for Dual Enrollment, which was awesome. And then the 12 years that I worked in admissions have been great. I started off as a clerk and then went up the ladder to now being a senior [specialist] there. And I really enjoy working with the students. I think that's what I miss most now . . . because I don't get the one-on-one interaction that I did back when I was working in the front desk. I get to see them, but it's definitely more on the back end helping them with graduation.
But also . . . your co-workers, you're with them more than your family. So you become like family and like Carla said, you develop relationships with students and they check up on you. Like, I always had a few students that would check up on me just to see how I was doing and that was always really sweet.
Cyrus Fernandez: I'm an extrovert. And I always say the people will bring me to an institution or to a job, and the people will always keep me there because I think we could all do our jobs in different places. But it's the people that really matter the most, that makes it that much more enjoyable. Estela is totally right. We spend a lot of time with each other. That's one of the best parts of working at Santa Monica College—the amazing people you get to work with, and you get to share in all the joy . . . and the anguish, so to say.
I think that if I had to single it out one specific thing . . . for me, the best part of what I do is orientation. For me, that's the most exciting part, since I don't get to work with students, and I work with employees. When a new employee comes to orientation or they rise through the ranks and they become a supervisor, that's the best part because they're so new, they're so fresh. And I get a hand in helping them be their best selves through professional development. We like to say sometimes graduation is the best part, but for me it's the very beginning, too . . .there's so much anxiety and excitement, but also so much to look forward to.
Aaron De La Torre: So when I started as a student worker, I was kind of the quiet kid . . . the first in my family to actually attend college. So it was a daunting experience. To be able to find an office that was able to support me as a student but also to be able to provide support to other students has always been kind of the way for me to push through here at SMC. I've been able to do that throughout my time here. As I mentioned earlier, I was in Admissions for a while. It was a great way to learn a lot about the college campus. In terms of the on-boarding process and helping our students from the beginning all the way through to graduation.
What's different about the Admissions experience is there were a lot of students. A lot of times you weren't able to fully build that personal relationship. Now, being part of a smaller program, I can do that. Though our program keeps on growing because we have multiple programs in one area. So I'm not just seeing the students in the EOPS but I'm seeing students in different programs and walking them through the process. But [to be] working for the EOPS, I got to come back to the staff that really helped make me the person I am today. . . it's been great to come back to them.
Jose Hernandez: You know, I think all of us, in a sense, want to serve the students that attend Santa Monica College because we can relate with them and we all have a sense of service to them because of our own personal experience. And really . . . that is the driving force in what I do. Granted, in my position, it's more paperwork than student contact, I would much prefer student contact because that's the best thing. As much as I hate commencement because of all the work that goes into it, I also love it because you can see the students that you personally helped reach their goals. That is I think, the reason why all of us do the things that we do.
SMC in Focus: Let's talk about the Classified Professional Development Committee. There's obviously work involved. Why did you join this committee?
Jose Hernandez: I was a supervisor at De Anza and I'm a supervisor here. And the reason why I consider this committee to be important is I've worked for awful supervisors. Everything that I've learned I've had to learn on my own . . . to be provided with professional training for classified staff was really, honestly, never presented to me. I find professional growth to be important. And not only that the more technical training that you provide, the more efficient staff are going to be in helping students. I've had very little to do with this committee. Honestly, the driving forces are Fariba [Dinaali], Aaron, Carla, and Estela. They're the ones who say as [classified] staff, we could really use this. And then Cyrus just makes it happen, right?
Aaron De La Torre: I'm pointing at one specific person! Estela was on the committee and she recommended it. A lot of times the focus has been on professional development for faculty. So, I think, for me to join was to be able to kind of be a [driving] force in getting training for our classified staff and being able to support them. A lot of times we were given [topics] like customer service, but [things like] mental health of our classified staff, what they're going through . . . I wanted to bring that to the committee as well.
Carla Alvarado: I worked very closely with Aaron at Admissions. We were like the Batman and Robin of the front office clerks . . Estela recommended me to join, and [I'm] very happy that I did. [People] tend to forget that we wear many hats . . . and we are guiding forces in our own right. It's very important that we get training.
Cyrus Fernandez: When we [come into] our positions, we're not fully formed experts. We have knowledge. We have the skill sets and that makes us who we are, but there's always an opportunity to learn something else, to become better. I think that's one of the things I really admired about this [college] compared to other institutions in terms of structure and organization. I was pleased that there was actually a committee just for classified staff because a lot of times it is very lopsided. . . it only does go to faculty or senior level administrators or in some cases just managers. But [to] focus it on just classified professionals and staff. I thought that was wonderful. I thought that was amazing. Because we also have a purpose and especially with the most recent online environment that we're in, there's so much more that we can still learn. So I think that it's so valuable that we have this committee because we could steer the conversation, we can smooth the path a little bit more so that people could still develop into even better and more outstanding classified professionals.
Estela Ruezga: Over these past two years we've developed a really close relationship with the Professional Development Committee and have worked alongside with them in trying to develop, strengthen our relationship with faculty, because we're in this together, right? Especially right now with COVID we see that a lot more that we're definitely [on] the same team, right? We're all going through the physical, mental, emotional strains, and why not help develop these workshops to help better everyone.
SMC in Focus: How are you guys coping through this strange time? Is there a routine you've come up with—something that's helping you get through it all?
Aaron De La Torre: It's been hard. I think I'm still figuring out how to cope. I feel like the workload and home load has just been crazy for everybody. In terms of pushing through it's always remembering why I do the work that I do. So specifically if it's about my job, it's really looking at the students and the importance of being able to help them. I think the other thing for me [that helps] is also the people around me. Like this committee . . . we destress a lot. A lot of times we do a lot of check-ins with each other. I will say I probably have the best management supervisor on this campus (Dr. Nicholas "Nick" Mata, Associate Dean Special Programs) just because he's constantly checking in on us to make sure that we're good, but also allows us to participate in these professional development sessions to make sure that we're staying up to date.
Jose Hernandez: It's hard to create that work-life balance. I live in Upland, further away. So it's like I [used to] have that commute where I could decompress and I'm ready. But now it's hard. It really is. So I just try to get out, do something different. I just get away. I have to sort of unplug because it's easy to work past your normal work time because you lose track of time or you do things later in the day . . . whatever the case may be. So I try to not look at my phone or email on the weekend if I don't have to.
Cyrus Fernandez: Work and life blends together when we're working from home. And so sometimes we do lose track of time and we're working later in the night than we expected. Lunchtime doesn't mean anything anymore. Break time doesn't mean anything anymore. So for me, boundary setting's always an important thing, to demarcate when work starts and ends. I don't put Outlook on my phone for a very good reason, because I do not want the notifications. So that's my other way of boundary setting. I think that whenever I do get imbalanced, one of the ways that I rebalance myself is what Jose was saying—to pour something back into me, something I genuinely enjoy doing for a little while. For me, it's always journaling a little bit here and there. . . that's usually like my zen moment, fifteen minutes here and there. A couple of paragraphs. I'm good. And then, like podcasts, YouTube.
Carla Alvarado: In the beginning, I have to say it was really, really hard. I have an 82-year old father with Alzheimer's . . .their center shut down because they're the most vulnerable population. And it was really, really hard to get adjusted. I'm also taking classes as a student at SMC. So one of the things that I'm finding is very stress relieving: the yoga classes I'm taking. And also checking in on other people because I'm not the only one with issues or problems or crazy family members. And I just go back to my guilty pleasure, which is watching reruns of Nicholas Sparks movies or reading one of his books. I'm a big crime show person. I love all the mysteries . . . that's kind of my go-to to decompress.
Estela Ruezga: I have two kids, so it's definitely been hard: home-schooling and working, and everything else so that's been hard. I've decided to take a little time for myself. I get up early in the morning, and I try to work out. So that's definitely given me a lot more energy. I'm still working on setting boundaries, because that's hard for me. Just staying active, doing stuff with the kids during the weekends, and going out on hikes [helps].
SMC in Focus: What is a life experience or a person . . . that's helped make you who you are?
Jose Hernandez: I was a horrible kid. I was in a lot of trouble. And I joined the Marine Corps because I knew if I didn't, I'd end up in jail. So I graduated from high school and less than a week later, I was in Marine Corps boot camp and I did that purposely because I needed to get away from my environment. So I think the structure, the discipline, the sense of responsibility and belonging that I learned in the Marine Corps is what carries through and drives my sense of being.
Carla Alvarado: My parents are big factors in who I am. And also job experiences as to what I tolerate and what I don't anymore. I've worked multiple jobs and I'm very thankful that I'm where I'm at now because I went from (at one point) working four jobs and going to school to only working one job and now being able to fulfill my education. And also a huge part: my sisters. I'm one of nine kids and I'm smack in the middle. I have four older, and four younger siblings. My sister who's my roommate was the first of our family to go to college . . . they've all achieved Master's and Bachelor's degrees and I got my notary license. But I always wanted to achieve what they had and which is what pushed me back into school. And the way that we were brought up has just molded me into who I am. I have a good support group of friends that I can turn to . . . I find myself very blessed and lucky to have that.
Estela Ruezga: I agree with Carla. My parents shaped me, instilling the values, work ethic, life experiences. And then, my two kids that's what definitely what drives me.
Aaron De La Torre: I grew up in a very dysfunctional family so I had to learn everything on my own and kind of figure things out. So I think that's definitely what pushes me but it's also my greatest hurdle because a lot of times I'd like to just push through. So in a way, I'm blessed and I'm cursed with that. I'm just somebody who loves to learn and push through. I didn't mention it before, but my degree was actually in graphic design. So a lot of times I'm constantly looking for inspirations and different things around me to kind of help guide the artwork, which is also somewhat of my therapy. [I'm also] just somebody who's constantly wanting to be there for other people because I didn't have that support.
Cyrus Fernandez: I think that there's a lot of people in our lives who allow us to be vulnerable, to be authentic around them . . .if I were to bring it back to anything, one moment in particular, I think it was when I first started working full-time outside of graduate, and it happened so quickly. My supervisor, my Dean and I were just passing by, [just engaging in] water cooler talk and she said, "Cyrus, there's a strength to you. Like and you don't know it yet but you know how to stay positive even though the world's falling apart around you." That was the one comment I received. And I was like, "Oh, I didn't know that, I'm just me being me," and she's like, "You just know how to stay positive. You just know how to stay oriented that way. . . Let that be the thing that you cultivate forever, [it is the] kind of thing that will serve you so well."
And I used it in interviews too. Like [when they ask]: "What's your greatest strength?" I could stay happy. I could stay marching. I could be smiling through everything.
~
SMC in Focus is deeply grateful to these classified employees for sharing their invaluable perspectives and personal stories. Santa Monica College is lucky to have them!
* * *
SMC In Focus Volume VI, Issue 4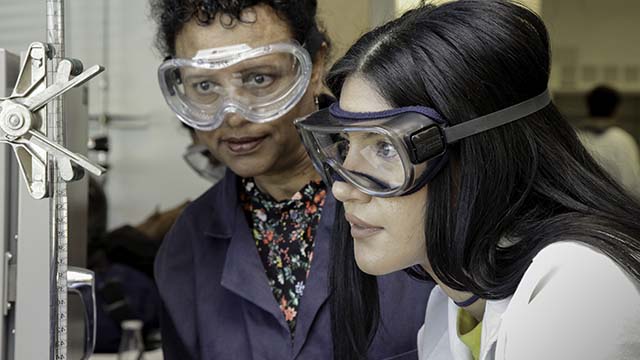 Lab Results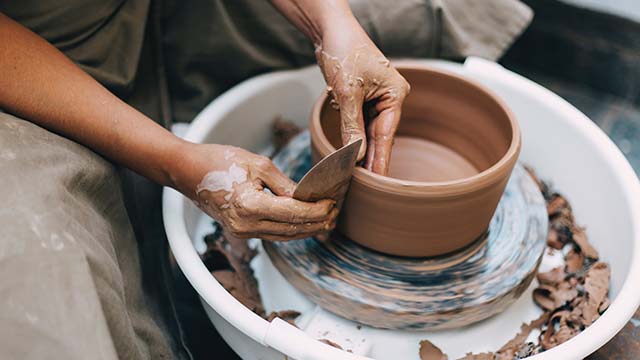 Zooming Forward in Studio Arts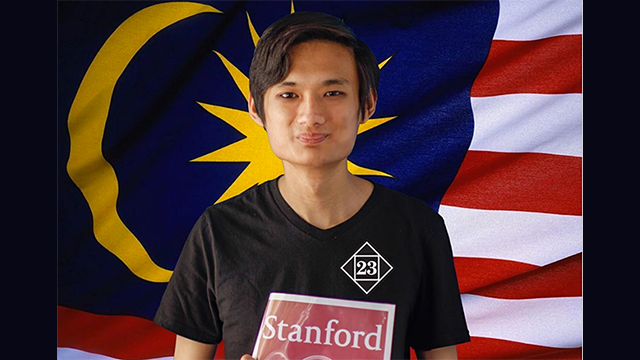 He's Going to Stanford!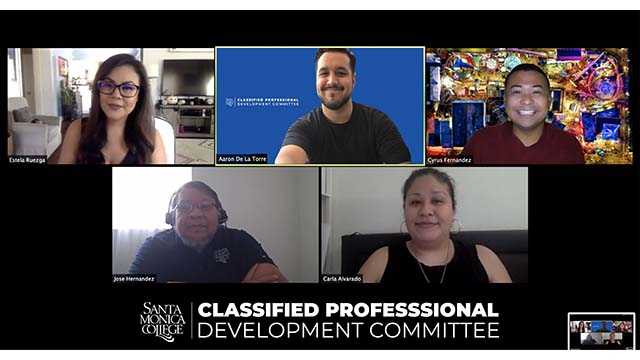 Classified Information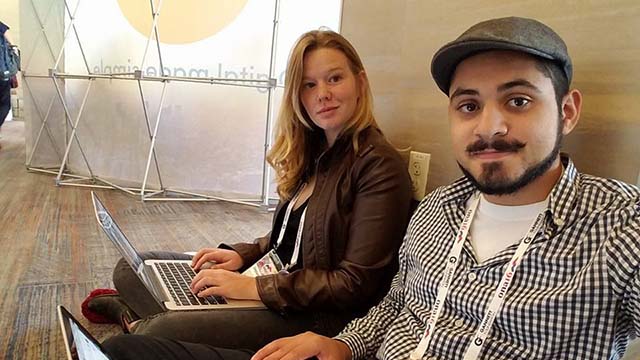 Bragging Rights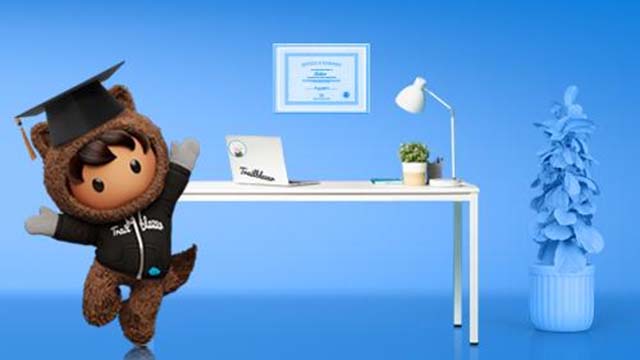 Force for Success