Dennis Biddle: A Service Person, A People Person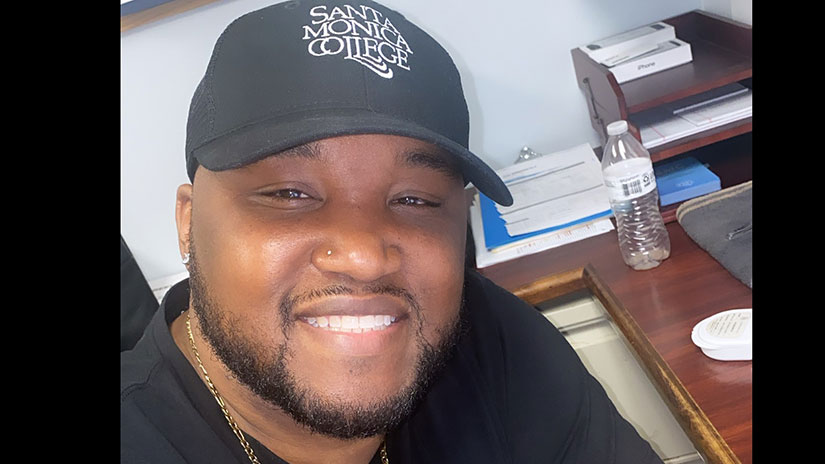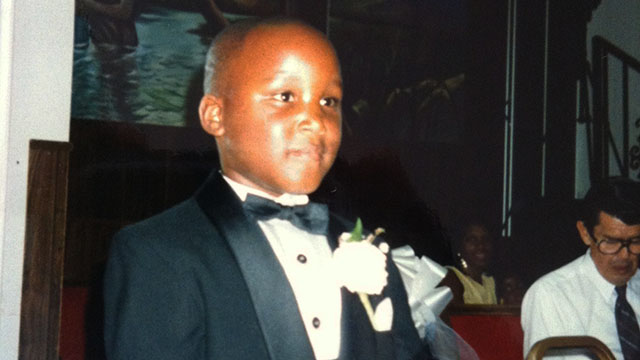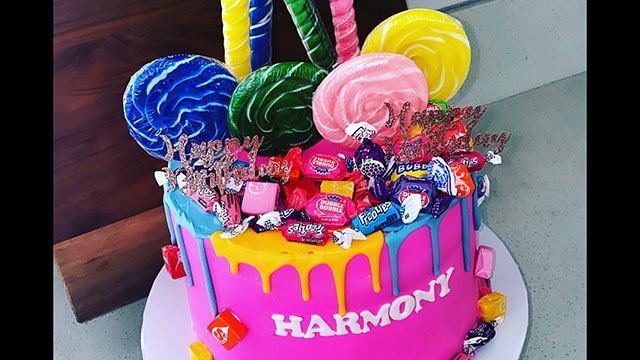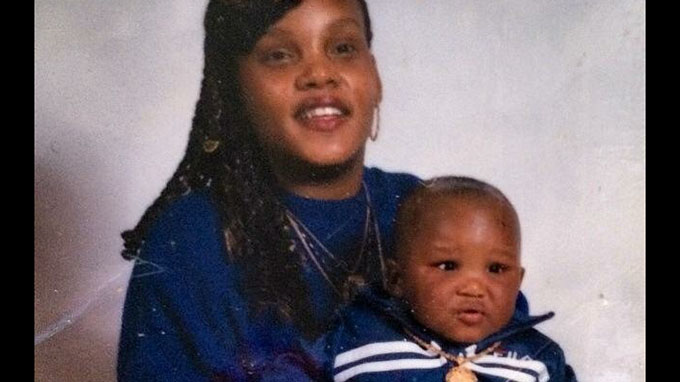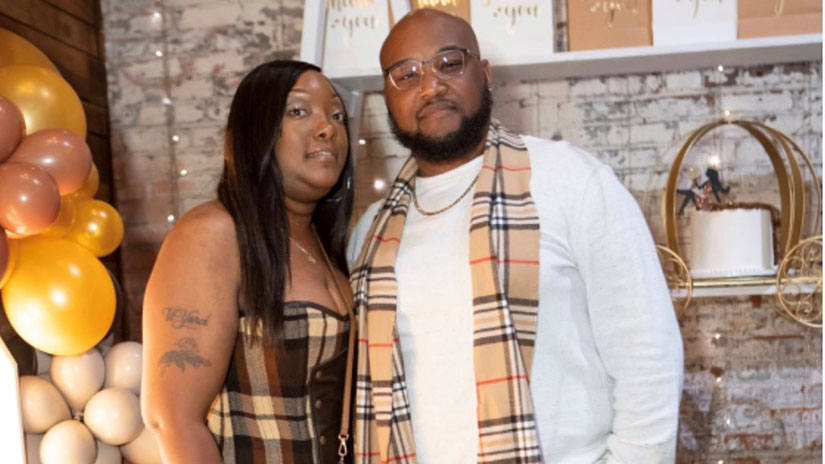 Dennis Biddle's title is Assistant Director of Facilities Operations—he oversees SMC's custodial services as well as grounds, a "24-hour operation, with five supervisors and about 70 staff." The editor of this newsletter quickly realized how much more there was to Dennis Biddle while at an on-campus event, in the pre-pandemic days, these exquisitely decorated cakes were on display, being raffled off—cakes that Dennis had baked.
In the four years that Dennis has been at Santa Monica College—he previously worked at Whittier College—he has become an integral part of the SMC family. Devin Starnes, his supervisor and Director of Facilities Operations, calls Dennis "a patient listener who is service-driven and respected by his colleagues throughout the college." Christopher Bonvenuto, Vice President of Business & Administration, says: "Dennis bleeds Corsair blue," and further adding: "Every decision he is involved in revolves around the student experience and their success."

There is way more to Dennis than meets the eye. SMC in Focus is pleased to present this exclusive interview with one of our essential heroes. Meet Dennis the self-avowed "service person, people person"; Dennis the baker; Dennis the family man; Dennis—who in spite of great adversity: losing his beloved sister to Covid-19, his own battle with cancer—somehow manages to keep his focus on what matters most. Our conversation has been edited for brevity and clarity.
SMC in Focus: You guys at Maintenance & Operations really are the engine that keeps us going, often behind the scenes. And I imagine that the responsibility is very complex. What made you get into this?
Dennis Biddle: I am a very organized person — and a people person. Operations is the first impression for the college. A lot of people may not remember much when they go somewhere new, but they remember what it looked like and what it felt like. That's exactly what Operations is about. If you're going into a classroom or office space and it's clean, you feel safe and the professor is able to do what they need to do, then that's what you remember. I felt like that all ties into the experience that we strive to provide here at SMC.
SMC in Focus: You guys do a fabulous job. I know you've been on the ground while many of us were remote throughout the pandemic. Thank you for that as well. Tell me about your early life and formative years. What makes you you?
Dennis Biddle: I am one of seven kids, my mom is one of 10, and my dad is one of 18. So I come from a huge family. My family's really big on success. I often felt like success came before fun. I was raised by my parents and grandparents, Lucille and Jessie. I spent a lot of time with my grandparents because I had such hard-working parents. We were taught to put our best foot forward and treat people the way we wanted to be treated. When we came together for big reunions, my grandmother would tell us that we may all be related but we're from different walks of life.
My grandparents really instilled me with a lot of principles, and the knowledge that family is really important. That's the way I lead — with respect, understanding and effective communication. I think the reason our department has made such a big shift is because I listen with the intent to understand.
SMC in Focus: Tell us a little more about your grandparents. They sound like really incredible people, as well as your parents.
Dennis Biddle: My grandmother Lucille was an RN. She passed away several years ago. My paternal grandparents are still alive. My grandmother Fredonia is turning 85 on September 11th and my grandfather James turned 90 in April.
SMC in Focus: I'm sorry. What did they do besides instill the principles of working hard? What was it like growing up?
Dennis Biddle: It was challenging because they had such high expectations. For instance, in church, they would say: "You're going to read this. You're going to recite this. You're going to sing." It was never "Would you like to do this?" There wasn't an option at all. When I got older, I asked "Why are you guys so hard on me? There are seven of us and you ride me more than any of my other siblings."
SMC in Focus: Are you the oldest? Youngest?
Dennis Biddle: I'm right in the middle, with three younger and three older siblings. We also have a lot of twins in the family. My mom's a twin. My brothers are twins. I have a set of twins. Twins are everywhere.
SMC in Focus: You said you have a set of twins, as in your children are twins?
Dennis Biddle: Yes, I have twins. They will be 13 in September, and we just adopted a 6-year-old named Isaiah.
Growing up, when we had a family conflict, we would have family meetings. They were really structured, with my grandmother as mediator. At one point, I told my grandmother, "You're in the wrong profession, you should have been a lawyer." But she believed in recovery, and so do I. It really applies to everything. I tell the folks in my department that I'm not worried about us having a disagreement, I'm focused on how we move past it. We're not going to always see eye to eye, but it's how we recover from that that matters.
SMC in Focus: You learned from someone who was pretty remarkable in pulling a large family together. Where did you grow up?
Dennis Biddle: California, mostly in between Los Angeles and Lakewood.
SMC in Focus: Tell us about a typical day for you at work at SMC.
Dennis Biddle: Work starts before I get to campus since I oversee a 24-hour operation. The first phone call might happen at around 2 a.m. That's typical. Emails come all day because I have crews that work all three shifts. I like to arrive on campus by 4 a.m., just so I can cross over all of the shifts. My day begins with checking in with my supervisors and the department's administrative assistant and I filter through budget checks and personnel issues. I don't think I ever work less than 10 hours. I'd love to see what an eight-hour day would be like.
SMC in Focus: You would have to change jobs for sure. How do you recharge? How do you take care of yourself?
Dennis Biddle: One thing I learned growing up was to always make time for yourself, even if it's just five or 10 minutes. Although my day is very busy, I make that a priority every day. I became more focused on taking care of myself when I lost my dad to stomach cancer at age 18. I'm named after him. About seven years ago, I was diagnosed with stomach cancer as well. Our medical records were almost identical, except my tumor was an inch lower than my dad's. I am in remission now but it was terrifying because, when my dad was diagnosed, I was 8. When I was diagnosed, my twins were 8. Through multiple surgeries, chemotherapy and radiation, it made me stop and realize that every day on this side is a blessing.
SMC in Focus: Was this before you came to SMC? How long did you have to be off work?
Dennis Biddle: Yes, it was before I was at SMC. I was off work for almost two years. When I started at SMC, I had some additional treatments, like rounds of radiation, and regular checkups. My doctors and even some of my staff say I'm one of the strongest people they know. They would say, "Dennis, why are you here?" Sometimes in our department, you really have to show up, get out there and be involved.
SMC in Focus: We were just talking about you showing up at work in spite of being ill, and the importance of making sure your presence is felt. At an SMC event, really fancy-looking cakes were being given away as awards and they said you were the baker of these professional-looking cakes. When did you start baking?
Dennis Biddle: I come from a family of cooks and bakers, and I tell people I started baking when I came out of my mother's womb. My grandmother Lucille was an excellent baker and that's where a lot of my recipes come from. It started off as a hobby but now I'm doing five-tier wedding cakes and [other intricate designs]. As extensive as my baking is now, it brings peace and takes me right back to my childhood. I'll play some old-school music, put on the apron and flour my island, and just get started. I pour a lot of love into it but I would never turn it into a full business because it would take away the enjoyment.
SMC in Focus: Do you make a lot of cakes for SMC staff?
Dennis Biddle: The SMC family orders a lot from me. Someone will say "This bakery is going to charge me this much." And I'll offer to do it for less. My job here at SMC really takes care of my family. This is just something I do because I love it. But I'll take what they offer and put it in college savings for the kids or a rainy-day fund for the family. I'm also on the Classified Professional Development Committee here at SMC and I do these baking sessions.
SMC in Focus: On Zoom?
Dennis Biddle: Yes. I did one for the last professional development day and it was a packed room. Everyone enjoyed it. We did a traditional truffle fudge brownie but I got the chance to show them what it does for me. There's some mindfulness to it. It's one of those things that I do to take care of myself.
SMC in Focus: How young were you when you started and what were you making?
Dennis Biddle: I was 10 and I baked 15 Bundt cakes for my grandmother for a cakewalk at church. I remember it to this day.
SMC in Focus: Fifteen full-sized cakes?
Dennis Biddle: Yes. They were doing a huge fundraiser for a church retreat and she said "My grandson is going to do it." My grandmother was a woman of her word. I had to prepare, make a list and go shop on my own and make sure I had what I needed. She taught me to buy a little extra because sometimes you lose eggs or mess up the flour. It was my first big deadline and my first big review and evaluation. I remember sweating when the people won the cakes. My grandmother was really big at constructive criticism. I remember making a white velvet cake (a favorite here at SMC). It's similar to red velvet, but with white chocolate. You have to get the temperature right because once you get the white chocolate melted, you have to fold it into the batter gently. I thought, she's never going to know I used three eggs instead of four. She tasted the cake and said, "The flavor is there but it's missing an egg." At Thanksgiving, she would ask, "Who made the macaroni and cheese?" Then she would say, "You used a different cheese from the recipe. We don't improvise at Thanksgiving."
SMC in Focus: Did they sell?
Dennis Biddle: All of them sold — maybe because people knew they were her recipes.
SMC in Focus: I'm sure you have an extensive repertoire now. What are your favorite things to make?
Dennis Biddle: It would have to be brownies, cookies and cake pops.
SMC in Focus: Are your kids just in heaven because you are baking?
Dennis Biddle: No, they dislike desserts.
SMC in Focus: Are you kidding?
Dennis Biddle: I think it's because sometimes when I get a big order, they're helping. On their birthday, they ask for a really small cake, just so they have candles.
SMC in Focus: Going back to where we started our conversation, you are very much an integral part of the college's fabric. What do you like most about working at SMC?
Dennis Biddle: I commute from Chino to Santa Monica. It's because of the environment. It's welcoming. It's loving. There's a lot of diversity here and it's truly a community. We are all here for the students. You can see it. It's embedded in everything that we do. I think that's what sets us apart from any other place I've ever worked.
SMC in Focus: How long does it take you to commute from Chino?
Dennis Biddle: Maybe an hour or an hour and a half, but I enjoy driving. I am in a couple of choirs at church so I really use that drive time. I'm in full concert mode when I'm in the car. I feel sorry for the people next to me! I also take time during the drive to check in with my family and relatives. I lost my oldest sister this past November to COVID-19. I've never lost a sibling before. When my dad passed, she became parents to the rest of us.
SMC in Focus: I'm sorry.
Dennis Biddle: It's been very challenging and rough. Right before Christmas at her funeral service, I saw all these beautiful arrangements in front of the church from different departments at SMC. It just warmed my heart. It shows how much SMC truly cares. I go to a conference every year in Las Vegas that includes people from colleges and universities across the U.S., and they recognize SMC and our institutional strength and caring. No matter what senior leadership or staff come and go, that foundation remains the same.
SMC in Focus: If you had to distill the greatest principle, the one thing that you live by that kind of keeps you together, what would you say that is?
Dennis Biddle: The focus on character instead of reputation. I was taught to love more and to not worry — to let go of fear. And, finally, the importance of service. I'm a service person.
* * *
SMC in Focus Volume VII, Issue 4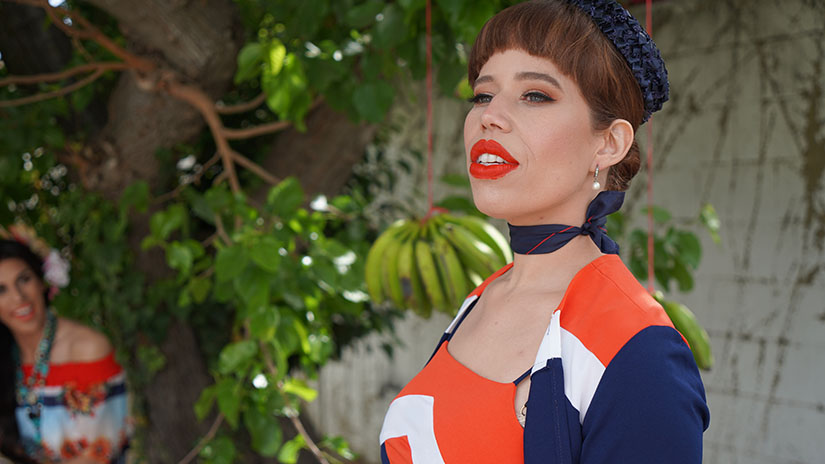 Overcoming Resistance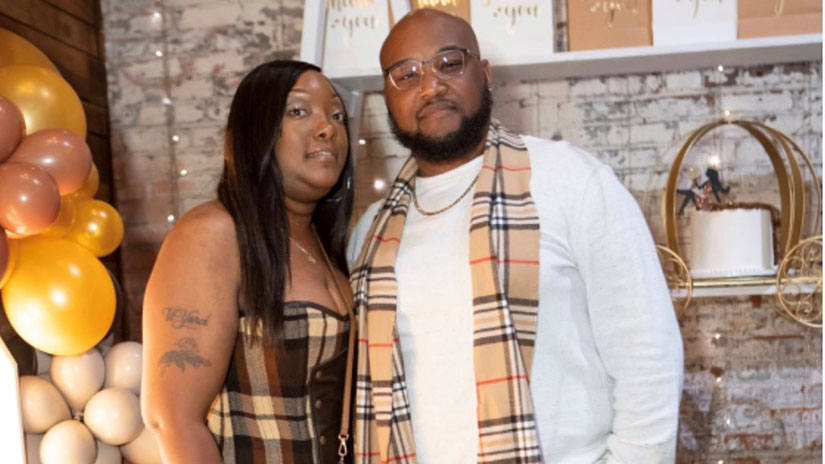 A Service Person, a People Person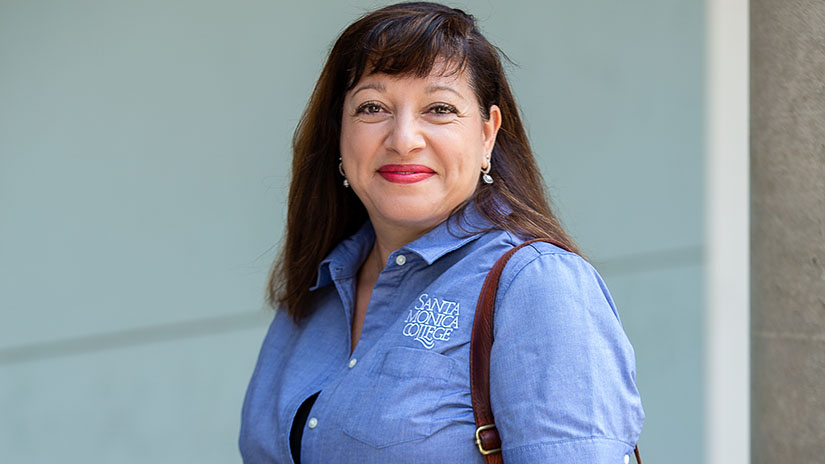 The Backbone of Transfers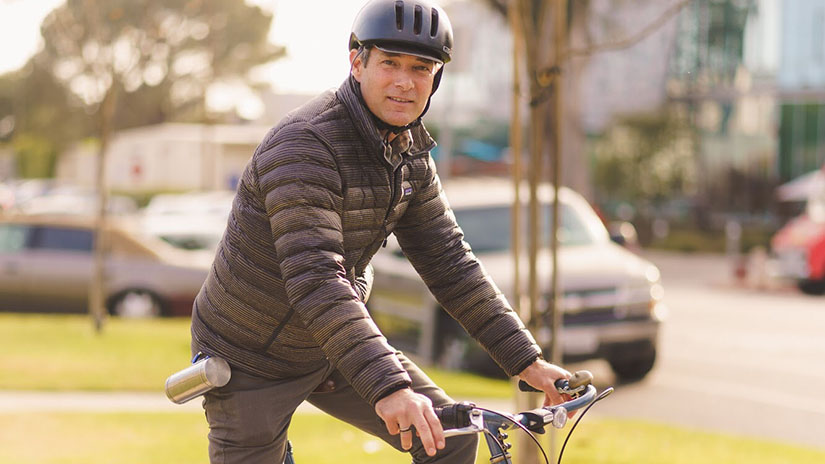 Bicycle Recycler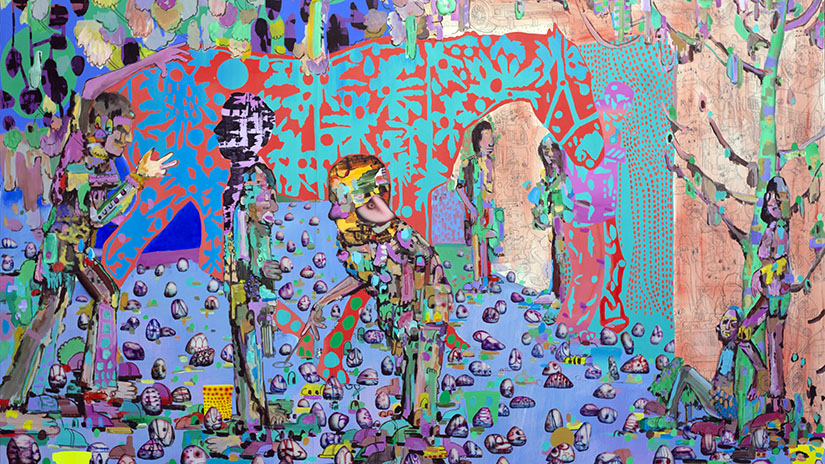 Bragging Rights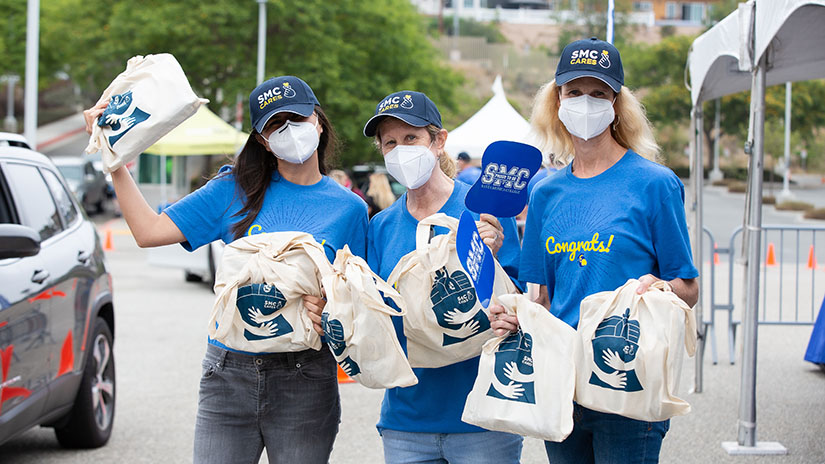 The Year in Review