Welcome to Peer Navigator Program Counseling
The Peer Navigator Program offers counseling appointments for our first-year students, that's you! We are currently offering in-person and Zoom appointments Monday - Friday. We know the first year of college can be tricky to figure out. You don't always have the know-how or all of the tools and resources you need to succeed. That's where we come in! Our goal is to be the support & guidance you need to help you find your place at SMC. Let us be your guides in this new, exciting, and sometimes challenging college journey! We know what it's like to need help, so don't worry, we've got you!
Our academic counselors have extensive experience helping students find the right classes based on their major or Area of Interest, creating education plans, connecting students with necessary resources, and advocating for you and with you to help you achieve your goals.
Don't hesitate, reach out!
Schedule an Appointment Today!
If you are a first-year student and would like to speak with a counselor, you've come to the right place! To schedule an appointment with us, please email peernavigator@smc.edu and include your Name, Student ID Number, and best contact number and we'll get back to you soon! Check out the email example below.
SCHEDULE A COUNSELING APPOINTMENT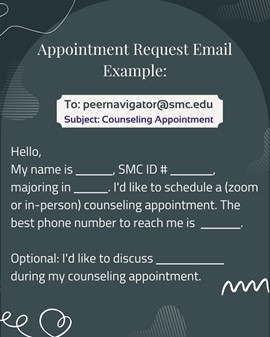 ¡Haga Una Cita Hoy!
Para nuestros estudiantes que hablan Español, tenemos consejeros disponibles para hablar con ustedes! Alejandra Sosa-Lopez y Dennis Funes estan listos para ayudarles con sus metas y con cualquier cosa que necesiten! Para mas informacion visita nuestra pagina de personal.
HAZ UNA CITA DE CONSEJERIA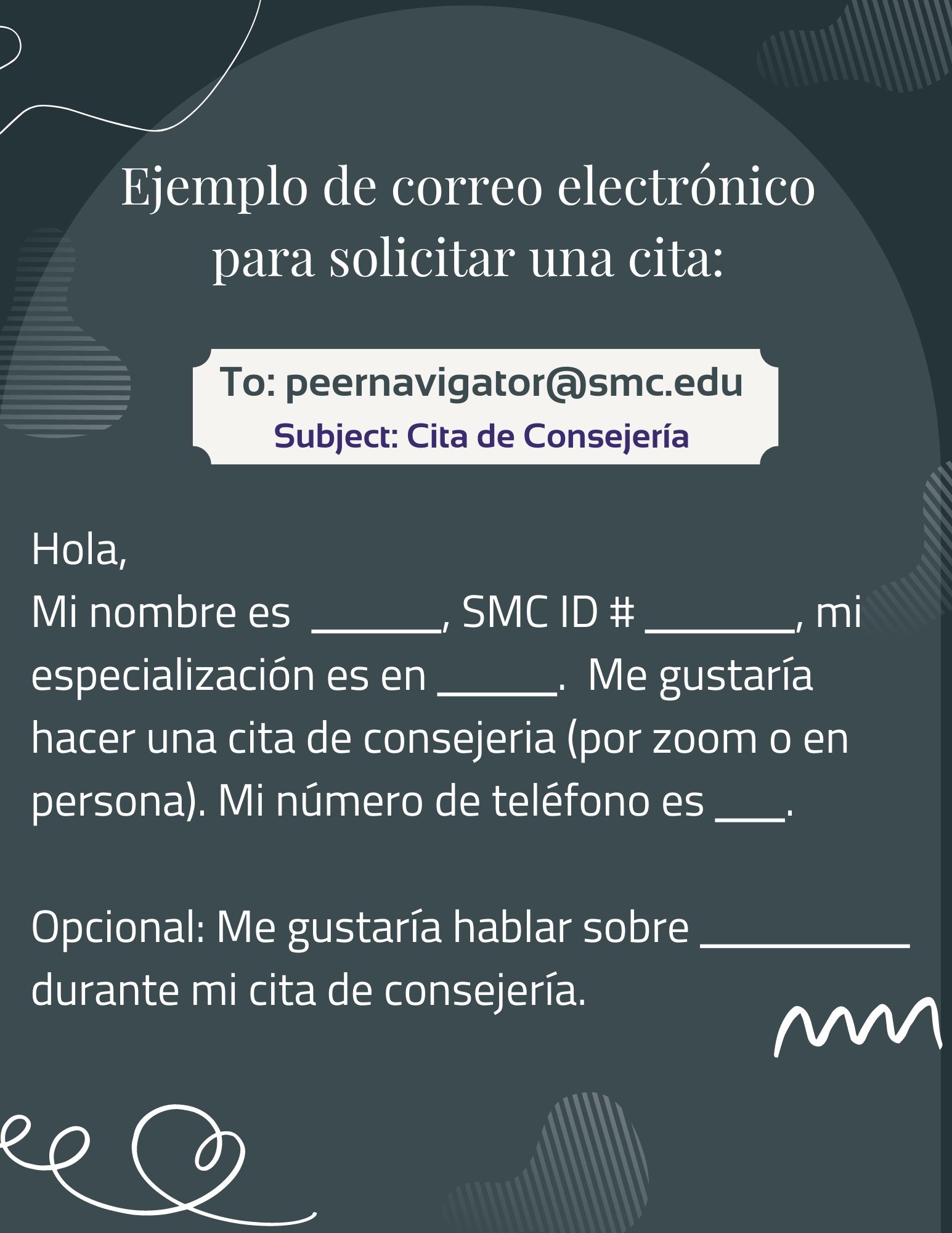 Meet With a Peer Navigator
Our Peer Navigators are students, just like you! They've been at Santa Monica College for at least a year, so they definitely know a thing or two about being first-time college students. If you'd like to talk with a Peer Navigator, click on one of the buttons below. We have Peer Navigators for most Areas of Interest, so find the right one for you!
Peer Navigators can help you with that adjustment phase that comes after you leave high school, they've been there. They can help you find resources on campus, find clubs and events that may be of interest to you, share great food spots on or around campus, and simply be a friend or offer a listening ear whenever you need one.
Meet with a Peer Navigator today!
Arts, Media & Entertainment Peer Navigators
Culture, History & Languages Peer Navigators
Health & Wellness Peer Navigators
People & Society Peer Navigators