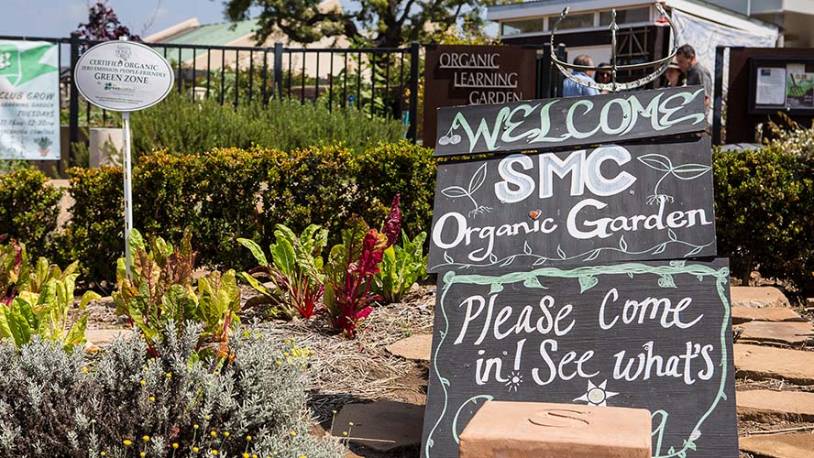 Long before "sustainability" became a buzzword, "going green" was a way of life at Santa Monica College (SMC). Today, SMC leads the nation's community colleges in many facets of sustainability, ranging from faculty, staff, and student engagement to curriculum, facilities, and transportation.
"More than two decades ago, a group of forward-thinking professors stepped up to create an environmental center at SMC," says Ferris Kawar, Project Manager for Sustainability. The College acquired a house across from the main campus and created the Center for Environmental and Urban Studies (CEUS). The CEUS today serves as the home of Sustainable Works—a nonprofit contracted by the City of Santa Monica—and is a hub of sustainability on campus: a "living laboratory" of best sustainability practices that can be put to use in the home, and also a research and resource center and gathering place for students.
Partnering with Students in Action and Academe
Kawar notes that SMC's "institutional blueprint"—its Vision, Mission, and Goals Statement—places heavy emphasis on sustainability as a major goal. It's no surprise, then, that the SMC campuses incorporate so many 'green' practices and materials in their buildings, grounds, and technology. "We want our students to lead sustainable lives," says Kawar, "and to understand their impact on the world."
That's a mission taken to heart by SMC's dynamic student-run clubs. Club Grow works with SMC's Organic Learning Garden; the Eco-Action Club coordinates SMC's annual Earth Week and Sustainability Week activities; Plastic Free SMC aims to reduce the use of plastic on campus; the Bike Club does free repairs and encourages ridership; and the Green Hype Club aims to make "green" trendy by helping raise environmental awareness through music and art events.
For some students, the passion for sustainability began before they came to SMC. Environmental engineering student Abderazak (Zak) Azib, President of the Eco-Action Club, first learned about green building when he studied architecture, and it piqued his interest.
At SMC, Zak sought out clubs to match that interest. "The first day on campus, we were given a tour, and I saw CEUS, learned about the Sustainable Works student greening program, and signed up." That in turn led him to Eco-Action. "The more I get involved, the more my interest grows," he says. "This is what I want to do for the rest of my life." Zak hopes to transfer to UC Berkeley as an environmental engineering major, with a focus on infrastructure or urban planning.
For Sharon Nat, it was a Chemistry 9 class with Professor Wenise Wong that first inspired her. Sharon was active with the Psychology Club and SMC's Adelante program, but she was intrigued by the reviews of the class. "They said Professor Wong gets you engaged and takes you on field trips to buildings where you can see how sustainability is applied in the real world."
That sparked Sharon's passion and led to her newly-elected position as Associated Students Director of Sustainability. Helping students understand that "sustainability is a simple lifestyle choice, like using eco-friendly products and understanding your carbon footprint," is her mission, she says. "I want to make them conscious of how our impact on earth isn't just for this time period, but for future generations."
Stefanie Solyom, now President of Club Grow, had never gardened before signing up for the club, which oversees the Organic Learning Garden and provides resources and information to the garden's many users.
Majoring in Early Childhood Education and with an interest in working with children with special needs, Stefanie plans to incorporate gardening into pre-schools when she begins to work. She led Club Grow's "Students Feeding Students," a free farmers market held once a semester in association with the nonprofit Food Forward, which gleans leftover produce from local farmers markets. The event reaches as many as 300 students in need each semester. "It's a great way to get students to focus on how to solve the issue of food waste," she says.
Training inside and outside the classroom
Some SMC instructors—such as Gillian Grebler, whose Cultural Anthropology class focuses on the culture of food—bring students into the Organic Learning Garden for their classes. Grebler's students have a garden plot where they learn to grow food as they study the topic, quite literally, from the ground up.
SMC also weaves sustainability into its classes in biology, psychology, fashion, film, and even English, where students read such books as Rachel Carson's "Silent Spring," one of the early harbingers of environmental awareness.
SMC offers AA degrees in Environmental Science, Environmental Studies and Public Policy, and Recycling and Resource Management. The College also offers Career Technical Education (CTE) options such as the Solar Photovoltaic and Energy Efficiency program that has led numerous students to internships and jobs.
"Jobs in solar technology are growing by the double digits each year," says Stuart Cooley, who leads the Solar PV program. One of his students had his heart set on a job with Tesla. "It was our solar training that got him hired," says Cooley. "And he recently had the opportunity to spend more than two hours talking with Elon Musk, the company's founder and visionary."
The program has been awarded a National Science Foundation grant to grow its enrollment. SMC has also partnered with Grid Alternatives, an organization with the mission "to make renewable energy technology and training accessible to underserved communities." Grid Alternatives gives SMC students the opportunity for hands-on, at-the-jobsite training in solar installations, and so far, "has hired nine of our students," Cooley said.
Putting Principles in Practice
For nearly 15 years, Sustainable Works has trained upwards of 700 SMC students a year in the principles of sustainability.
"These are not self-selected environmentalists," says Kawar. Some come through the door for extra credit offered by their instructors, but when the students take the program, "they are changed forever, because they've never been exposed to these issues. I've seen many people who've redirected their life trajectory as a result."
Kawar spends half of his time on transportation-related issues, such as targeting employees by zip code to offer incentives of up to $30 a month for using alternative transportation. SMC also partners with Uber Pool and ZipCar to reduce car trips, and keeps the campus community informed about Santa Monica's Bike Share Program, the Big Blue Bus, and the new Expo line, which about 1,000 students and employees ride daily.
In addition to new facilities being built to standards set by the green-building certification program Leadership in Energy & Environmental Design—more familiarly known as LEED—the SMC campuses feature drought-tolerant and native landscaping, and have a campus recycling and composting operation that includes a vermicompost (worm composting) system. Kawar says he is grateful that SMC has an Environmental Affairs Committee with faculty, administration, staff, and students as its members. The committee meets regularly to explore additional and effective ways to weave sustainability into all aspects of curriculum and campus life.
"It can't just be scientists and environmental studies majors engaged in sustainability," says Kawar. "Every person studying here needs to look at whatever field of work they're going into, and ask how they can do it better, so it's not as damaging to the planet."
And Heather Haro, the outgoing AS Director of Sustainability, sounds a hopeful note. "At some point, people will realize how relevant sustainability is to their lives. I think there will be a lot more jobs in this sector, and I believe my generation will answer the call."
* * *
(Image credit: Black-and-white images of Coastal Cleanup Day 2015 taken by SMC student Dotan Saguy)