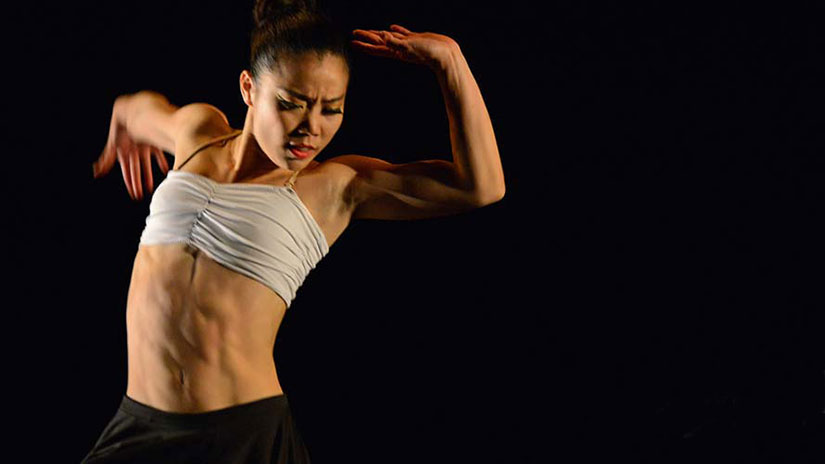 It's the stuff of Disney movie lore. A girl is born in Yokohama, Japan, in a family that "never worried about money." She has a beloved older sister who dances as a hobby, and the girl follows in her footsteps. They both dream of being professional dancers. But her sister cannot pursue that dream, being the eldest child and all. She has to take up a traditional profession, in this case banking, to "save the family." The girl sees how unhappy her sister is—the price she's paid for giving up that dream—and she thinks, "I have to realize my dream, not just for myself, but for my sister."
The girl goes on the Internet, looking for places where she can pursue her dream. And a college half a world away—on the other side of the Pacific Ocean—catches her attention. So, after graduating from Aoyama Gakuin University in Shibuya, Japan, with a BA in Literature, the girl decided she was going for that dream—hers and her sister's. She was going to Santa Monica College (SMC).
That girl—Kozue Kasahara—is now a newly graduated SMC dance major.
Two Dream, One Fulfills
"I saw Yurie, my sister, working in the bank, and she didn't look happy, but she tried to be happy," says Kozue. "I didn't want to be like her. I asked her, 'I am going to try to be a professional dancer. What do you think?'"
Yurie said, "Make your dream come true."
Kozue's parents were hesitant at first, and "avoided listening what I wanted to do." But she would not give up, and finally, they understood that she was not going to bend.
"And that's how I came here in 2014," she says.
At Santa Monica College, Kozue found the world, literally. "Japan was kind of monocultural, but here in California, I made so many friends from different countries." Kozue became a member of Synapse, SMC's contemporary dance ensemble which has been presenting innovative dance at venues within the U.S. and abroad for four decades. Though she had started training in classical ballet with the T.K. Ballet Academy at the age of four, this would be Kozue's first time training in modern dance.
Kozue's segue from classical to modern dance was seamless. She became an integral part of Synapse, performing with the company from Spring 2015 through Fall 2016. She also danced for one semester with Global Motion, SMC's world dance company.
New Confidence, New World
America, and SMC, also reaffirmed another of Kozue's reasons for leaving Japan. "I'm not the type of dancer with the 'dancer body type': you know, thin and skinny," says Kozue. "In Japan, I did not have the confidence that I could make it." At SMC, Kozue gained a new confidence—and having the "dancer body type" was no longer even a concern.
"American culture made me learn that who I am is beautiful, both physically and emotionally," said Kozue. And audiences at The Broad Stage at the SMC Performing Arts Center had the chance to see that confidence transformed into an energy—combined with near-flawless technique—that brought to mind poet Rumi's saying, "Dance in your blood. Dance when you're perfectly free."
"As a dancer, Kozue is a standard-bearer for discipline, dedication, and passion," says SMC Dance Professor Mark Tomasic, co-director of Synapse. "She excels as a technician, and it has been an honor to witness her develop into a fearless and inspiring artist while at SMC."
Synapse co-director and SMC Dance professor Jae Lee says that when Kozue first auditioned, she saw her mostly an "advanced ballet dancer" but that perspective expanded as she saw how Kozue fearlessly adapted to various genres, beyond ballet.
"When Kozue dances, she projects her own voice and color—she never just dances. There is always a reason for her dance and she finds an answer through dance," says Jae. "She also seems like a chameleon as she shows her full effort and willingness to experiment with a variety of genres. And, of course, she perfectly executes every single choreography. This is what sets her apart as a dancer."
Kozue was featured in Interrumpere—a dance film by Jae Lee—which was selected for the Glendale International Film Festival 2016. Kozue also attended the Alonzo King LINES Ballet Summer Intensive in 2016, and performed at events like the International Day of Dance at California State University, Los Angeles. She is also an apprentice at the Los Angeles-based contemporary dance company Kybele Dance Theater.
Santa Monica College opened a world of opportunity for Kozue. Here, she has performed in pieces by guest choreographer Andre Tyson, a former principal dancer with Alvin Ailey American Dance Theatre; by Diavolo, Architecture in Motion member Chisa Yamaguchi; and by Vladimir Kolesnikov, a former dancer with the Kirov Ballet. Kozue has also lent her talent as a solo dancer in Dido and Aeneas with the SMC Opera Theatre, and the SMC Chamber Choir.
"Kozue's highly developed skills, along with her humble and compassionate nature, will no doubt ensure tremendous success in the professional dance world and beyond," says Mark.
Kozue says she would like to obtain an artist visa and continue to dance in the country that gave her a new confidence. If she goes back to Japan, she wants to be a sort of "cultural ambassador" to her own people. "I want them to know about all the cultures I learned about in California," she says.
* * *
Santa Monica College offers an Associate in Arts degree in Dance, as well as a Dance Teaching Certificate, and prepares the serious dance student for transfer to universities and conservatory programs like NYU. Classes include six different technique levels of ballet, commercial and modern dance, dance history and choreography. For more information, check out www.smc.edu/dance. Student testimonials are also available.
The SMC Dance Program will get an "updated home" in the new Core Performance Center on the main campus (construction is estimated to be completed in spring 2017).