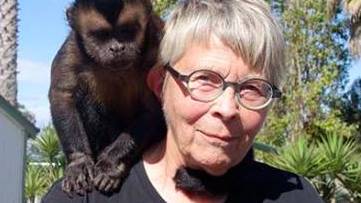 Marian Winsryg wears a couple hats. She is an Art professor at Santa Monica College. Since 1999, Marian has also been director of the SMC Pete & Susan Barrett Art Gallery at the SMC Performing Arts Center. And Marian is, not surprisingly, an artist whose work has been exhibited in galleries and museums across the United States. Her ingenious pieces offer thought-provoking observations and perspectives, and push the integration of traditional art techniques and digital technologies like digital printmaking into new realms.
Marian has been teaching at SMC since 1987, helping students develop the understanding and skills they need to express themselves creatively. In 2004, she was awarded SMC's first Sam Francis/Martin Sosin Chair of Excellence.
For the Barrett Art Gallery, Marian initiates and curates original exhibitions, presents student art and photography exhibitions, and works to attract guest-curated specialty exhibits. She also gets artists to come give some sort of public presentation about their work. Ray Saunders, for example, "spoke to several classes, encouraging budding artists to pursue careers in art by giving out T shirts and words of encouragement," she says. "SMC is, after all, an educational institution."
Marian says she learns something from every exhibit, ranging from an artist's thoughts on a particular artwork and why it was selected, to new ways to attract students to the gallery. "Our installer, Brennan Wheeler, is adept at exhibit design and installation," she says. "He has an eye of an artist and the skill of an engineer."
When asked what got her interested in curating, Marian cited one of her earlier curatorial ventures: the very untypical 'One in Eight: Women and Breast Cancer,' a 1994 exhibit in the former SMC Art Gallery featuring works by 12 artists—some of them her personal friends—who have had breast cancer. "I liked being able to do a show with a focus on people and other important issues to be looked at," she says.
Marian credits much of the Barrett Art Gallery's success to strong support from established local artists like Tony Berlant, feminist artivist Bruria Finkel, Scot Heywood, Gwynn Murrill, Edith Baumann, and Andy Moses. She also credits Bruria for helping establish the gallery's reputation for high-quality exhibitions, and considers her an important mentor.
"One of our highlights," says Marian, "was 'Emphasis Santa Monica,' which Bruria curated in 2008." The show, which coincided with the opening of The Broad Stage, attracted the notice of the arts community with works by 49 Santa Monica artists, ranging from John Baldessari to Barbara Drucker to Frank Gehry.
In 2010, the Barrett Art Gallery hosted 'The Painted Song: Australian Aboriginal Women's Paintings from The Kelton Foundation,' a guest-curated exhibit "reflecting women's views of personal and traditional stories from a 60,000-year-old Aboriginal culture," says Marian. The Kelton Foundation is a Santa Monica-based private nonprofit organization that maintains the largest private collection of Australian Aboriginal Art in California.
In 2011, the exhibition 'Marks & Movement: Five Painters,' presented artworks by the prominent Los Angeles abstract painters Edith Baumann, James Hayward, Scott Heywood, John M. Miller, and Ed Moses. "This group of five abstract painters, who have known one another for more than thirty years, represents an artistic practice that may come in and out of fashion but is characterized by a fundamental timelessness," wrote renowned art historian Frances Colpitt in the foreword for the exhibition's catalog.
"That show really got me interested in abstract art," says Marian, "and since that show, we have put together one-person exhibits featuring Scot Heywood, Edith Baumann, and John M. Miller."
In 2013, the Barrett Art Gallery also gave SMC the distinction of being the first institution of higher education to host "African American Treasures: History and Art from the Collection of Bernard and Shirley Kinsey"—a rare and historically rich assembly of art and materials that has been exhibited throughout the United States.
Marian is currently in full swing, preparing for next Barrett Art Gallery exhibition: 'Andy Moses: A 30-Year Survey.' The show, which runs from February 14 to March 25, will have a gallery reception on Saturday, February 11, from 6 p.m. to 8:30 p.m. The artist will also present an art talk in the gallery on at 7 p.m. on March 14.
Marian curated the comprehensive, chronologically sequenced installation that follows the progression of Moses' style and process—which reflect the artist's 15 years in New York and 15 years in the Los Angeles area—and ranges from his early black-and-white works exploring galactic and microscopic imagery through chemical paint reactions, to his most recent vibrantly colored 'dispersion' paintings.
"We've been planning this exhibition for the past two years," said Marian, "working with the William Turner Gallery on reviewing and selecting works that capture the imagery Moses was creating at particular moments in time, and that reflect his style development over a period of time."
As for what Marian thinks about curating, "It's hard work, but I love doing it. It's challenging in that there are no boundaries. In terms of time, for example, I may need to take a call on a Sunday at 7 a.m. or 9 p.m."
More information on the Pete and Susan Barrett Art Gallery. Santa Monica College has one of the best foundation art programs in the state, and SMC students transfer to the most prestigious art schools in the country including Cal Arts, Art Center College of Art and Design, San Francisco Art Institute, the Chicago Art Institute, Rhode Island College of Art and Design, and the California College of Arts and Crafts.
* * *