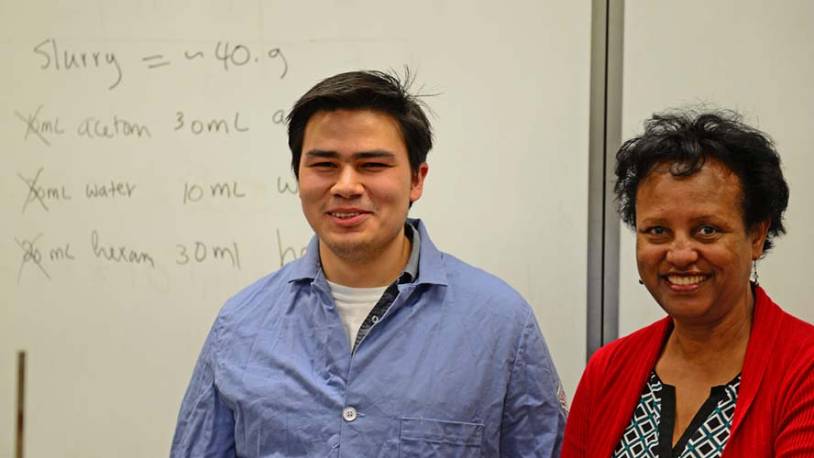 Simon Valenzuela, a second-year mechanical engineering student at Santa Monica College, learned a valuable lesson on how science and engineering work hand in hand when applied to a real-world problem.
He came to California from Colorado in 2012 with his single mother, sister and brother. They had "no plans, no money, and for the first three months, were sleeping in cars and hotels." No one in his family had gone to college before, but Simon, who enjoys writing, thought he might like to be an English major.
And then a counselor at Culver City High School suggested he consider STEM (Science, Technology, Engineering, Math) for his college studies, and his friends and mother urged him to explore that direction. So he did. Not only would the program become his anchor at Santa Monica College, it would open up a world of opportunities.
The Challenge
It began when SMC Chemistry Professor Roman Ferede went on sabbatical in Nigeria, where her husband is a plant breeder at an international research institution. Although he was able to breed corn plants to increase their carotenoid content, her husband told her that he had limited means to test those levels to determine whether the plants could have an impact on malnutrition. (In the developing world, malnutrition takes many forms, including deficiencies in vitamin A, necessary for human growth and vision. Certain red and yellow plant pigments called carotenoids can be converted by the human body into vitamin A.).
When she returned to SMC, Professor Ferede told her students, "One of the biggest parts of being a scientist is to find researchable topics and issues." So she brought this challenge into her Independent Research Project and Science 10 courses, which teach the principles and practice of scientific research to SMC's STEM students.
Simon and a group of fellow Science 10 students were already researching carotenoid extraction and quantification. They decided to design an affordable, easy-to-build, hand-operated centrifuge—a device that rotates at high speeds to separate materials into their various components—with tubes large enough to spin big batches for analysis.
Three teams took up the challenge of building the centrifuge. "We looked at three different mechanical models: a salad spinner, a bicycle, and an eggbeater," Simon explained. "Our team built a successful machine based on the eggbeater."
Simon's team included Miguel Macias—a chemistry/pre-med student—and Edwin Rashidi, also pre-med. The teamwork process taught them how to turn an abstract concept into concrete reality through trial and error. "We were never idle in the laboratory, we were always working, and soon we had something spinning," Simon said. But, perhaps most importantly, he said, they learned "how to communicate, share our thoughts and ideas—which is where it all starts."
Parts for the centrifuge were easily found at a hardware store. The team also experimented with inexpensive over-the-counter, nontoxic solvents for the extraction process. They concluded that coconut oil was the most effective.
In Spring 2016, the Science 10 students researching the extraction of carotenoids won first prize in their category at SMC's Global Citizenship Symposium.
A First for SMC STEM Students
The Louis Stokes Midwest Center of Excellence was established to help strengthen success for underrepresented minority scholars in STEM programs. The center convenes an annual Student Poster Conference in Lisle, Illinois, where students present their research on large posters to a panel of judges, who drill them on their work and their findings.
Professor Ferede was not sure whether her students conducting research at SMC could apply for the conference, but Miguel decided to send in an application for his team's research. What happened next surprised everyone: They were accepted!
So Simon, Miguel, and Edwin found themselves getting ready to present two of the 130 posters accepted for the conference.
A Game-Changer
Working on the centrifuge helped Simon decide to focus on mechanical engineering, but working 35 hours a week while going to college full-time wore him out. And the thought of taking physics to complete his degree nearly derailed him.
At the conference, Simon heard a keynote address from Terrell Strayhorn, the youngest professor in Ohio State University history. The renowned scholar spoke about the difficulties he faced in finding his way as an undergraduate, and the relevance of academic work.
Professor Strayhorn talked about his grandmother—an educator and his lifelong role model—whose brain aneurysm left her unable to speak. But one day just before she died, she called his name and began to sing a hymn, "There's a Bright Side Somewhere." Simon said, "Terrell sang it to us with a voice worthy of a Grammy. The tears flowed down my cheeks. And after that speech, my doubts disappeared, and I felt a surge of energy, knowing that no matter how difficult things get, there's always something to keep my head up for."
After that keynote address, Simon felt renewed and motivated. "I'd previously felt unprepared to present our group's work, but after hearing that talk, all my doubt was gone and replaced by a source of energy I had not felt before." And, when the time came to present, "I was ready to talk to anyone about our project." He did just that.
Simon was also inspired by other students' personal experiences, by reviewing their scientific research, and by discovering a world of internships and academic research opportunities that he never could have imagined.
At the conference, Simon found a way to combine both his interests—writing and STEM—by keeping a daily journal of his experiences, just as scientists keep logs of their lab research and experiments.
Professor Ferede encourages him to keep writing. "Once you do research," she said to him, "you want to share it with other scientists, make presentations, and write and publish academic articles."
It Takes a Village
The Stokes Conference paid for one SMC student to attend—Miguel, who submitted the application—and SMC's Global Citizenship Committee sponsored the other two. Dr. Ferede attended as a judge.
SMC Global Council Chair and English Professor Gordon Dossett said the students' work embodied the College's global citizenship goals. "The project exhibited academic persistence and rigor, reflecting the rich international heritage of our student body and our commitment to the environment," he said. "The students participating in the conference shared the results of their work and entered into the national academic discourse: an important step, especially for students engaged in STEM research."
Simon credits SMC's STEM program for giving him the foundation to get his four-year degree in mechanical engineering, and he aims to transfer to UC Davis or UC Riverside. "In high school, I didn't think I had an aptitude for math or science," he said. "But now I'm working harder daily on all phases of my studies, and I feel like I'm getting where I need to be."
For more information on the STEM program at SMC, please visit smc.edu/stem.
* * *