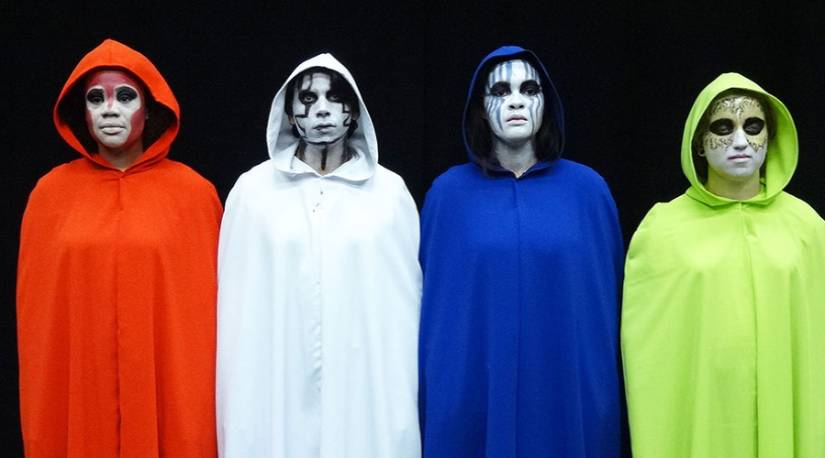 The SMC Theatre Arts Department continues a streak of distinction. This year, their production of "Quartet: Four Short Plays by Samuel Beckett" was selected to participate in the Kennedy Center/ American College Theatre Festival Regionals to be held in Mesa College, Arizona in February. Fundraising performances were held on January 27-29 on campus. Originally performed at SMC in October/November 2016, "Quartet" is one of only six plays selected from productions judged at colleges and universities throughout the western region: Southern and Central California, Southern Nevada, Arizona, Utah, and Hawaii. "Quartet" is SMC's fifth full-performance production selected for competition at the regional festival in the past six years. In addition, "Slavery" (2002) and "Once on this Island" (1997) went on to the finals in Washington, DC, at the Kennedy Center.
SMC Police Chief Johnnie Adams is proud to share that SMCPD Officer Summer Samano was honored with the 2016 Officer of the Year award for SMC. The award was given to Officer Samano at a banquet held at the Santa Monica Elks Lodge at which several agencies—including the Santa Monica Police Department, the UCLA Police Department, LAPD (West Los Angeles), and California Highway Patrol (West LA)—also honored their respective Officers of the Year. Chief Adams called Officer Samano "…cheerful, engaging and ready to assist in any task [the community] required." She was also commended, among many other things, for helping students who have survived sexual assault, and for her compassion. Congratulations, Officer Summer Samano—and thanks for all you do!
While we were drinking hot chocolate and watching Netflix, the SMC STEM program was busy! Here's a taste: The very first annual STEM "Finals Stress Relief Week" was held Dec. 5 - Dec. 12. Tutors, snacks, coffee, and a yoga workshop all helped students get through the stress of finals. The program also held a first-ever Study STEM-a-thon the weekend of Dec. 10-11. 90 students made use of the study spaces, quiet rooms, snacks and coffee, and friends who could help them with last minute revisions. And, on October 27, the STEM Program also held its third annual Transfer-Coach-Ella open lab session—students from STEM, EOPS, Adelante, and Black Collegians were helped with their UC/CSU/Common Applications and personal essays.
Communications instructor Rosalyn Kahn went to Vail, Colorado to train a Tedx speaker, Doron Gazit, who is using his art—specifically a multi-site installation called The Red Line Project—to bring attention to global warming, climate change and human misuse.
Earth Science professor Dr. Alessandro Grippo took fifteen of his Geology students to Catalina Island for an entire weekend, virtually all expenses paid, through a grant he obtained from the University of Southern California. It was a first for many of them! On the island, they learned about the natural world in the field, lab, and water.
Ish Shabazz, SMC Network Engineer and (in his spare time) Indie iOS developer, has created and launched several apps—the latest being Stamp Pack. He was recently interviewed on a podcast about the process of building and selling an app, and more.
Sheela na gig, The Dark Goddess of Sacred Power (Inner Traditions) is a book that's been in the making for over a quarter of a century. The author is Starr Goode, Adjunct Professor in the English Department. Over 150 illustrations is featured in the book, which traces the origins of the Sheela na gig from Medieval times to Paleolithic cave art. It is now available on Amazon.com.
Professional mezzo soprano and SMC Music Professor Dr. Janelle DeStefano presented a workshop with her husband, Dr. Joe DeStefano, licensed acupuncturist, for the National Association of Teachers of Singing (NATS) National Winter Workshop, January 5-7 in San Diego. Voice professionals from across the US and Canada attended the workshops on Holistic Options for the Singer's Mental and Vocal Health and Beyond the Breath: Taiji & Qi Gong Exercises for the Singer & Studio.
English professor Carol V. Davis has a new poetry book out: Because I Cannot Leave This Body. This book crosses cultural and geographic boundaries to explore her family's history as outsiders, as immigrants. She probes the boundaries between faith, folklore and superstition, trying to find her own way in landscapes that both beckon and threaten.
English Professor David Burak wrote a prose poem—in the form of an email—in the "wee hours of an early December morn" about the significant role that the late Fr. Daniel Berrigan—an American Jesuit priest, anti-war activist, and poet—played during the peace movement era and beyond. Professor Burak's tribute has been posted on a memorial site for Fr. Berrigan.
Art professor Marc Trujillo has a solo show "Urban Ubiquity" at the Bakersfield Museum of Art. The show runs through May 7th, and was covered by John O'Hern in the February issue of American Art Collector.
English Professor Mario Padilla's short story collection "Scales and Other Stories" was one of two honorable mentions for the Red Hen Press 2016-2017 Short Story Collection Contest.
If you were on Santa Monica's Third Street Promenade on December 20, and felt an overflowing sense of holiday cheer, it probably had to do with the Emeritus Concert Band caroling there that evening!
* * *