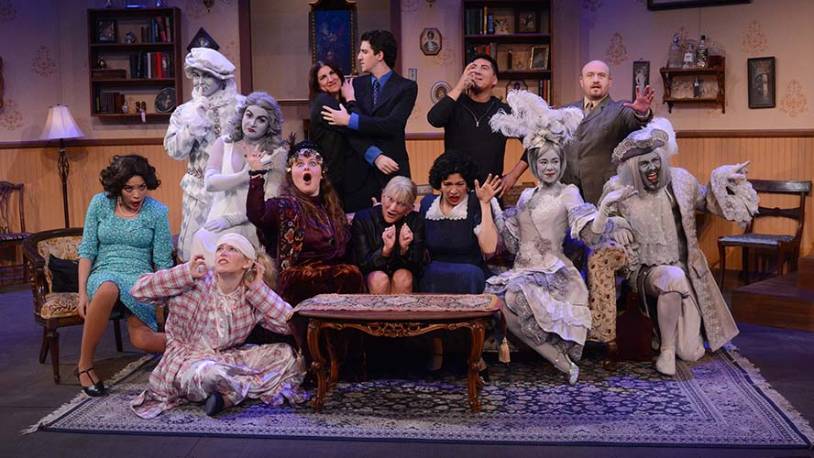 Search IMDB (Internet Movie Database) for Kaiwi Lyman-Mersereau, and you'll find Santa Monica College credited in his biography for helping him launch an acting career. After high school theatre training in his native Hawai'i, and with just a year of Theatre Arts studies at SMC in 2002, he learned how to craft a monologue for auditions, and landed the very first film job he tried out for.
There hasn't been a year since then without a film or TV credit on his lengthy resume. Reached on location in Atlanta while shooting an upcoming movie Den of Thieves, Kaiwi says, "I use the technique I learned at SMC—how to break down a scene into beats—for every single role I play."
Jocko Sims, another actor with a long string of IMDB credits, also uses the technique in his successful career and shares it with the actors he coaches. Playing a role that was supposed to last for only five episodes on the TNT series The Last Ship, his performance was so strong that his character was written into the show, now in its fifth season.
Jocko attended SMC for two years, and credits Theatre Arts Department Chair Dr. Adrianne Harrop for imparting both acting technique and personal support. "She believed in me from the beginning, and recognized a talent that I did not. I'm not sure anyone else could have motivated me the way she did, as both instructor and mentor."
Merced native Anthony Richardson moved to Los Angeles and began attending SMC Theatre Arts in 2014. He just got accepted into The Julliard School.
"Santa Monica College has been the main reason why I got accepted into Julliard," says Anthony. "The Theatre Arts Department faculty has been amazing—from day one!" Anthony credits Theatre Arts instructors Roxanne Captor and Aric Martin—with whom he took Acting 1 and Acting 2 respectively—for encouraging him. Professor Martin, himself a Julliard graduate, helped Anthony prepare for his audition in San Francisco. Two weeks later, Anthony got the call from New York he'd been dreaming about.
Continuing the Tradition
The current crop of SMC Theatre Arts students follows with their own set of successes. The group recently returned from the 2017 Kennedy Center American College Theatre Festival (KCACTF) regional competition with awards for acting, technical theatre, stage management, and musical theatre, and with scholarships to prestigious workshops in the U.S. and abroad, like CSU Summer Arts 2017 and Ireland's National Academy of Dramatic Art. In fact, this is the sixth consecutive year that SMC was selected to participate in the regional festival, which involves 18,000 students from colleges and universities nationwide.
Some students, like 22-year-old Israeli-born Sivan Aviv, come into the program to prepare for a career in television and film. "But the program has taught me so much about the many aspects of theatre," she said. "There's something completely magical about working on the stage."
Jordan Barksdale, who was on track to a career in journalism in her home state of Kansas, says her life changed when a car accident killed her beloved stepfather, making her question whether to pursue a practical career, or do what she truly loved. As a child, she'd always entertained family and friends. Just as her stepfather had done when they visited Los Angeles one time together, her broadcast journalist mother encouraged Jordan to follow her dreams. In 2014, she came to SMC to explore film studies and acting.
"At SMC, the whole world of theatre opened to me," Jordan says. Studying classical acting styles from the Ancient Greeks through Shakespeare, and from the 1800s to contemporary movements like absurdism, modern realism—and even performance art, is the "kind of training that gives you a really strong foundation," she said, "whether you go toward stage or screen."
Both Sivan and Jordan appear in the original SMC production Voices of Hope, a collaboration between SMC Theatre Arts and the SMC Police Department. The production was created as a wake-up call about sexual assault and Title IX, the educational act that prohibits gender discrimination.
And both participants are participating in a theatre arts exchange during Spring Break 2017 with Bath Spa University in England, performing QUARTET: 4 Short Plays by Samuel Beckett. QUARTET—directed by SMC Theatre Arts Professor Perviz Sawoski—was one of only six productions selected for the KCATCF competition held in February in Mesa, Arizona. All four festival performances were sold out.
Not Just Acting
SMC Theatre Arts Professor Perviz Sawoski, who is from India, incorporates her strong background in theatre, dance, and karate (she holds a Black Belt) into the classes she teaches in acting, stage movement, directing, and musical theatre. "Martial arts and performing arts are close," she says, "and I have come up with a combination of acting and movement techniques that even beginning students can get."
Sivan agrees. "Professor Sawoski puts the whole picture together," she says. One of her favorite classes included flamenco dancing, because "it taught me how to stand up straight, walk into a room, how to carry myself as a person, and how to build more character on stage."
But, as Jordan points out, acting is just one part of putting on a theatre production, and it's not the only job in show business.
SMC offers top-flight, hands-on training in technical stagecraft, from projection, stage, and sound design, to set building, lighting, and costuming; students have the option of degrees and certificates in both Theatre Arts and the Career Technical Education-oriented Technical Theatre track.
"We're encouraged to understand all these aspects of the process leading up to the show," Jordan said. "And we have an amazing tech crew at SMC; everyone gets named in the programs."
That Extra Edge
While talent matters, it also takes practical knowledge to succeed. Students practice scenes and learn to develop a character by creating objectives and gestures to go in deep. They're taught how to present winning monologues for auditions, as well as how to dress and present themselves, how to "slate" in front of a director, and perhaps most importantly, how to accept critiques and build confidence.
Thanks to SMC, "I learned how to step out of my shell as Sivan and get into character," said Sivan. "My teachers helped me see that I don't have to be an ensemble player, I can be a lead." That confidence helped her land a role on Snap, an Oxygen network crime show; and she has signed on with Cast It Talent, an online casting service for studios and producers.
Now she's confident enough to take a break from school after this semester to see what other opportunities there may be for her in the "real world." "My hope for the future is doing the thing I love and getting paid for it," Sivan said. "It takes dedication and determination, and I'm not giving up."
SMC students have been accepted into NYU, Columbia University, The Juilliard School and many alumni work as professional actors and theatre technicians on and off-Broadway, as well as in National Tours, London's West End and other international theatrical venues.
To learn more about the theatre arts offerings at SMC.
* * *