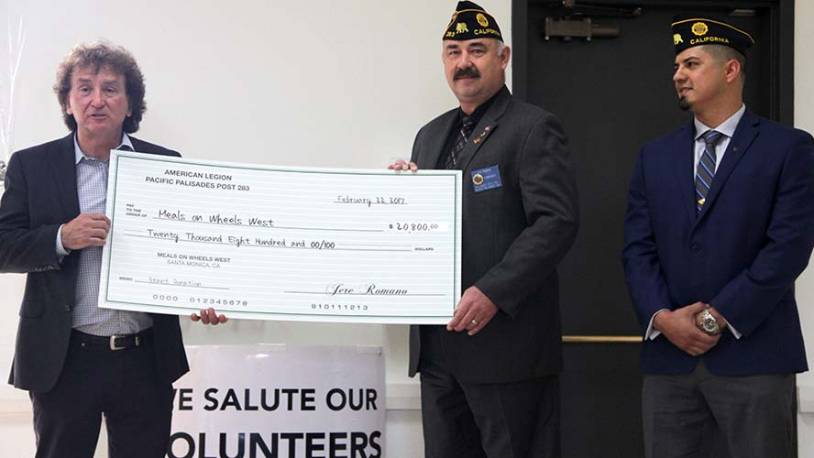 SMC Police Department Sergeant Jere Romano is actively doing good in the community. As Commander of American Legion Post 283—which recently made a $20,000 donation to Meals and Wheels to help feed the hungry, including veterans—Jere was featured in an ABC7 segment and quoted in a Santa Monica Daily Press article.
---
English professor and poet Carol Davis had a poem Admiral Nimitz from her latest book Because I Cannot Leave This Body featured in American Life in Poetry. The online project is the brainchild of Ted Kooser, Poet Laureate of the United States, 2004-2006. Carol's poem reached 3.5 million readers around the world!
---
"Memory of a Rock" is a solo exhibition featuring new paintings by Los Angeles artist and SMC Art professor Carlson Hatton at Patrick Painter, Inc., Bergamot Station—right down the street from SMC. The exhibition features motifs of minimalist markings that run throughout the pieces gathering in large groupings of re-worked mono-prints. The show runs March 25 – May 6, 2017. Don't miss it!
---
Trustee Rob Rader was mentioned in articles about Hot Art, an hourlong scripted drama series book by Canadian journalist Joshua Knelman, Hot Art: Chasing Thieves and Detectives Through the Secret World of Stolen Art. Rob is General Counsel for Ovation TV, the media company that's producing Hot Art.
---
We have many treasures at SMC—and one was recently named a 2017 "Mid-Coast Literary Treasure" by the Ventura County Arts Council. The honoree was Emeritus instructor and poet Ellen Reich—Ellen was also recognized by the City of Malibu for this distinction. Congratulations!
---
Film & Media Studies instructor Monique Matthews created a 60-second digital docu-series called extraORDINARY that explores everyday people excelling in their daily lives. There are six episodes in a season—and one includes SMC Workforce Dean Frank Dawson discussing his documentary Agents of Change.
---
And, the Los Angeles Review of Books published Strength to Strength: The Life and Ascent of Maya Angelou, a Q&A with the filmmakers of the award-winning PBS documentary Maya Angelou in "And Still I Rise". The interviewer was, of course, Monique. Read the LARB article here.
---
Guggenheim Fellow and SMC Art Professor Marc Trujillo has a solo show "Urban Ubiquity" at the Bakersfield Museum of Art. John O'Hern of American Art Collector wrote a great review of the show in the current issue of the magazine, out now.
---
The Dance Department has a litany of brags! They partnered with SMMUSD to teach ballroom dance to 800 fifth grade students, thanks to the support of the SMMUSD and SMC President Kathryn E. Jeffery and as part of a new pathways program.
The department partners with Grant Elementary School to offer internships in dance education. Now in its second year, the SMC Dance Teaching Certificate program continues to prepare dance educators to teach in the Pre-K and elementary school classroom. This program, developed by SMC Dance faculty Roberta Wolin-Tupas, culminates in a teaching internship. This spring, eight SMC student interns were selected to teach at SMASH/John Muir Elementary in Santa Monica.
In February 2017, the SMC Dance Department hosted a special on-site audition for the prestigious State University of New York, The College at Brockport. The master class audition was led by undergraduate director James Hansen. Four students were awarded $1,000 dance scholarships for transfer. (The Dance Department has moved into their new home: the third floor of the beautiful Core Performance Center.).
And, in faculty brags:
Judith Douglas, Department Chair, will attend "Gala des Ecoles de Danse du XXIe siècle" in Paris, France. From April 2nd to 8th, the Paris Opera Ballet School welcomes the Royal Danish Ballet School, the Vaganova Academy, the Royal Ballet School of London, the San Francisco Ballet School, the Canada's National Ballet School, the John Cranko Schule - Stuttgart Ballet and the Hamburg Ballet
---
Mark Tomasic, Associate Professor of Dance, along with 16 SMC Dance majors participated in the inaugural Palm Springs Dance Festival (PSDF) in Palm Springs, CA. SMC Dance majors performed at Palm Springs Village Fest and at a student showcase at the Helene Galen Theater. Students also viewed performances by leading national and international dance artist/educators and took part in master classes. Faculty members Mark Tomasic, Sri Susilowati, and Seda Aybay along with student Rachael Servello presented dance works at the festival. Mark and Seda also presented master classes. The trip was funded in-part through the support of Associated Students.
---
On March 13, Associate Professor Caleb Mitchell organized the High School Dance Day featuring on-campus workshops and classes for high school students in the Los Angeles area. Beverly Hills High School students took classes taught by Caleb Mitchell (ballet) and Keali'i Ceballos (Tahitian). On March 17, SAMOHI invited SMC dance instructor Angela Jordan, to instruct a traditional African dance class alongside Mark Tomasic teaching modern.
---
Caleb Mitchell was given an invited residency as guest choreographer/ teacher for St. Louis, Missouri's Center of Creative Arts (COCA). Under the direction of Kirven and Antonio Douthit-Boyd, COCA invited Mr. Mitchell to create a seven minute work using the music of the legendary Scott Joplin. This choreography entitled "Birthday Celebration" is scheduled to premiere in mid- April.
---
Vanessa Van Wormer, Associate Professor of Dance, maintains a strong national presence as choreographer and instructor. This February, the Pasadena Dance Festival hosted Van Wormer for a contemporary master class, and invited her company VVWdance to present her work "Tide." VVWdance hosted company dancers from NY and Boston, and invited guest artists from LA to perform in the festival.
---
Last December, Roberta Wolin-Tupas, Adjunct Dance Professor brought creative dance classes to pre-school students at Center 4 Children in La Crescenta and hosted an Autism Movement Workshop this month. Jennifer Jesswein, adjunct professor, continues to volunteer as a performer at Wise and Healthy Aging in Santa Monica. And Seda Aybay will be presenting a choreographic work at Youth American Grand Prix this spring in New York City!
---
Cihtli Ocampo was the featured soloist in Ethan Margolis' production of "Sonikete Blues" in September-October, 2016. The show was a fusion of Blues, Jazz and Flamenco and featured some of the world's top jazz musicians and Flamenco artists. The show debuted at the El Portal Theatre in NoHo before going to San Francisco and Santa Cruz. In addition to teaching at SMC, Ms. Ocampo is currently part of the Santa Monica Dance Academy bringing ballroom dance to fifth graders in Santa Monica and Malibu.
---
Last December, Laura Canellias continued her six-year streak of judging the Miami based World Latin Dance Cup, one of the largest dance competitions of its kind bringing professional & amateur dancers from over 35 countries to compete in over 70 divisions in Salsa, Bachata, Cha-Cha-Cha, Kizomba & Tango.
And that's it from the illustriously busy Dance Department—for now!
---
Accounting Professor Jenny Resnick earned $500 in supplemental funding from the National Endowment for Financial Education. The money will provide a number of grocery/bookstore gift cards as lucky draw prizes for students attending the three personal finance workshops in Spring 2017 which will cover smart savings, budgeting, building credit, debt management and tax planning.
---
Luis Andrade is busy on campus—he is a Communication Studies Professor and Co-Director of Speech and Debate. But he stays busy off-campus as well, conducting research studies for publication. An article by Luis titled, "The Function to Serve: A Social-Justice-oriented Investigation of Communication College Mission Statements," was published in the Journal of Hispanic Higher Education published on June 7, 2016. He has another article forthcoming titled "Latina/o Transfer Students' Selective Integration and Spatial Awareness of University Spaces" in the same journal—a highly respected one that deals with issues related to Latina/os in higher education throughout the nation.
---
SMC's Dean of Noncredit and External Programs Dr. Dione Carter has two brags: on a personal note, her doctoral dissertation "Hip-Hop Culture and Critically Conscious Non-Collegian Black Men: A Phenomenological Study Based in Urban Los Angeles, California" was cleared and delivered to ProQuest for publishing. And in the professional realm, Dr. Carter's colleagues—including faculty, classified staff, and administrators—accompanied her and Laura Manyweather, (Interim) Project Manager of Adult Education Programs, at the Association for Community and Continuing Education (ACCE) Annual Conference held in San Diego in February.
---
ESL Department Chair Janet Harclerode submitted this brag with the header "Not Bragging Yet!" (We think she should). Janet is training for a century ride at Lake Tahoe in June to raise funds for the Leukemia and Lymphoma Society. America's Most Beautiful Bike Ride is actually only 72 miles, but a short trip to Truckee and back makes it 100 miles. Janet writes: "Here is my fundraising page for anyone who might want to contribute. Better yet, join us for some great bike rides and a worthwhile cause."
---
Dr. Barbara Mendoza, part-time art historian in the SMC Art Department, has recently published an article on ancient Egyptian "Reserve Heads" for the UCLA Encyclopedia of Egyptology open version online (February 2017).
---
History instructor Jaime Cruz hosted an immigration workshop at Virginia Avenue Park in March. The "Know Your Rights" immigration series had an immigration attorney on hand to address topics related to the executive orders and immigration enforcement as well as a therapist who shared tips with those dealing with mental stress.
---
Communication Studies instructor Sheila Laffey moderated a panel discussion after a packed screening at the Aero Theater in Santa Monica on February 22 of Love Thy Nature, a film on which she was Associate Producer. Panel members included director Sylvie Rokab, actress Frances Fisher (Titanic, Unforgiven), Andy Lipkis (founding director of Tree People), and Atossa Soltani (founder of Amazon Watch). Narrated by Liam Neeson, Love Thy Nature has won 27 awards and has screened in 16 countries. It screened at SMC on April 25 as part of Earth Week through the Center for Environmental and Urban Studies and the Media and Communications Department series. Director Rokab and Associate Producer Laffey discussed the film.
---
A VERY noteworthy personal brag: Nancy Grass, Interim Associate Dean of Student Life and Deirdre Weaver, Director of Student & Alumni Relations, were proud mothers of the bride! Their daughter Sarah Hemmert—who is also an adjunct Communication Studies instructor—married Michael Jensen in a spectacular ceremony and reception at the Fig House in Downtown LA.on January 15.
---
The SMC Police Department and SMC Communication and Media Studies Department held a screening of the documentary film, "Walking While Black: L.O.V.E. is the Answer" on February 28. A Q&A followed after the viewing, moderated by Prof. Timothy Conley with special guests: Director AJ Ali, Producer Errol Webber, SMCPD Chief Johnnie Adams, SMC Associate Dean Frank Dawson, and Santa Monica Police Department Captain Darrell Lowe. The event was a great success and a very enlightening and educational discussion followed.
* * *