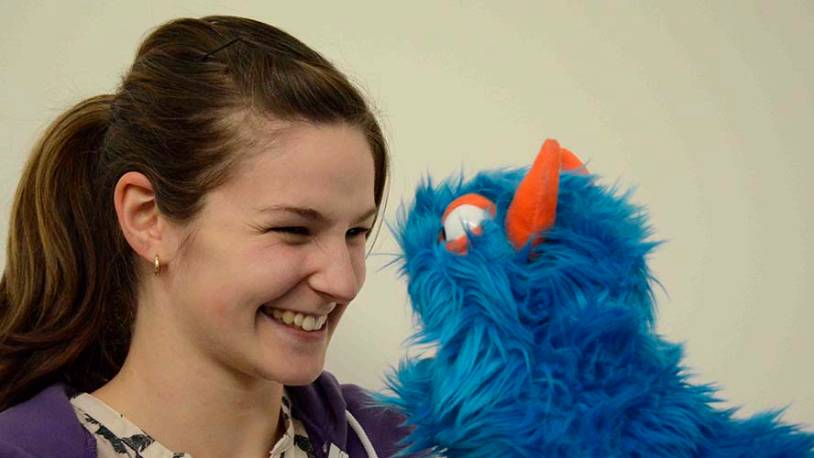 Stefanie Solyom and Nicole Bautista each wanted to give young children with physical, cognitive, or language challenges the boost needed to overcome those first obstacles on their way to successful lives. Even though their routes differed—Stefanie wanted to teach, while Nicole is focusing on occupational therapy—Santa Monica College's Early Intervention Assistant Program set them on their professional paths.
Stefanie already had a Bachelor degree in psychology from the University of British Columbia, but she still turned to SMC to enhance her skillset. "I had theoretical knowledge," she says, "but SMC gave me more specific skills to work in a preschool setting and in a special education preschool setting."
SMC's Early Childhood Intervention Assistant program—offered through the Early Childhood Education (ECE) Department—enables students to build expertise in special education, and teaches them how to help children from birth to age eight overcome developmental delays. Students can pursue an Associate degree or a Certificate of Achievement, with courses taught from a culturally sensitive, family-focused perspective.
The program combines coursework, site observations, fieldwork, mentoring, tutoring, and professional development to train topflight early intervention providers in how to aid children who have autism spectrum disorders, cerebral palsy, and other disabilities, as well as children who have hearing impairments, speech impediments, and other conditions—or who just need a little extra help.
Supported by core courses in child development and family systems, in addition to the principles of teaching—and bolstered by partnerships with key community and educational organizations—the early intervention program offers students a range of opportunities within the specialty.
Recent graduate Nicole Bautista honed in on one of them to garner experience toward her professional goal. "I wanted to work with people in helping them improve their lives," she says. "I have a preference for working with kids, so I want to become an occupational therapist in a pediatric setting."
Now armed with her Associate degree, Stefanie puts her SMC experience to work as a preschool teacher at New School-West, aiding her young charges in ways that go beyond teaching. "We know that children are capable learners, so we are always referring to their interests to keep them engaged," she says.
Large, creative projects that encourage teamwork can play a pivotal role, she adds. "At the preschool where I work, children are collaborating to build a fire truck. They come up with all these ideas, and we teachers find ways to facilitate that creativity and help them bring it to life."
"Early childhood education is a unique profession that helps support and nurture future generations and their families," ECE Department Chair Laura Manson says. "We have a variety of full-time and adjunct faculty from all aspects of the field to ensure that our students receive the training, mentorship, and experience to succeed in careers helping children takes those important first steps toward reaching their full potential."
Instructor Olivia Karaolis is one of those dedicated faculty members. An expert in early intervention, she not only teaches, but also places students at 'practicum' sites—actual preschools and other locations serving children—which frequently lead to the students' first jobs as professionals in the field.
Olivia explains that the standards are rigorous. "Students have to complete 90 hours of fieldwork," she says. "They are placed at a site with a mentoring teacher, and work with a child who is diagnosed or suspected of having a developmental delay or disability."
According to Laura Manson, the program strives to stay on top of current and emerging trends and challenges related to ECE. "We always prepare students with the latest information and ideas, so they know what to expect."
Such advanced training, combined with SMC students' zeal, enables them to immediately start contributing at their practicum sites—even as they're still learning. "It tends to be a two-way thing," says Olivia. "Students gain experience while being supported by an experienced teacher, but they're often giving as much as they're getting."
Like Stefanie, Nicole holds an undergraduate degree from a four-year university, having studied sociology at UCLA. She was also a student teacher there when a UCLA advisor recommended SMC as an ideal place to learn about child development.
"It was quite a shift coming from classes with upwards of 200 students to a setting that had fewer students and was more community-based," says Nicole. "Most of the people I took ECE classes with at SMC wanted to be teachers and had experience working with kids, so I felt at home."
In addition to the camaraderie shared by ECE students, Nicole says, "the instructors were super helpful in providing practical resources and knowledge."
Today, Nicole works at a preschool, providing one-on-one aid to a student "who needs a little bit of extra support in the classroom." She also is applying to Master degree programs in occupational therapy, and expects to begin one in the fall.
Both Stefanie and Nicole credit Olivia with helping them obtain their current jobs. "I am very grateful for the program at SMC and how it got me in touch with someone as amazing as Olivia," says Stefanie.
While many students come to SMC to begin their teaching careers in ECE, like Stefanie or as springboards to related areas, like Nicole, the program also attracts working educators who want to expand their expertise in the field. "I have a lot of teachers who are coming back for that knowledge," Olivia says. "Because now it's pretty typical to have a child in every classroom that requires those special education services."
The department is currently in the process of acquiring accreditation from the National Association for the Education of Young Children (NAEYC), the field's leading professional association. But that designation will just affirm what the ECE program's students and alumni already know: that SMC is unique in combining exemplary training and practical experience with a supportive atmosphere and faculty who are as accessible as they are experienced.
"It's a one-in-a-million program," says Stefanie.
Beyond the academic knowledge and practical abilities, the program and the skills it teaches include connecting with the children helped by SMC students and graduates.
"A lot of my students call building these relationships a life-changing experience that enables them to view these children through a different lens," says Olivia. "And that really makes me want to get up in the morning.
"There are a lot of myths about disability and what children with disabilities can do," she adds. "Unfortunately, when we think that way, we set a bar—and a low one—when we should help them reach for the stars."
SMC offers a variety of Associate degrees and Certificates of Achievement in ECE. The Associate in Science for Transfer degree in ECE gives students the opportunity to get priority admission into many CSU campuses. In addition to the Early Intervention Assistant option, Associate degrees are also offered in ECE-Career and Certificates of Achievement are offered in the same areas. A Department Certificate in ECE (Core) is available and prepares students to obtain an Associate Teacher permit. For more information on becoming part of this challenging, yet rewarding profession, visit the Early Childhood Education website or call 310-434-8109.
* * *