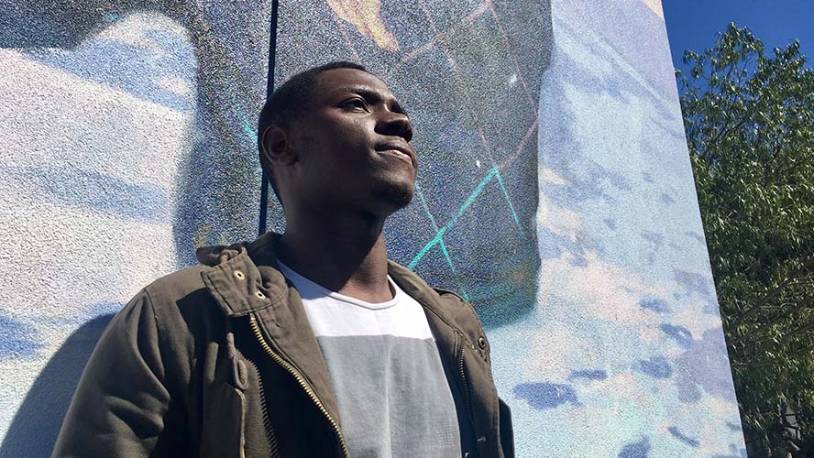 Aboubacar Maguette Conde has come a long way—literally. The 21-year-old Santa Monica College electrical engineering student was born in New York; raised in West Africa in Conakry, Guinea; moved back to New York after high school; and then, following in his sister Aicha's footsteps, came to SMC in 2014.
Bouncing between majors, he first studied economics and finance (his father's field and the one his father hoped Aboubacar would enter). Instead, Aboubacar decided to try computer engineering, and eventually settled on electrical engineering as his focus.
But the biggest impact on his life, says Aboubacar, came from being one of the SMC President's Ambassadors, the official student representatives for the College and the President's Office. These students showcase SMC's excellence to the community as role models of professionalism and hospitality.
"I come from a conservative country in Africa, and brought that mentality with me. As an Ambassador, I've met and spoken to people from so many different cultures here that I never interacted with in Guinea, such as the LGBT community and students with disabilities," said Aboubacar. "And it has really opened my mind, speaking one-on-one, and realizing that we are all just human beings."
The Opportunity of a Lifetime
These new experiences helped prepare Aboubacar for the opportunity of a lifetime.
In September 2016, he was at an event at the RAND Corporation, while representing the Ambassadors at the annual kickoff for the SMC Associates (a community support group that funds extra-curricular programs to enrich SMC students' academic experience). There, Aboubacar introduced himself to the keynote speaker, renowned USC psychologist and neuroscientist Dr. Gabriel Crenshaw, who goes by the moniker 'Dr. Gabe.'
Aboubacar said that neuroscience wasn't necessarily a topic of interest to him, but the way Dr. Gabe spoke—with the perspective of being a Black professor—interested and inspired him.
They connected after the lecture, and Dr. Gabe called Aboubacar "a standout."
"The way he approached me was very formal and professional, and I was impressed," said Dr. Gabe, "I told him about an internship with a program we were starting, and I said, 'If you're really interested, reach out to me.' A lot of students get caught up in the excitement of the moment, but when that wears off, you find out who's serious about following up. Aboubacar was, and I'm so glad."
Raspberry Pi and Python
Dr. Gabe, who works as a mentor to under-represented students, said the program focused on his interest in "bridging the gap between the psycho-social and emotional barriers to inner city kids being able to tap into STEM programs, so they can better prepare to march into a four-year degree in engineering, computer science, or biology."
Dr. Gabe reached out to Dr. Rajiv Kalia at USC's Viterbi School of Engineering to create a rigorous 10-week program called The Raspberry Pi Project. It would involve working with students ages 11 to 16, as well as their parents.
"What they were doing was learning the computer language Python," said Dr. Gabe, "and how to use it on a very inexpensive, but remarkably powerful microprocessor called the Raspberry Pi, a gateway to discovering a number of tricks that the Raspberry Pi can do, from creating telephones to games and more."
The Viterbi School is one of the top three engineering schools in the nation, and the program gave Aboubacar the chance to work alongside PhD candidates, young students, and their parents in a professional lab. But he wasn't just doing the kinds of administrative duties that interns often handle. Aboubacar was an integral part of the program, says Dr. Gabe.
"He learned how to put together a program from start to finish, including marketing and social media," said Dr. Gabe. "He worked with the PhD students to create the teaching modules, and he learned how to communicate respectfully and appropriately with both students and parents. He was presenting and teaching, he sat in on all of our meetings and roundtables, and he offered suggestions for how to improve the program. I really came to rely on him."
A Challenge is Also Rewarding
"It's been challenging, to be honest," said Aboubacar, "At first, I worried about teaching in English, and I thought the kids might not come back because they would be bored learning how to code. But I saw them getting motivated by about the third week, and soon they were telling their friends at school about how cool it was that they were interacting with technology."
Most rewarding, he said, was seeing kids come in wanting to learn.
"I spoke to a lot of them, and they were pushing Dr. Gabe to do something harder and wanting more time. And they were also teaching their parents," said Aboubacar, "which helped them understand there are better opportunities for their children's future than they see on TV and in their neighborhoods. And technology is the key."
Dr. Gabe is impressed by Aboubacar's training at SMC. "Learning works best when it's diverse. I knew that having a community college student immerse himself in this high-level university culture—and in a field that moves so quickly—would be good for him, and for us," said Dr. Gabe. "SMC is like a university in and of itself, so I knew he was ready."
Aboubacar plans to transfer in Fall 2017, and is looking at Cal Poly Pomona and Cal Poly San Luis Obispo. And though he isn't certain whether he'll go into teaching as a profession, "I know what I'm doing here on Earth is to help people," he said. "And seeing the impact of this work on the students, I feel they will get closer to the dreams they may have, and help awaken dreams for others."
* * *