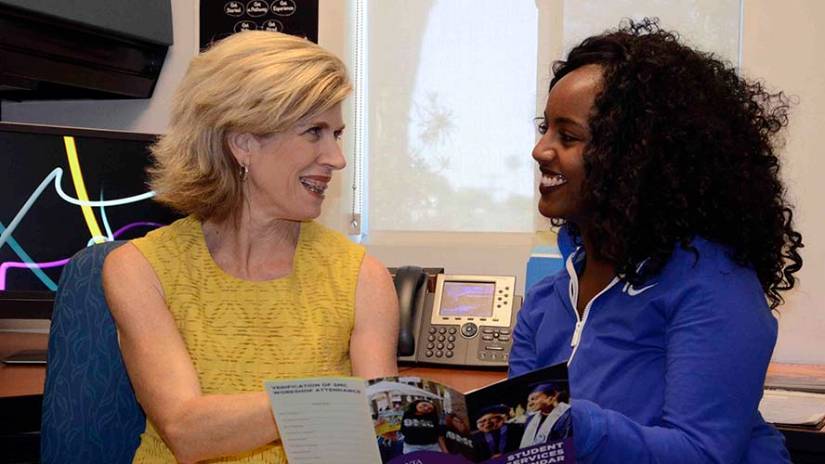 An internship that leads to a job: Isn't that every student's dream?
For 19-year-old communication major Moises Quintero, that dream became reality with help from Santa Monica College's Career Services Center (CSC).
Entering SMC directly from Animo Venice Charter High School, Moises said, "I learned about the Career Services Center as a First Year Experience (FYE) student." SMC's FYE program—a student success program for first-time college students—partners with the Center's career counselors to support students in determining career interests, discovering jobs available in particular industries, and developing strategies to accomplish their career goals.
As a music major more interested in the music business than in music theory, Moises said, "My counselor Deanna Gurrola helped me see how I could realize my goal through majoring in communication."
Through the CSC, Moises was offered an internship with Exposition Rehearsal Studios in the West LA/Palms area. And after just one month, he was hired for a part-time position helping with social media and outreach.
Unbeatable Value, New Directions
It's not just FYE students who have access to CSC services. CSC Faculty Leader Vicki Rothman reiterates that they are available to every student at SMC. While many other schools have pieces of the career counseling puzzle, "SMC's Career Services Center is the premier community college career center in the state," she said, noting that the CSC offers internships and job fairs, workshops on resume writing, help on interview skills, and an on- and off-campus jobs database. The CSC also offers coursework specifically geared toward self-assessment.
Counseling 12, Career Planning, is a course that helps students identify and evaluate their abilities, interests, values, and skills, and includes the Myers-Briggs personality test. "On the outside, services like these can cost $150 per hour or more," said Jenna Gausman, Interim Faculty Leader of CSC. At SMC, students pay $46 for the one-unit class and $30 for the assessment test. And they can consult regularly with their counselors.
Hermele Bekele, who was born in Ethiopia and raised in the U.S., is now in her third year at SMC. Taking a full course load while holding down a retail job, she, too, is a communication major. She was so inspired by Counseling 12 that she shifted from pursuing a career in broadcasting to focusing on getting a Master's degree in Human Development, so she can become a career counselor.
"I just fell in love with Counseling 12. I never felt that way about going to a class before," she said. "And I learned so much about my strengths, weaknesses, and skills in that class," which she supplements by meeting with her counselor "religiously every month." Given her strong leadership and interpersonal skills, Hermele was paired up by the CSC with Stanton and Company Public Relations for an internship that begins in Fall 2017.
Faculty and Community
It's not just students who benefit. Through CSC's Applied Learning Program, SMC faculty members work with career counselors to place students into service learning opportunities in the community, as well.
WISE and Healthy Aging—a Santa Monica non-profit that provides services to seniors—produces "CaregiverU," a day dedicated to caregivers, with one-on-one meetings with doctors, Alzheimer's specialists, and pharmacists, and financial, legal, and other educational workshops. After reaching out to the CSC last year, WISE offered caregivers special pampering services for the first time, courtesy of the SMC Cosmetology Department.
"Students brought over their kits filled with hair supplies, makeup, nail polish," said Suzanne Peckels, WISE's Director of Program Development and Community Relations. "And it was great to see these vibrant, cordial, energetic young people come out at 9 in the morning, with their big smiles—so gracious, sweet, and happy to be there." The caregivers loved it, too, and WISE looks forward to repeating the experience, as well as getting SMC students involved with their Adult Day Care activities.
Real-World Learning
By developing extensive relationships with companies offering internships and job opportunities, the CSC gives SMC students real-world experience in such fields as health care, entertainment, law, communication, broadcasting, and more.
At Populus Brands in North Hollywood, SMC students are directly engaged in learning about the entertainment industry and branding. A production company specializing in working with brands to develop content, Populus created the Emmy-nominated CW-TV show "Save Our Shelter," dedicated to renovating animal shelters for their client "Dog for Dog," a buy-one-bag, donate-one-bag dog food brand.
Populus employees are regular participants at the CSC's job fairs, and they like to recruit self-starting students who want to learn. "No experience is needed," said Liz Tapang, the Internship Coordinator for Populus. "We focus on a hands-on, engaged approach, and students mirror what we do at the company: creating a brand from scratch, executing a social media campaign, doing marketing research, outreach, and cost analysis, and learning how to use analytics."
In addition to spending time with the company's executives, Populus offers interns career workshops, resume reviews, and assistance with job searches. And when Populus hires, the company looks to its internship pool first. In fact, one former intern is now working there part-time as a graphic designer.
Opportunities—and More Opportunities
The Career Services Center recently increased its number of counselors, in addition to offering workshops on job skills, resume writing, tips for undocumented students seeking employment, and the all-important gateway opportunities presented at the internship and job fairs on campus.
But the CSC doesn't stop there. In Spring 2017, it brought more than 75 SMC students to a new event—the "Your Turn Internship Expo" at the LA Convention Center—providing advance coaching on how to create a professional resume, how to make a strong impression with a two-minute "elevator pitch," and how to dress for success. The CSC also covered the students' entrance fees and provided transportation to the event.
Hermele advises new students to take full advantage of all that the Career Services Center has to offer as soon as they arrive on campus. "The CSC is located right there in the Welcome Center. You'll find out immediately what classes you need and the direction you should take. And you'll develop a strong relationship with your counselors, because they are there for you and really want you to succeed."
Visit the Career Services Center to learn more about the full spectrum of offerings.
* * *