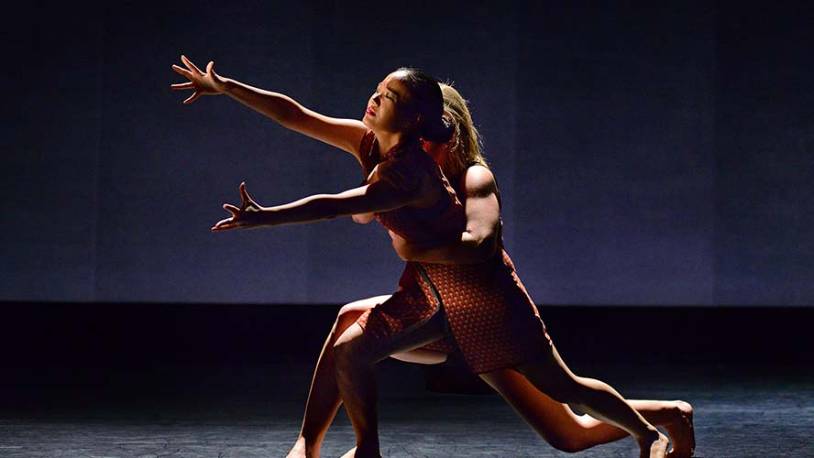 The whole world knows that the SMC Art Department has produced some of the hottest artists around today—but just in case more proof was needed: alum Mark Bradford, one of America's most acclaimed artists, was selected to represent the U.S. at the 2017 Venice Biennale. Read the New York Times article about Mark's "mythic rebellion".

Another alum, Andrew Hem—creator of the mural on the SMC Science Building—was also previously honored by the White House Historical Society and travelled to the White House to receive his honor.
Santa Monica College finished in 10th place out of 193 participating community colleges in the 2016-17 The American Mathematical Association of Two-Year Colleges (AMATYC) Student Math League. The SMC team for round two was composed of Yuchen Yang, Tianhao Feng, Edward Tjoe, Yingfeng Dai, and Ansel Bridgewater. "I am proud of the 100 or so students who participated…the national results again show that SMC math students are amongst the best in the nation," wrote Math Professor William Konya, who was the SMC coordinator for the competition.
Edna Chavarry, Interim Director of Academic Affairs Initiatives was selected as one of the "40 Emerging Civic Leaders Under 40" by The Emerging Civic Leaders (ECL) Committee of The Empowerment Congress. The awards were conferred at a ceremony on May 18. Assemblymember Sebastian Ridley-Thomas, the committee's advisor, stated that "the committee and the individuals on its list represent the next 30 years of governance, economics, and philanthropy in Los Angeles."
English Professor Dana Del George authored a chapter in a newly-published collection of articles about the work of George Saunders. The book is published by Palgrave Macmillan, and it's called George Saunders: Critical Essays. Dana's chapter is entitled "Ghosts and Theme Parks: The Supernatural and the Artificial in George Saunders's Short Stories." The territory isn't new: Dana also previously published an article called "Bewildering Nostalgia: Magical Realism in Recent American Short Fiction" in the journal Fastitocalon: Studies in Fantasticism Ancient to Modern (Vol. V 2015) "New Trends in Magic Realism."
SMC Police Department Sergeant Jere Romano—a 10-year veteran of the U.S. Marine Corps and the current First Vice Commander for American Legion Post 283 in Pacific Palisades—was keynote speaker at the City of Santa Monica's 79th Annual Memorial Day Observance held at Woodlawn Cemetery on May 29.
The governor of Washington state signed a bill into law which Nick Pernisco, Associate Professor of Media Studies co-authored with a group called Action for Media Education. The bill mandates that media literacy and digital citizenship be a core part of the K-12 curriculum. Nick wrote the parts of the bill relating to media literacy. In the picture seen in the slideshow, he is giving the governor a copy of his book, which is now a part of the official curriculum in Washington state. This was the third bill of its kind in the nation, and Nick is now working with other groups to introduce the bill in all 50 states, including California!
The SMC Public Policy Institute hosted another "out-of-this-world" Spring Symposium during the week of May 8! Hundreds of SMC students and community members explored how they can be public policy "Guardians of the Galaxy in a Post-Truth Era" through film screenings, debates, and public art.
In April, Dance Department faculty members Mark Tomasic, Jae Lee, Sri Susilowati and 12 SMC Dance majors took part in the American College Dance Association (ACDA) Baja Region Festival. The dancers took master classes and performed in adjudicated concerts. Tomasic's work "Penaber" was selected by the adjudication panel for presentation in the closing night gala performance. The adjudicators singled out "Penaber" for its "haunting" choreography and the "beautiful and dedicated" performance of the dancers.
Courtroom TV, and the tumultuous state of love and marriage receives a tongue-in-cheek farcical treatment in "Reesie's Pieces", a short film written, directed, and produced by Renee McClellan, Communication and Media Studies instructor—the film is in the final stages of post-production. The film's plot is built around a married couple whose relationship has grown stagnant, and who decide to join a nudist bike-riding group. Check out Renee's website and IMDB page for more details.
Is there anything more grande than ballet in Paris? No, we didn't think so—and neither did Judith Douglas, Dance Department Chair and Lead Dance Department Accompanist Mark Litver. They were invited to attend the prestigious Gala des Ecoles du XXIe Siècle, in which the directors of the world's most eminent dance companies came together to talk about their schools and artistry. The schools that performed in the Palais Garnier included:The Royal Danish Ballet School; The Vaganova Academy (St Petersburg); The Royal Ballet School (London); San Francisco Ballet School; and more.
Sharyn Obsatz, journalism professor, is pleased to report that two outstanding SMC alum came by recently to talk to and inspire current SMC students: Michael Yanow, who used to work for the Corsair and is a photo editor for NFL.com; and Sam Perez, also a former Corsair staffer—she now works at ESPN.
Dr. Dione (Dee Dee) Carter, Dean of Noncredit & External Programs has two brags: along with Nataly Gonzalez, Student Services Clerk, Dr. Carter presented at the very first Noncredit Summit held in Sacramento, May 4-5 (other SMC attendees included Chris Gibson, Jamar London, Laura Manyweather, Peter Morse, John Quevedo, Audra Wells, and Irena Zugic). Also, The Santa Monica Regional Consortium for Adult Education (AB 104: Adult Education Block Grant) hosted its first annual Community Partners' Event at the Laemmle Theater in Santa Monica on April 26 to bring awareness to potential community partners in Santa Monica and Malibu about the adult education, high school diploma, workforce prep and other programs that are offered through this grant.
The anthology Stories That Need to Be Told from Tulip Tree Review press in Colorado was one of three anthologies nominated for the Colorado Book Prize by Colorado Humanities: SMC English Professor Mario Padilla's story "Keeper of the Gate" appeared in it last December. As part of the decision process, Mario was invited to read his story at the BookBar in Denver, Colorado.
Dance instructors Raquel Ramirez and Sri Susilowati took SMC students who are part of Global Motion—the world dance ensemble—to perform in Chile in summer 2016. Along with Ballet Folklorico Flor de Mayo (BFFM) and under the direction of Raquel and Sri, students gave numerous performances and workshops of Aztec, Mexican Folklorico, Swing and Latin American dance styles in full traditional costumes with live music. This marked the fourth consecutive year that Global Motion students went on an international tour: past destinations included Italy and China.
* * *