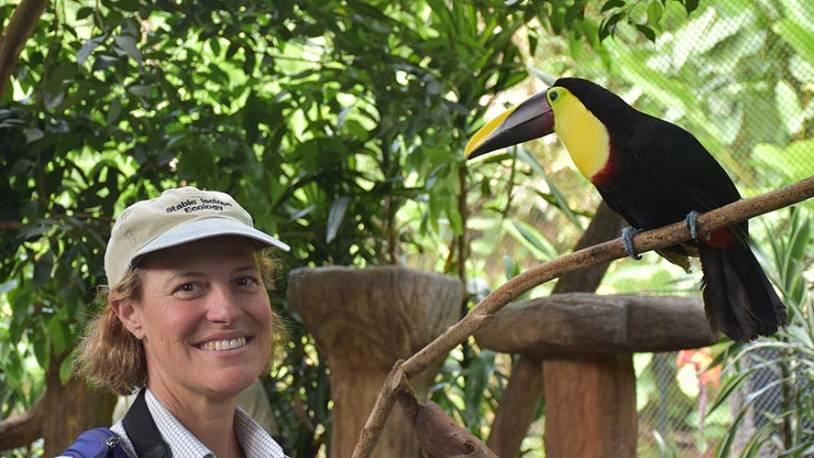 Sitting in classrooms, listening to lectures, and looking through microscopes are the traditional ways that students learn about biology. But discovering nature up close, in one of the most bio-diverse regions on earth, makes the subject come alive in a completely different way.
At the end of Spring Break 2017, ten students returned with notebooks filled with their observations, notes, and commentaries about a ten-day field studies trip they'd just taken—"The Natural History of Costa Rica"—led by Santa Monica College Biology Professor Alexandra Tower.
A specialist in botany and environmental biology, Professor Tower imparts her enthusiasm for the majesty and mystery of the natural world to students. "Costa Rica is the meeting place for the flora and fauna of the North and South American continents, so you have this tremendous biodiversity that exists nowhere else."
And it's personal for her. "I did my post-doctoral fellowship in Costa Rica," she said, "so it's like going back and sharing my home with these students, which is such a pleasure for me."
The students brought their own diverse interests, ranging from biology to liberal arts to business studies. But they had one thing in common: They came home thoroughly immersed in and conscious of the interconnectedness of nature.
Plunging Right in
Professor Tower follows in the footsteps of SMC Life Sciences Professor Ed Tarvyd, who spent nearly 45 years teaching at SMC and leading field studies trips across the globe for the purpose of "discovering what comes our way." After the trips had been put on hiatus for a few years after he passed away, Professor Tower helped revive them. In the past two years, she has led or co-led natural history tours of Guatemala, Belize, and Costa Rica.
Professor Tower brought the students—before they could even drop off their bags—straight from the airport to Toucan Rescue Ranch, an animal rehabilitation center. "There are injured toucans, sloths, eagles, hawks, owls, river otters, and other mammals that we don't usually see here," she explained.
Biology-focused student Forrest Law appreciated this. "It was an opportunity to see a wide variety of animals all in one place quickly, without having to tromp through the jungle for several days."
The goal of the center is to return animals safely back into the wild, and by the end of their visit, Professor Tower says students were "overjoyed knowing that some of the money from their trip helped support this center. It was a feel-good experience to start the trip with."
Waking and Walking
Costa Rica is a country of vast environmental contrasts, with lowland-tropical and highland-cloud forests just hours away from each other featuring entirely unique ecosystems.
Waking them at 5 a.m., Professor Tower took students for walks at different times each day "to see what we run into, always with the backdrop of the forest, so we talked about the plants, their ecology, and how forest dynamics work," she said.
"It's really amazing," said Alexandra Jonsson, a liberal arts student attending SMC from Sweden, "to see how everything in the rain forest connects, from the smallest insect to the largest plants and how they help one another."
Morning walks gave students a chance to see many different types of birds, while night hikes brought them close to amphibians and tree dwelling mammals. "Smelling, touching, and feeling is a multisensory experience that transports you to a level of understanding you could never have had before," Professor Tower said.
The Lowland Tropical Forest
In the lowlands, 'home' was La Selva Biological Field Station, a research facility near the Caribbean coast and four tropical life zones, with thousands of plant species, hundreds of birds, and many large predators.
In addition to observing the wildlife and the kinds of research being done at La Selva, Professor Tower took the students to a nearby cacao (aka cocoa) farm, where they learned about cacao's cultural history through Mayan, Aztec, and Incan migrations, as well as traditional and modern energy-efficient growing techniques.
"We explored the plant's biology from flower to fruit," she said, "tasting it along the way, from fresh to dried to roasted seeds and crushed beans, even adding cinnamon and sugar to make hot chocolate." And of course, they couldn't resist buying chocolate bars directly from the source.
The Cloud Forest
The University of Georgia Costa Rica Campus near the Monteverde Biological Cloud Forest Reserve was home base during their stay in the highlands. This time Professor Tower took students around the volcanoes for another tour.
"The tops were showing, smoke was rising from the craters, and we ended up at a place on the Pacific Coast high up in the mountains, just below the cloud forest, where coffee is grown." Observing sustainable growing practices from seedling to harvest, then roasting and grinding their own beans with a mortar and pestle, made students more appreciative of this essential beverage and the end product they purchased from the family-run coffee company.
The cloud forest also offered adventure. "We went ziplining on something like 14 different flights," said Alexandra, "and it was really amazing to see the forest from within, then gliding over it through the clouds."
One student had disabilities, but Professor Tower said it didn't stop him from getting on the zipline. "He told me that hands-down, this was the greatest experience of his entire life," she said. "And that's what I live for."
Personal and Collective Goals
Professor Tower's passion for these trips stems from her own values as an environmental biologist, and embodies SMC's institutional goals of sustainability and global citizenship. "We strive to have as slight an impact as possible on the planet," she explained, which is why she brings students to sustainability-minded organizations in Costa Rica, and why she contributed on their behalf to reforestation efforts that help mitigate the carbon generated by their air travel.
Lourdes Rea, a Mexican-born SMC business studies student who is an avid hiker, knew she'd enjoy this trip to Costa Rica. She was inspired by the new director of La Selva, Carlos de la Rosa, who said, "Even with small acts, we can make a difference in the environment," a sentiment she says will make her more conscientious on the trails and in everyday life.
Professor Tower's leadership and unflagging energy were greatly appreciated by the students. "They gave me a parting gift," she said, "a painting by a local artist, and in the dedication on the back, they created a scientific name for me: 'Staminus maximus,' which I really appreciated."
* * *