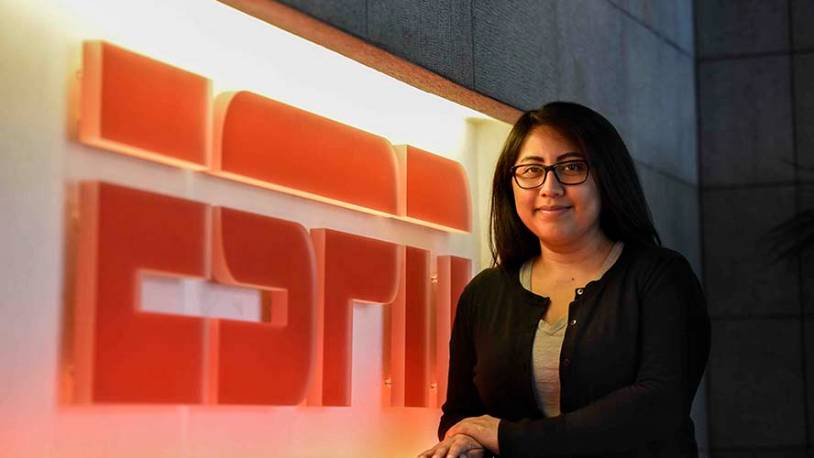 Working at ESPN enables Sam Perez to combine her love of sports with her passion for journalism. The former has been an interest for as long as she can remember, but the latter developed while she was a student at Santa Monica College.
Sam began at the sports network as a production assistant in 2016. In the months since, her duties have grown to include editing video, helping produce program fillers, and writing Spanish-language scripts that employ her bilingual skills. Most of her duties involve working on Nación ESPN, which is aimed at young Hispanic sports fans, and airs on ESPN 2.
"Because she has a unique set of skills and is highly motivated, I think she's doing more than a lot of production assistants would do in that position," notes SMC Professor Sharyn Obsatz, teacher of the introductory journalism course that helped set Sam on her career path.
Sam studied for two years at SMC, working on the College's student-run newspaper, The Corsair, almost the entire time.
"At first I thought I wanted to be a movie critic," Sam says. "Then, when I began at The Corsair and started paying more attention to what was happening in the world, I realized there were stories that needed to be told at a larger level."
One article, an opinion piece she wrote after Trayvon Martin's death and at the dawn of the Black Lives Matter movement, became deeply personal. "I didn't realize I had such a strong opinion about those events until I wrote about the institutionalized racism that drove them," she recalls. "It was an eye-opening experience, and I'm grateful for being allowed to write it."
Sam soon became The Corsair's arts and entertainment editor. "I mostly covered entertainment and sports, which really opened my eyes to the possibilities in the field. It was great to work with other creative people. There were hard days and long nights, but it was always exciting."
"She did a really good job as an editor," says Professor Saul Rubin, who was The Corsair faculty advisor at the time. "Working on The Corsair requires a big commitment of time and involves a lot of responsibility. I have a lot of respect for the students, like Sam, who put in so much time on the paper."
"Professor Rubin was instrumental in how I developed as a writer and as an editor," Sam says. "He was so encouraging."
While Sam ultimately transferred to California State University, Fullerton, to complete her Bachelor degree, she credits SMC for helping build the foundation of her career. "The skills I learned at SMC were 100 percent transferable to broadcast journalism and any newsroom," she says.
Her time at SMC and The Corsair also prepared Sam to work alongside people from different backgrounds and perspectives. "It prepared me to deal with differences of opinion."
Sam holds such a high opinion of SMC that she recently joined the college's industry advisory board to help support the College and future alumni. "It's nice to hear from current students," she says. "And it's good to see that SMC continues broadening its horizons with new programs in interaction design, and more in-depth offerings in areas like video editing."
Professor Obsatz calls seeing Sam at a recent advisory board meeting an emotional experience, "because when you have students who are successful and have a job that means a lot to them, it makes you really happy."
Sam recently joined reporters from The Corsair and students from the sports broadcasting class to speak to a group from Professor Obsatz' Journalism 2 course. She urged students to take advantage of the opportunities on campus, while offering concrete advice, like the importance of finding a mentor and making yourself indispensable in the workplace.
"She doesn't sugarcoat anything," Professor Obsatz says. "I think it was refreshing for the students to hear her stories. The students really related to her a lot."
"Without SMC, I wouldn't have found my way to Cal State Fullerton and ESPN, so I want to give back," Sam says. "I loved my time there, and I would go back and do everything the same way again, because it set me up for the level of success I have right now. And I know it will help me five years down the line as well."
* * *