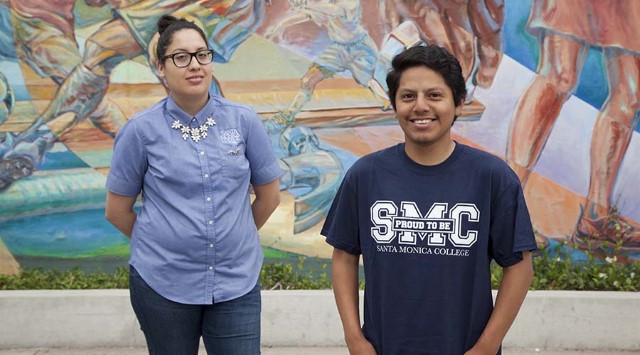 Twelve years ago, Gabriela Corona was a Samohi senior who made $7 an hour working in the stock room of the upscale boutique, Fred Segal. Her highest ambition: to save enough money for a prom ticket, something her parents couldn't afford.
She had no thought of going to college.
An academic advisor from Pico Promise challenged Gabriela to aim higher.
In one of life's poetic twists, today she is that counselor.
"This is full circle," says the Santa Monica native, who returned to her alma mater three years ago to lift up a new generation of Pico Promise students. "I see myself in each one of these students: The way they ask questions and seem a bit lost. The personal stuff they're going through. I was in their shoes before," Gabriela says.
"College Can Become a Reality"
A small, high-touch academic support program, Pico Promise recruits, counsels, motivates and cheers on neighborhood youths attending Santa Monica College (The Pico neighborhood runs east from Lincoln Boulevard to Centinela Avenue, and north from Pico to Santa Monica boulevards).
Launched in the 1990s in partnership with the City of Santa Monica, it has existed under various names, but the philosophy remains the same: help traditionally underserved, academically and financially disadvantaged, first-generation Samohi and Olympic High School graduates to succeed at California's finest community college—which just happens to be in their backyard.
Youths from this neighborhood pass by SMC every day, says Pico Promise project manager Dr. Audrey Sandoval, who heads up the program's four-person professional team. "We want to make them feel it's a home for them—that college can become a reality."
All Corsairs can meet with advisors through Transfer/Counseling Services and the Career Services Center, but for the roughly 50 students on the Pico Promise roster, these meetings are frequent, mandatory, and very personal.
Gabriela and Rocio Menendez-Mata, the two Pico Promise counselors, meet at least three times a semester with each student. Because the program is small—a grant from the City helps augment the College's funding—the staff can build trust and establish strong relationships with each student. If someone misses an appointment, the advisors snap into action with concerned emails and worried phone messages. If a student seems to be struggling with non-academic issues, the advisors make it their business to get involved, providing referrals if necessary to outside resources such as housing agencies, low-cost child-care networks or family counseling services.
"I love getting to know the students on a personal level. I love seeing them succeed," says Gabriela, who also handles Pico Promise's community outreach efforts. She regularly makes presentations at the two nearby high schools and to community agencies and local groups.
Serving the Underserved
Pico Promise students face more hurdles than the average Corsair. Many are first-generation college students from working-class families. Many hold down jobs and help support their families. Many are academically underprepared, testing below college-level English and math when first admitted.
Gabriela knows how that feels. A first-generation college student, she enrolled at SMC on a whim while accompanying a high school friend who was submitting her application. "I had no idea what I was doing," she recalls. Deflated after placing in the lowest level math class, she nearly quit before she got started. But a recruitment letter from Pico Promise gave her hope, and the extra support was transformative.
"I had an amazing time in the program," she recalls. "The counselors really motivated me to aspire higher." With their encouragement, Gabriela found her calling, completed her A.A. degree, transferred to Mount Saint Mary's University as a child development major, and received her master's in counseling from Loyola Marymount University in 2014.
Working in the advising program that changed her own life has been deeply satisfying for Gabriela. "I love this place. I want to give back to this community that gave me so much," she says.
Headquartered in the Counseling Complex, Pico Promise works closely with SMC's Career Services Center and the Center for Wellness & Wellbeing to create a one-stop-shop for seamless advisement, assessments and study-skill workshops. It arranges special college tours to potential transfer schools. Last year, Pico Promise students visited Cal State Long Beach and USC. It hosts social events, such as a Halloween party and a popular Dodger Stadium tour. Other membership perks include priority enrollment, textbook vouchers and need-based meal vouchers.
But the biggest perk is the personal attention.
"They Actually Cared"
For Arnold Cortez, earning an associate degree has been a five-year uphill battle.
He started SMC right out of high school—a 17-year-old undeclared major with no career goal and no clear sense of his strengths and weaknesses. While his Mexican immigrant parents fully backed Arnold's decision to enroll, they couldn't show him the ropes. His dad is a cook in a Japanese restaurant. His mom works in a school cafeteria. Neither had gone to college.
Pico Promise filled the breach. After Arnold's harrowing first semester as a full-time student, Gabriela and Rocio persuaded him to drop down to part-time status. Workshops with a Pico Promise-based career counselor helped him identify graphic design as his pre-major and commercial art as his future occupation.
The program's structure helped keep Arnold on track.
"It forced me to go see the counselors, which is something I wouldn't otherwise do. I'm the type of person who, if I need help, I wouldn't go out of my way to seek it. Gabby and Rocio both seemed genuinely interested in me. They actually cared."
Still, Arnold chaffed at the slow pace of his academic progress. "Time was the thing that I felt most frustrated about," he says. "My friends from high school were getting really close to finishing their bachelor's degrees. Meanwhile I'm still here in community college."
By then he was working full time as a stock clerk/cashier at a discount store.
When Arnold shared his frustration with Gabriela, her reply made a deep impression.
"She told me never to compare myself to other people. Everyone is different."
Next month Arnold, now 22, will transfer to Cal State Los Angeles, as a full-time student majoring in graphic design. He hopes to finish in two years and pursue a career as a commercial artist in the film industry.
"Arnold is the face of this program," says Audrey. "He had to really challenge and pushed himself to get through college. And he's so real—such a genuine young man. It brings me joy to see him succeed."
Audrey has watched hundreds of students like Arnold pass through the program over the years. She started her SMC counseling career here in the 1990s, and took over as project manager three years ago. She has kept in touch with a few early advisees. "Some are really successful," she says. "They have gone on to get not just bachelor's but master's degrees."
Gabriela is a good example. Asked to describe a recent success story, the Pico Promise alum-turned-advisor mentions a young man she saw the day before for counseling. Last year, he was on academic probation, earning D's and F's in all his courses. Today that same student is earning B's and C's, lifting his GPA from a dismal 1.3 to a respectable 2. 5.
Most importantly, says Gabriela, "he's really trying, and he's very optimistic. That's a success story in itself."
* * *
For more information on Pico Promise, visit the program's website or call 310-434-4926 to attend an information session.