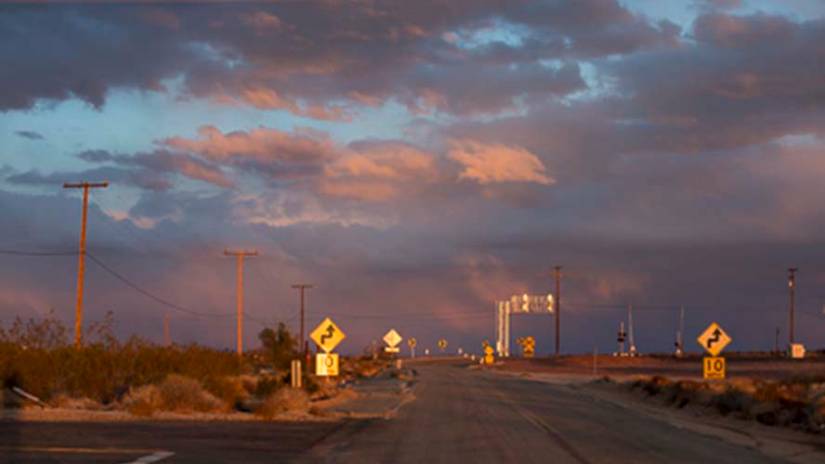 These employees "represented" Santa Monica College on their summer adventures:
In her SMC t-shirt, Michele Harrison—an Administrative Assistant in Student Life—poses for a picture while a young couple sing, as they exit the Hall of Prayer for Good Harvest, in the Temple of Heaven in Beijing, China. Michele writes that she enjoyed "…an artistic and cultural infusion this summer on an eleven day trip—visiting Tian'anmen Square, the Forbidden City, The Great Wall, 798 Art Works District and on to Xi'an for the Terracotta Warriors with a stop in Dongying, Shandong. Fabulous trip!!!" (triple exclamation marks Michele's).
---
Counselor Dan Nannini's photograph—against a staggeringly beautiful landscape—was taken in Canyonlands National Park in Southern Utah. This summer, Dan and his wife went on a cross-country trip visiting national parks and presidential libraries.
---
A.S. lead counselor Benny Blaydes—leaning against the silver convertible—was one of the 90+ SMC staff, faculty, students, and administrators who represented the college at the largest-ever LA Pride Parade in West Hollywood.
---
Counselor Rachelle Cohn Schneider—she works in the Career Services Center and the Transfer Center—and her husband rode their bikes through the streets of the East San Fernando Valley for CicLAvia (the Valley) and represented SMC!
---
Roxanne Captor, who teaches in the Communication and Media Studies department as well as Theatre Arts, was at the Vienna Opera House this summer. We love that sign—and the smile, Roxanne!
---
SMC employees are creative—both on and off the job, as Irena Zugic (Academic Affairs), Guido Davis DelPiccolo (Sociology), Jean Paik-Schoenberg (English), Laurie Guglielmo (Counseling), Kristin Lui-Martinez (Math), and Michael Tuitasi (Student Affairs) showed while at a conference in Baltimore. "From West Coast to East, we're representing SMC in Baltimore at the American Association of Community College's 'Integrating Redesigned Developmental Education into Pathways' Institute," they wrote. "SMC is committed to redesigning the student experience and equitizing our institution as a whole. Hope you are all as excited as we are!" (We are).
---
Closer to home, Dr. Alaisen Reed, professor of Health Information Technology, stayed cool in the Southern California heat with a hand-held—and handy—"Proud to be SMC" fan.
---
In addition to relaxing and traveling, SMC employees have also been busy—check out these brags:
Megumi Smith, who teaches percussion in the Music department, was able to make a truly marvelous performance opportunity happen for three students. They performed with the Youth Orchestra at Heart of Los Angeles—where Megumi has been teaching percussion—at Walt Disney Concert Hall on April 24 (two also played at a May YOLA concert). For two students, it was their first time playing in the Disney Concert Hall and, wrote Megumi, "…they were so excited and amazed by how wonderful the hall was!" The SMC students were inspired by the musicality and technique of their YOLA peers. In short: a win-win! (YOLA is supported by the LA Philharmonic and is based on the el Sistema program of Venezuela. Gustavo Dudamel, who went through el Sistema, initiated the program when he became music director).
---
Adjunct Film Studies professor Sheila Laffey was on the host committee for the screening of award-winning film "Yasuni Man" at the Harmony Gold Theater in Hollywood on June 14. In the photo, Sheila is seen with John Densmore of The Doors—John is an SMC alum—who gave a special performance on drums and intoned Morrison's "Earth Poem" to a full house. Pictured with Sheila and John is Atossa Soltani, founder of Amazon Watch.
---
SMC photojournalism professor and Corsair photo adviser Gerard Burkhart will cap his residency in the Mojave National Preserve with a 14-landscape installation in the Reserve's Desert Light Gallery (the show opens September 7 and will be on view through November). Gerard lived in a canvas tent this January as an artist-in-residence this year exploring remote regions of this rich and complicated environment. And you don't have to drive—or fly—to see Gerard's stunning work. The prints are on Gerard Burkhart website.
---
SMC Police Chief Johnnie Adams has two brags: The 2018 National Night Out (Aug. 7) marked a first for the Santa Monica College Police Department. "We are so grateful for the invitation by the Santa Monica Police Department to participate in their community building event," Chief Adams wrote. "Over 16,500 communities around the nation participate annually to boost togetherness and a true sense of community. Fostering our relationship with the residents of Santa Monica under positive circumstances will only improve the safety of our students, staff, faculty and guests." As for the other brag: Officer Sonya Patterson earned the Bronze medal in the singles bowling and team event, a gold medal for doubles, and a gold medal plaque for "overall events" in Division "B" of the World Police and Fire games held in Las Vegas, August 2-4. Congrats, Officer Patterson!
* * *