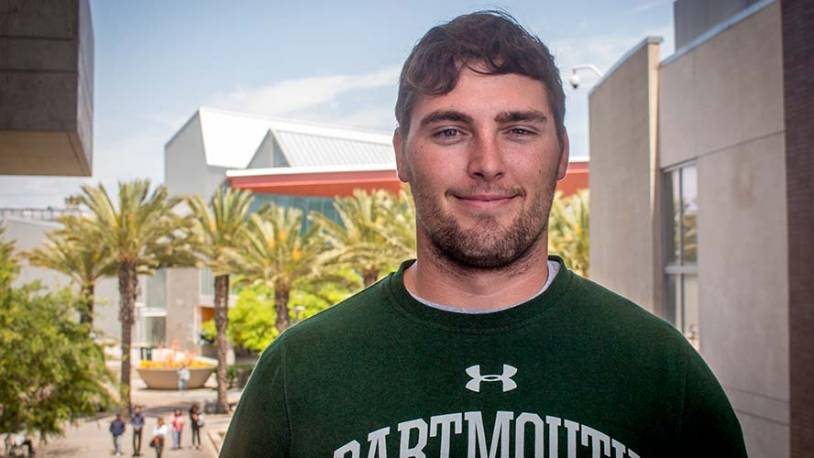 Sgt. Oliver Campbell wasn't expected to survive the massive chest wound he'd taken in southeastern Afghanistan. On a night-raid in January 2016, the 2nd Battalion Army Ranger was hit five times by insurgent gunfire. One bullet shattered a rib, sending bone shards into his lungs. Another nicked an artery, flooding his chest cavity with blood. More blood poured from wounds to his right shoulder, collarbone and cheek.
Minutes later, on a helicopter, an Army surgeon worked feverishly in the dark. Flying at low altitude, he had to make do with night-vision goggles and no depth perception. He cranked open Oliver's chest from sternum to left armpit, inserted chest tubes and drained 2 liters of blood. Realizing repair surgery couldn't wait until they reached Bagram Airfield, he induced cardiac arrest and clamped the hemorrhaging blood vessels long enough to suture them. Then for two endless minutes, he manually massaged Oliver's heart. With deft finger-flicks, he brought it beating back to life.
"It's incredible what he did," says the 24-year-old veteran, referring to the doctor who saved his life. "I wasn't supposed to live. That surgery [an emergency thoracotomy] had a less-than-1 percent chance of success."
Oliver, a just-on-his way Santa Monica College alum, remembers some of that night clearly: How he had heard a strange gurgling in his ear, right after being hit, and turned his head to discover it was the sound of blood pouring from his arm. How his stretcher failed during the evacuation and, with a medic under each arm, he had to walk the last 200 yards to the chopper, coughing up blood. How the flight medic inserted an intraosseous needle to inject fluid into his bone marrow. And how, after a short flight, he staggered under machine gun fire to a second chopper, where the surgeon and anesthesiologist waited.
"That's where my memory starts to fade," Oliver says. "I was lucky enough to meet this trauma surgeon after I was conscious. He told me the rest of the story."
From Flat-Line to Full Recovery
Oliver's heart had stopped beating for 7 minutes.
That he suffered no lasting physical or cognitive damage is itself a miracle. Three days later, he was standing on his feet. Sixteen days later, he was released from the hospital. Months of physical therapy and rehab allowed him to make a full recovery. Today, he can run a 6:50 minute mile. Last spring, he finished the L.A. Marathon.
For the past year, he was a fulltime pre-med student at Santa Monica College, holding down a 4.0 GPA and teaching chemistry as a supplemental instructor. He just transferred to Dartmouth College as a neuroscience major/chemistry minor. He's even considering walking-on the Big Green football program.
The surgeon who miraculously restored Oliver's life also forever changed it. The Army reservist, who in civilian life is a hospital trauma surgeon, has become Oliver's inspiration and role model. (The two have stayed in touch, but Oliver declined to identify him by name.)
"I would like to fill the role he played in my life," says the combat veteran, who took medical retirement after his injury. "My end-goal is to rejoin the military, go back into combat and be a trauma surgeon."
"Failure Terrified Me"
Oliver had known he wanted to serve in the military from an early age. His grandfather had been an Army doctor. While other kids watched cartoons, he'd watched the Military channel and the History channel. Shortly after his 2011 graduation from San Marino High School, he enlisted without telling his parents.
"I wanted a challenge in life, and I knew I had some growing up to do," Oliver says.
As a six-foot, 215-pound middle linebacker, he had flourished on the gridiron but flailed in the classroom.
"Tenacity was a trait I desperately lacked in high school," he wrote in his Dartmouth transfer application essay. "Failure terrified me, and I lacked the courage to put effort into academic success. U.S. Army Ranger School changed that."
In addition to his special operations training, Oliver received extensive training in technical surveillance and electronic warfare. A bona fide war hero, his military honors include a Purple Heart, two Army Commendation Medals and a Joint Service Achievement Medal. Over five deployments, he participated in some 50 raids and led 25 others.
Former President George H.W. Bush and his wife, Barbara, paid Oliver a visit while he was recovering at Walter Reed National Military Medical Center. He received a hero's welcome from the San Marino Rotary Club, and his hometown made him grand marshal of its Independence Day parade. He rode in the Wells Fargo stagecoach during the 2017 Rose Parade. Oliver's father is a senior investment strategist with the bank.
A Passion for Science
After his retirement from the 2nd Ranger Battalion, Oliver traveled the world to clear his head and, upon his return, enrolled at Santa Monica College to pursue the goal of becoming a trauma surgeon.
He credits SMC with his transformation into a scholar.
"Coming into college I didn't know how I would fare in classes," he says. "I was just taking a chance, and I ended up performing very well."
Participating in the Warrior-Scholar Project was an important turning point. Designed to help in the transition from the battlefield to the classroom, the weeklong academic boot camps are held each summer at 16 elite universities. Oliver was one of 18 enlisted veterans to attend the Amherst College session in 2017.
"After that week, my entire mindset switched," he recalls. "I was doing 20 hours a day of academic work, for six days straight. It gave me the skills and confidence necessary to succeed in college. And this is why I decided to major in neuroscience."
Not every veteran is so fortunate, he knows. Oliver had watched friends and comrades struggle with traumatic brain injuries and depression. An officer he knew in Afghanistan had committed suicide, without any warning, just two weeks after returning home to his wife and a new job with the FBI.
"I wanted to contribute to brain research to help vets," he says. "And when I started taking chemistry and biology classes at SMC, I found a passion for science."
Supportive Corsairs
He felt energized by the Corsair veteran community, classmates and, especially, the faculty.
"I had some really great professors all through my time at SMC," he says, singling out biology instructors Elizabeth Jordan and Olga Vagin, and chemistry instructor Pasha Ebrahimi as caring and inspirational mentors.
Ebrahimi, his Chemistry 10 instructor, got to know Oliver well and remembers many after-class conversations about his career ambitions.
"I was glad to be a part of his happiness and that I could help him make his dream come true," says Ebrahimi, who wrote a glowing letter of recommendation for Oliver's transfer application, ranking him in the top 1 percent for the potential to succeed in graduate studies and research.
Biology 3 instructor Elizabeth Jordan admires his integrity, unflappability and, above all, his big heart.
"Oliver shines the brightest when he is tasked with supporting and helping others," she says. "He possesses great compassion and mental fortitude. It gives me comfort to think that our wounded military will be in such good hands."
Vagin, his instructor for Bio 21: Cell Biology and Evolution, couldn't agree more.
"Oliver is deeply dedicated to his dream," she says. "For him, it is not just a career. It is his life and his passion."
She adds, "what I like the most about Oliver is his cheerful mood, optimism, and positive attitude—the qualities he was able to retain despite his challenging and probably painful experiences during his military service in Afghanistan."
With 30 units of biology, chemistry, psychology and some core courses under his belt, this Corsair and decorated American hero is headed for Hanover, New Hampshire, in August.
Oliver isn't worried about acclimating to the chaos of college dorm life.
He's been through far worse.
He's looking forward to "doing a little hiking and skiing, but other than that, I'll probably just set up a tent in the library and be there most of the time," he says, with a laugh.
* * *