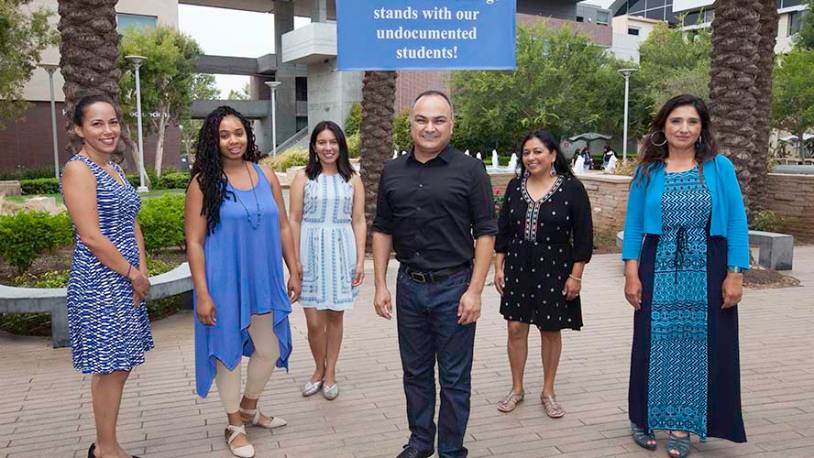 Definition of ally, Merriam-Webster: to unite or form a connection or relation between
Practically everyone who works at Santa Monica College—professors, counselors, administrative assistants, janitors, tech professionals—can point to something this college takes great pride in: diversity and inclusivity. It's hardly a surprise—SMC has more international students than any other community college in California (and is #2 in the nation), and the ethnic/race demographic breakdown of the college's student body very nearly mirrors that of Los Angeles County's population.
No moment in the college's history—or the nation's, for that matter—demonstrated the commitment to serving every student than in the days that followed the rescission of the program known as DACA (Deferred Action for Childhood Arrivals) in fall 2017. Introduced in 2012 by President Barack Obama, DACA shielded hundreds of thousands of young immigrants who were brought to the U.S. as children from deportation. Renewable every two years, DACA—which has a list of requirements including high school enrollment or a diploma, plus no serious criminal history—does not provide a pathway to citizenship, but allowed young immigrants benefits (like being able to work and pursue higher education).
Last September, moved by outrage and empathy for DACA students—also often called "Dreamers"—who came into their offices "crying and fearful", a handful of SMC employees came together to roll out a program called the "Undocumented Ally Program." They had planned on a soft launch but the need was too great.
"On Fall 2017 opening day," remembers Nicholas 'Nick' Mata, one of the "first four", referring to the day in late August that marks the beginning of fall semester at the college with an all-day professional development program, "we had two big sign-up sheets, and I think three people signed up."
Then the following week, news broke that the presidential administration had rescinded DACA. The group sent out a college-wide email. They planned on holding one or two training sessions for SMC employees who were interested in being "Undocumented Allies" and wanted to get familiar with laws and services related to DACA and AB 540/California Dream Act students.
They ended up holding five sessions. Dozens and dozens of employees, including entire departments—Admissions & Records, for example—signed up. As of this semester, 191 SMC employees are Undocumented Allies, displaying prominently a square blue decal on their office or cubicle doors that reads: "I am a Campus Ally for our Undocumented Students."
The Reason Why
The first four who launched the Undocumented Ally Program—Nick Mata (Interim Dean of Students), History professor Marisol Moreno, counselor Sara Nieves-Lucas, and Edna Chavarry (Director of Academic Affairs Initiatives)—all had something in common: They were either of the first-generation in their immigrant families born in the U.S., or had immigrated here with their families. Edna's parents emigrated from Guatemala. Nick's father emigrated from Mexico and met his mother here. Marisol's parents also came from Mexico. Sara came to the U.S. as an undocumented child, and became a legal resident when President Reagan made amnesty possible with a sweeping immigration reform bill signed into law in 1986.
"Even though I had the good fortune of being born here, I've always been questioned about my 'Americanness'," says Edna. "I'm very proud of what my family has been able to accomplish here, and it upsets me that we might be among the last generation who can claim to have lived this American dream."
When Nick became an adult, he acted as a "sponsor" to bring a half-sibling to the U.S. "I was probably 21," he says, "and I didn't realize what a process that was, and also, the political statement [I was] making."
Sara's family was "mixed-status"—some of them were born here, others were undocumented. "When I help students," she says, "I see myself—and my family—in each and every one of them."
Marisol considers her work for the Undocumented Ally program an extension of her role as an educator and part of her responsibility as faculty advisor to the student-run I.D.E.A.S. club, which was instrumental in beginning the program. "If the undocumented students have courage to fight for themselves and their families, the least I can do is use my institutional knowledge and social capital to help empower them," she says.
Her interest in helping undocumented communities, adds Marisol, stems from seeing her former and current students—as well as friends—undergo the painful experience of family separation and the anxiety of not knowing if their hard work in school would amount to anything.
Nick remembers taking in the narrative and rhetoric about immigrants and undocumented individuals during and after the divisive 2016 election season. "I work in special programs here at SMC," he says. "When they come to our campus, these students want to be successful, to achieve their dreams. But when this other narrative is going on, indicating that they're less than or not welcome here—how are they supposed to be here, to be present and pursue their dreams?" He was disheartened when he heard students say they were afraid to get on the bus to get to school, or that they didn't feel welcome in a classroom.
Nick points out that what the Undocumented Ally program tries to do will help ideally not just undocumented students but any student who may feel marginalized, whether they be from traditionally underrepresented groups, or identify as LGBTQ+, for instance. Marisol says that in the process of working with undocumented students, they taught her "how to be a caring mentor and a vocal advocate for all marginalized students at SMC."
In their Shoes
In spring 2017, Vice President of Student Affairs Michael Tuitasi had convened a "social justice workgroup" and this group met monthly to discuss what could be done on campus around pressing issues, things like housing and food insecurity. At one of the meetings, the student-run I.D.E.A.S. club brought up the idea for an "ally" program along the lines of something Dr. Elena Macias at California State University, Long Beach had designed. (Former I.D.E.A.S. co-chair and SMC alum Karla Salvador Hernandez and fellow students Maria Lopez Zamudio, Brandon Emba, Andrea Ramos, Stephany Martinez, Delfino Martinez, among many others had already begun extensive outreach to other local Dreamer programs, conferences, and SMC student clubs to provide undocumented students with resources like transfer workshops and peer support groups.).
So, Nick and the others reached out to Dr. Elena Macias. She handed over the training curriculum for allies of undocumented students to Nick and Marisol, giving them free rein to customize it. They managed to compress the six-hour program into a three-hour format in order to get more takers.
The first half of the training introduces SMC employees to the legal jargon and the specifics of federal and state legislation that affects undocumented students. The second half is more experiential, and included panel discussions with undocumented students who presented real-life scenarios.
"Sometimes the allies are pretty shocked to know . . . this really happened here," says Nick. The training wraps up with the newly-minted allies talking about what it means to be an ally. "They actually sign a contract before they get their decal…we encourage people to take the contract away if they want to think about it. We want them to be committed to . . . [creating] a non-discriminatory environment in their classroom or office or workspace on campus."
Delfino Uriel Martinez, one of the student panelists, says that as undocumented students they "depend on the support." "We hope that [the allies] are advocating for us when no one else is, we hope that they are speaking up for us when someone tries to shut us up, we hope they are spreading awareness," he says. His hope for the future, says the SMC Early Childhood Education major, is "for families to be kept together and for no human to be seen as illegal."
The Undocumented Ally program was one of several resources at Santa Monica College rolled out last fall. The SMC Foundation established a scholarship fund to help students who needed financial assistance to reapply for DACA. Edna Chavarry and others organized DACA Renewal Assistance workshops with pro-bono attorneys for both students and community members (these workshops are ongoing). And several active student-run clubs like I.D.E.A.S., the Progressive Student Union, Adelante, Black Collegians, the Association of Latin American Students, the Helping Hands Club, the Homegirl and Homeboy Scholars of SMC, among others, came together to support their undocumented peers.
Speaking of the frantic pace at which she, Nick, Marisol, and Sara (since then, Belen Vaccaro, Sergio Belloso, and Christina Fuller have joined the core team) worked to launch the program last fall, Edna says, "What kept me going was the fact that we were taking action…instead of being angry or depressed. I'm fighting to keep the American dream that I lived [alive] and to protect the dream for which I came to work at a community college…and that dream is open access. Open access means open access."
What's Next and Why Care?
Santa Monica College has pulled together its various resources for undocumented students under the umbrella of a "DREAM Program". Sergio Belloso—a counselor who has extensive experience working with undocumented students—will help them ensure their financial aid is order, that they have education plans which align with their career or transfer goals. This August, a special orientation was held for undocumented students and their parents—being that there's so much information specific to them—and dinner was served.
When Nick Mata is asked why we should all care, he chokes up. "It's hard to discriminate when you get to know someone," he says, "I think that's what this program does. It's a counter-narrative to what we've been hearing about undocumented students, and immigrants. When you hear a student say how they can't access healthcare because they are undocumented or that they are working for $3 an hour in a sweatshop in downtown Los Angeles because they can't work anywhere else…and yet they're still trying to go to school fulltime. Like, talk about busting your ass—that's busting your ass. The [Undocumented Ally] program exposes us to the true identity of these wonderful students . . . that they come from families who want to make a difference."
* * *
For information on SMC's Dream Program—and the range of resources available to undocumented students—check out the DREAM program website.