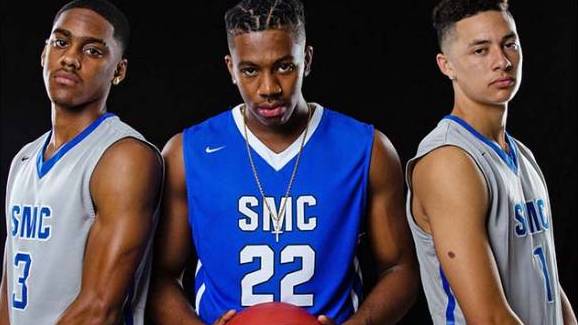 Tony Abatemarco , SMC Emeritus instructor of drama, film, & Jewish humanities, just had a book of four collected and produced plays, "Actions/Items", published by F-Stop Books (and now available on Amazon). The collection includes Tony's award-winning monologue "Four Fathers", a monologue/adaptation of his short story Cologne or The Ways Evil Enters the World, and his two multi-character plays, Beautified, and Forever House. Tony is the Co-Artistic Director of Skylight Theatre Company. He is a graduate of Juilliard Drama School and has won multiple awards for his theatre work in Los Angeles as well as two NEA Directing Fellowships and an SDC/Director's Guild Observership. He has performed or directed in cities across the globe and is married to renowned visual artist Dan McCleary.
---
Photography professor Josh Withers is proud to report on the collaboration of "Two Joshes." He teamed up with SMC Men's Basketball head coach Josh Thomas in early October on a 'media day' in which SMC basketball players were photographed by SMC photography students. "The experience for both the players and the photographers was fun, exciting and rewarding. The photography students gained great images for their portfolios using the players who now have this time in their athletic career preserved though imagery," writes Josh (Withers).
---
Lisa Adams , M.F.A., Emeritus instructor, will be exhibiting paintings at the Pulse Miami Art Fair in December 2018 as part of the Garis & Hahn Gallery Program. Lisa will also have a solo exhibition in January-February, 2019 with Garis & Hahn Gallery in downtown Los Angeles.
---
Want to become a Zero Waste Warrior? Thanks to a video created by SMC Geology and Oceanography instructor Dr. Jenney Hall—who teamed up with The Bright Fight, an AT&T Hello Lab project, and YouTube sensation Scotty Sire—you can find out how to do just that.
---
SMC's campus counsel Robert "Bob" Myers wears many hats—in this case, as the co-author of an academic article published in the Journal of Studies in International Education. Bob co-authored an article titled "The Geography of Gender Inequality in International Higher Education" with Dr. Amy L. Griffin of RMIT University, Melbourne, Australia. You can see the abstract of the Geography of Gender Inequality in International Higher Education article right here .
And, to "top it off", Bob was also honored on December 1, 2018, by the National Lawyers Guild – Los Angeles Chapter at a reception at the Sherry Frumkin Art Gallery in Santa Monica for his four decades of progressive lawyering. Congratulations, Bob!
---
An SMC Media Studies instructor is not done making history. Lisa Nehus Saxon received the Bob Hunter Award from the Los Angeles chapter of the Baseball Writers Association of America. In the 1980s, while working for the Los Angeles Daily News, Lisa became the second woman in the United States to cover a Major League baseball beat. She is the first woman to win the BBWAA's lifetime achievement award. You make us "Proud to be SMC", Lisa!
---
SMC Police Chief Johnnie Adams is proud to share this official photo from the FBI: it pictures Chief Adams—who is currently the president of the Executive Board of FBI National Academy Associates (FBINAA)—with U.S. Ambassador to Finland Robert Pence, FBI Director, Finnish National Police Commissioner Seppo Kolehmainen and Superintendent Jaakko Sonck. The photo was taken at the FBINAA European Chapter's training event held recently in Helsinki, Finland. The three-day training conference focused on combatting global crime and international terrorism was attended by approximately 250 FBI National Academy graduates and senior officials from Finland, Europe and the United States.
---
Danely Segoviano —English instructional aide in the SMC Writing and Humanities Tutoring Center—published the short poetry book Remembrance of a Lover Lost through Amazon. For more information on Danely's beautiful work, check out her website: danelysegoviano.com Instagram (@danelysegoviano).
---
Ashley Mejia, Student Services Specialist in Academic Affairs, reports that a meaningful pre-Thanksgiving event called "Your Seat at the Table"—created by SMC students Alan Moreno, Magdalena Melchor and Rachel Asiedu—thanked students from marginalized communities for their contributions to the college. Students were able to help themselves to donated food from faculty and staff and read handwritten thank-you letters from faculty and staff displayed on a Thanksgiving table on the lawn.
---
Asma Said, Physical Sciences instructor, has been invited to give a talk at the SABER West (the Society for the Advancement of Biology Education Research ) which will be held January 19-20, 2019 at the University of California, Irvine. Asma's talk—titled "Effects of California community college students' gender, self-efficacy, and attitudes and beliefs toward physics on conceptual understanding of Newtonian Mechanics"—will highlight a study conducted at Santa Monica College during 2014-2015.
---
English Professor Mario Rene Padilla's short story "Confrontation and Cojones" has been published in Tulip Tree Presses' annual anthology Stories That Need To Be Told 2018. His stories have appeared in the anthology for the past three years. Last year he won in the Passion category. You can find the anthologies—and check out Mario's work—on Tulip Tree Publishing's website.
---
SMC Interaction Design faculty member Selwa Sweidan co-curated an art exhibition called Super Radiance —one of the 27 artists featured is Courtney Taylor a current SMC IxD student who exhibited for the first time in (he showed an augmented reality artwork). The exhibition is up until December 8 at the Nook Gallery in Inglewood.
---
It's not always about winning … Tammara Whitaker, Interim Director of Online Services & Support, submitted an application on behalf of the Distance Education (DE) Department for consideration to receive USC's Delphi Award. This application focused on the spring 2018 pilot in developing an Online Course Design Coaching Model using the Online Education Initiative Rubric. While SMC's DE department did not win the award—the Delphi Project website will highlight their work to serve as an example for other institutions.
---
SMC was in Munich, Germany—and how! Salvador Carrasco , SMC's Film Production faculty lead, and SMC student Lindsay Eberts, producer of the student film Undocumented, were invited to attend the 38th International Festival of Film Schools in Munich (FILMSCHOOLFEST MUNICH), where Undocumented screened in competition. SMC's Film Program and Chapman University were the only 2 U.S. film schools among 34 from all over the world. Check out FILMSCHOOLFEST MUNICH's website for a full list of film schools that participated.
---
Dr. Aurélie Chevant-Aksoy , SMC Professor of French, organized a two-part cultural event on November 14, 2018. Participants watched the French movie Faces Places (Varda and JR) and met with the French artist Sébastien Walker. Together they discussed on the techniques and evolution of his graffiti art, and on the dynamics of the urban art scene in Los Angeles. (Instagram : @sebastienwalker). Toutes nos felicitations, Aurélie!
---
Dr. Alejandro Lee (Professor of Spanish, Department of Modern Languages and Cultures) presented "Poesía, code switching e identidades" at the California Community College Foreign Language Council at East Los Angeles College on October 20.
---
SMC's Fashion program has been busy making shift happen… Sustainability founder/author/SMC Advisory Board member Taryn Hipwell and SMC professor Lorrie Ivas organized a Sustainability Influencers Panel Event—called #MakeShiftHappen—on campus. Internationally renowned experts and industry professionals were in the audience, checking out what talented SMC students created through "The Chop Shop Exhibit" (an on-going project turning upcycling/repurposing discarded garments into new treasures). Apparel company owners approached Lorrie for interns and job opportunities—it was a proud moment for the Fashion Department to clearly showcase its sustainability mission to an industry audience!
---
One more fashionable brag: sustainability-minded SMC students attended ReMode, the premiere event for disruptive/ sustainable fashion at the LA Convention Center Nov 13-14. Another highlight was the 2nd annual 3-day SMC Tent Concert Couture Workshop here on campus—designing hoodies and messenger bags from recycled tents left by Coachella Concert attendees. Led by Taryn Hipwell (advisory board member/founder of LABeyondTheLabel), with SMC Professors Jan Ardell and Lorrie Ivas, students created amazing upcycled pieces to premiere at LA Mode 2019.
---
SMC's Global Trade and Logistics program has also been busy making industry connections! A first Global trade and Logistics Advisory Board meeting was held on October 30 at the Center for Media and Design. Industry leaders representing DHL, Boeing, Intel, FedEx, Kaiser Permanente, Nipon Express, Case Stack, and LA Chamber of Commerce participated in a roundtable discussion led by SMC faculty members Katya Rodriguez and Keith Everett. They provided important feedback on how SMC can best prepare its students to meet industry standards in Global Trade and Logistics! This valuable relationship will continue to be cultivated and Katya and Keith are already planning another event in March 2019 …this time where students will have the opportunity to interact with the industry advisors.
---
SMC Interim Dean of International Education Denise Kinsella was appointed as the NAFSA: Association of International Educators Workshop Dean for the F-1 for Beginners Core Education Program workshop for January 2019-December 2020. She will support workshop lead trainers across the country in delivering the workshop, and will update the workshop curriculum during her tenure. With more than 10,000 members worldwide, NAFSA is the leading organization committed to international education and exchange.
---
The Santa Monica Elks presented Sergeant Jere Romano of the Santa Monica College Police Department with an Elks Medal of Service. Sgt. Romano was recognized for his service to his community, the Elks and the local veteran community. Sgt. Romano, a Marines veteran, is always there to help his fellow veterans and law enforcement community—and the caring is quite a Romano tradition. Jere's wife Martha, who works at the Veterans Success Center at SMC, is a tireless champion for student veterans. Kudos to Jere—and Martha!
---
Sheila Laffey, Adjunct Professor of Film hosted Paul Baribault, Vice President of Disney Studios after the screening of Born in China, a Disney nature film, at the SMC Center for Media and Design. This event was the last in Sheila's Green Screen film series this semester. The discussion with Mr. Baribault was ". . . inspiring and stimulating," writes Sheila.
---
The SMC Public Policy Institute celebrates the completion of yet another successful Fall Arts and Cultural Affairs Forum, which included television screenings, innovative-interactive theater experiences and performances of The Nutcracker, all designed to explore the important public policy relationship between government and the community in supporting arts. For more details, visit the PPI website, smc.edu/PPI .
* * *