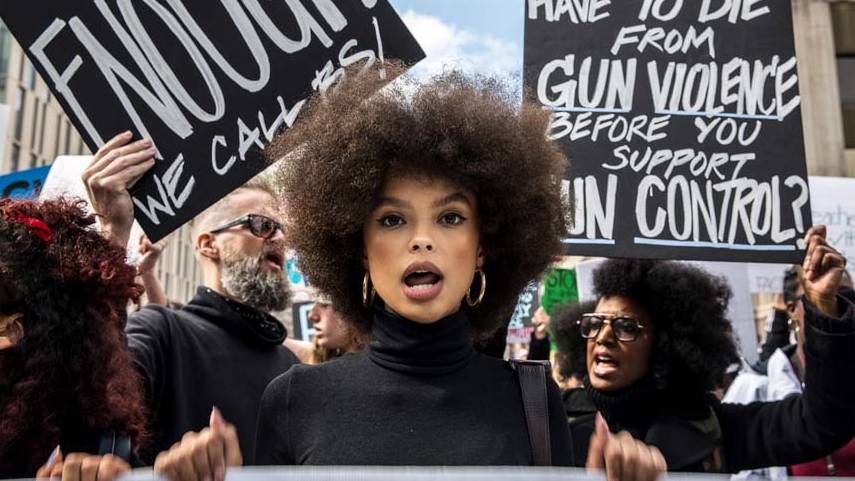 The year that was 2018 marked several milestones at Santa Monica College, and many accomplishments: The college's first Bachelor's Degree graduates. Yet another year as California's No. 1 transfer college to the University of California (a 28-year unbroken record!), USC, and Loyola Marymount University. A new campus in Malibu, ground broken, coming soon. Another student film at Cannes. A new Promise Program with free enrollment and free textbooks for eligible high school graduates. Accreditation—a lengthy process that involved scores of SMC employees and an in-depth self-evaluation report—finally reaffirmed. A pioneering career education program in partnership with Amazon Web Services . . . and SO much more. (You can also watch a 2018 SMC highlights video).
Here are just a few of the things SMC celebrated in 2018, proof that this college's spirit of innovation, creativity, and dedication continues to thrive in every person, every department (Disclaimer: this list is by no means exhaustive—each issue's "Bragging Rights" column includes a staggering array of SMC faculty & classified staff accomplishments):
Number One in UC Transfers for 28th Straight Year
What remains unchanging, year after year, for almost three decades? Santa Monica College's record as California's #1 transfer college to the University of California—that's what! Transfer data for the 2017-2018 academic year released by the UC Information Center showed that SMC sent more students to UC campuses than any other California community college, for the 28th straight year. 1,289 students transferred from SMC to UC—an all-time high for the college—and SMC was also #1 in African-American and Hispanic UC transfers. Plus, SMC continued to hold the top spot for transfers to the University of Southern California and Loyola Marymount University. "Year after year, we are continually impressed by Santa Monica College's efforts to academically prepare students," said Han Mi Yoon-Wu, UC's interim associate vice president and director of undergraduate admissions. You can read more about SMC's impressive 2017-2018 transfer stats right here.
Commission Reaffirms SMC's Accreditation
Roughly two years after SMC went through a rigorous accreditation process and submitted a self-evaluation report to The Accrediting Commission for Community and Junior Colleges in August 2016—a process that included an accreditation site visit in October 2016 and a reaffirmation of accreditation for 18 months—Santa Monica College's accreditation was reaffirmed for the remainder of the accreditation cycle. This was the best possible outcome and one that could not have been without the dedication of many employees.
SMC Breaks Ground on New Malibu Campus
A long-envisioned SMC campus in Malibu is on its way to becoming reality! On September 21, SMC—in collaboration with the office of Los Angeles County Supervisor Sheila Kuehl —broke ground on a brand-new SMC Malibu Campus and Los Angeles County Sheriff's Substation . This campus will provide a permanent location for offering college classes and for housing LA County Sheriff personnel. The three-acre campus, SMC's first in Malibu, will include a two-story educational building with dedicated labs for science and art; a multipurpose physical activity space; a 100-seat lecture hall with raked seating; a computer lab; and two general education classrooms. The multipurpose room will double as an emergency operations center for Malibu when needed.
First-Ever Bachelor's Degree Graduates and Largest Graduating Class
June 12, 2018 marked two historic milestones: it was the day of the largest-ever graduating class in the college's history—4,918 students earned 6,325 degrees and certificates from SMC. And it was the day of award for SMC's first 18 graduates of the Bachelor of Science in Interaction Design, a baccalaureate program created after the California Community Colleges Board of Governors selected SMC to be one of 15 colleges to offer four-year degrees, a first in California. SMC also held a premier "IxD Grad Show", an industry mixer and celebration of the IxD students' accomplishments, featuring Ring Creative Director John Modestine as guest speaker.
Prestigious $100,000 NEH Grant for SMC Art History
SMC received a $100,000 grant from the National Endowment for the Humanities (NEH) for an art history project entitled "Mapping and Preserving the Hidden Histories of Santa Monica" to be spearheaded by SMC professors Briana Simmons and Walter Meyer. The announcement was made in a Dec. 12 NEH press release; SMC's grant was the largest award granted in Southern California. SMC will use the $100,000 NEH grant to fund a three-year curriculum development project that will create a digital database of art history narratives of a region including Santa Monica, Venice, and Malibu—but with a special emphasis on telling stories not often told, or heard.
"Silver" Bicycle Friendly University Award
In November 2018, The League of American Bicyclists honored SMC with a Silver-level Bicycle Friendly University (BFU) award in recognition of the college's achievements in promoting and enabling safe, accessible bicycling on campus. This higher-level award follows SMC's designation as a Bronze-level Bike Friendly University in 2014, making it the first California community college to earn a bike-friendly certification. The designation is good for four years. Santa Monica College remains the only California community college among 193 BFU campuses nationwide to have a bike-friendly university certification!
"SMC Promise" Unveiled for New Students
In fall 2018, the college unveiled "SMC Promise"—a program that offers free enrollment and up to $1,200 in textbook vouchers for eligible students from any California high school. And the support doesn't end there—students enrolled through SMC Promise also get exclusive support through the First Year Experience program, which makes sure they are on the fastest track possible to that dream career or university! And, it's safe to say SMC Promise has kept its promise—about 1,700 students enrolled in fall 2018 alone, thanks to this new program.
Santa Monica Review Celebrates 30th Anniversary Issue
SMC's esteemed national literary arts journal, the Santa Monica Review, celebrated a landmark thirtieth anniversary issue in fall 2018. Published twice yearly, the Review showcases the work of established authors alongside emerging writers, with a focus on narratives of the West Coast, and is the only nationally distributed literary magazine published by a U.S. community college. The anniversary issue was celebrated with a launch party and readings at various Southern California literary venues including Beyond Baroque, the Annenberg Beach House, Santa Monica Public Library, and UC Irvine. The Review's contributors' work consistently appears in the prestigious annual Pushcart Prize, Best American Short Stories, and PEN/O. Henry anthologies.
$200,000 Grant to Expand Support for SMC Veterans
In October 2018, SMC received a $200,000 grant from the California Community Colleges Board of Governors to expand support services at the SMC Veterans' Resources Center. For the past five years, SMC has enrolled nearly 1,000 student veterans each academic year. Earlier, SMC and the Department of Veteran Affairs (VA) also signed an agreement to expand support services for our student veterans, giving them access to a VetSuccess on Campus or "VSOC" counselor at the SMC Veterans' Resource Center (SMC is one of 13 community colleges in California to offer this service).
SMC & City of Santa Monica Break Ground for Early Childhood Lab School
On March 13, 2018, SMC and the City of Santa Monica broke ground for the Santa Monica Early Childhood Lab School, expected to open in fall 2020, and to be operated by local nonprofit Growing Place. The Lab School will be an infant, toddler, and preschool center where Santa Monica residents and employees (and low-income families) will have priority consideration; the Lab School will also serve as a setting for students in the SMC Teacher Academy to fulfill practicum requirements. Located on the southwest corner of 4th Street and Civic Center Drive, the 20,000 sq. ft. school is expected to open fall 2020.
The Corsair Wins…and Wins!
SMC's award-winning student-run newspaper The Corsair also continued to win . . . and win. No surprise there. Accolades won in fall 2018 included 11 awards from the Journalism Association of Community Colleges (JACC), including 5 first-place awards. Earlier, in spring 2018, three Corsair journalists won top awards from the JACC and 12 awards from the California College Media Association (including a first-place for Best Newspaper Website!).
Plus, Corsair staffer Jayrol San Jose was named the runner-up for 2017 Student Photographer of the Year by the Press Photographers Association of Greater Los Angeles (PPAGLA). And Matthew Martin won an Award of Excellence in the General News category of the College Photographer of the Year (CPOY) competition. CPOY is the largest international student photo competition in the world!
SMC Supports Undocumented Students
The SMC Board of Trustees declared Oct. 15-19, 2018 the Undocumented Student Week of Action . SMC joined a coalition of over 75 California community colleges and partner organizations in a statewide student-led campaign seeking to advocate for a permanent solution to codify the Deferred Action for Childhood Arrivals (DACA) program that includes a pathway to citizenship for California's undocumented students.
While Undocumented Student Week featured events like webinars and DACA Renewal Assistance Workshops, SMC's advocacy—thanks to a group of dedicated faculty, staff and students—began quite a while before that. Here are just a few things: the SMC Foundation established a scholarship fund to help needy students reapply for DACA; an Undocumented Ally program was launched to train employees who are interested in getting familiar with laws and services related to DACA and AB 540/California Dream Act students. To date, the voluntary program has trained 191 SMC employees. In addition, many, many DACA Renewal Assistance Workshops have been held. SMC also launched its "DREAM Program", a one-stop office for undocumented and DACA students to receive student support services and connection to resources both on- and off-campus. Read more about the DREAM Program right here .
New Career Education Partnerships Launched
This year saw either the launch or wide recognition of some groundbreaking career education programs launched by SMC. One, for example, was with Dermalogica: SMC's Office of Workforce & Economic Development partnered with the skincare giant to offer an accelerated, online option in business training for current and future salon workers. And Amazon Web Services announced in August that they would be collaborating with an LA-region consortium to offer a cloud-computing certificate at several local community colleges—the curriculum was developed by SMC faculty in collaboration with AWS Educate AND piloted in sold-out classes at the SMC Center for Media and Design.
SMC Partners with OpenStax to Increase Use of Free Textbooks
SMC was selected as one of nine schools to participate in the 2018-2019 OpenStax Institutional Partnership Program to encourage use of free, peer-reviewed textbooks on campus. The selected colleges and universities will receive individualized consulting from OpenStax—an initiative of Rice University and supported by philanthropic foundations including the Bill & Melinda Gates Foundation, Michelson 20MM Foundation, Google Inc., among others—and join a cohort of schools advocating widespread use of OER at their schools. The high cost of traditional textbooks—an average of somewhere between $600 and $1,400 per student each year, according to studies by the National Association of College Stores and the College Board—not only impacts students' ability to attend college but also affects their ability to continue and complete coursework.
"Life in Color" Screens at Cannes 2018
In April 2018, SMC had yet another student film at Cannes! "Life in Color"—directed by Bishal Dutta and produced by Olivia Shapiro— font-weight:normal'>was accepted into the Filmmaker Showcase during the 2018 Cannes Film Festival. SMC was the only U.S. community college represented in the showcase; other student filmmakers featured hail from USC, Chapman University, Yale School of Drama, School of Visual Arts, Art Center College of Design, and Brooklyn Film College. "Life in Color"—which screened in the Emerging Filmmaker LGBTQ Showcase category—is about Harold, an aging, closeted gay man with Alzheimer's disease, struggling against his strong-willed daughter to hold on the memory of the man he once loved. This is the fourth SMC student film to screen at The American Pavilion.
And—just one more of several accolades won by student films—SMC was one of only two U.S. film schools to be invited to the FILMSCHOOLFEST MUNICH 2018. "Undocumented"—directed by SMC alum Bishal Dutta and produced by students Lindsay Eberts, Oscar Huezo, and Dennis Sandoval—screened at the festival in November, regarded as one of the most prestigious student film festivals worldwide.
First Calif. Community College to Host ASU Onsite Transfer Services
SMC became the first California community college to host an onsite transfer services program manager from Arizona State University (ASU), the Phoenix-based top-ranked public research university. SMC students who are interested in transferring to ASU or are concurrently enrolled in an online program at the four-year campus—ranked #1 in the U.S. for innovation by U.S. News & World Report—can now avail themselves of academic guidance and support services right on SMC's main campus in Santa Monica. The assignment of an exclusive ASU transfer services manager is the latest development in a series of collaborations between the university and SMC. In 2017, SMC won a $2 million Award for Innovation grant from the California Department of Finance in partnership with ASU, to develop innovative technology to increase completion rates and ultimately make college more affordable.
Debate Team Wins Top Regional & National Awards
In 2018, the SMC Speech and Debate Team continued their winning streak, winning several top awards at regional tournaments like the Crossman Invitational held at El Camino and at the Pacific Southwest Collegiate Forensics Association (PSCFA) "Warm Up" Tournament. In April 2018, the team won multiple awards at the Phi Ro Pi National Speech and Debate Tournament in Florida including a Bronze team award, an individual Gold award for Andrew Mishkin, and a Silver for Nicholas Graves. The team is gearing up to compete at the Phi Ro Pi nationals in April 2019!
SMC Receives Presidential Award for Exports
The U.S. Department of Commerce recognized >SMC with the President's "E" Award for Exports. U.S. Secretary of Commerce Wilbur Ross presented the award to SMC at a ceremony kicking off World Trade Week in Washington, D.C., on May 21. SMC was the only community college to receive the "E" Award; two other four-year institutions, Colorado State University and Colorado Mesa University, were also recognized. The President's "E" Award is the highest recognition any U.S. entity can receive for making a significant contribution to the expansion of U.S. exports. This is the first time that SMC has received the "E" Award, in recognition for its "leadership role in helping expand international student recruitment programs for other community colleges" In 1961, President Kennedy signed an executive order reviving the World War II "E" symbol of excellence to honor and provide recognition to America's exporters.
Weezer Lead Singer Performs at SMC Homecoming 2018
The SMC Corsairs had a very special guest perform at the 2018 Homecoming Game's halftime show on October 20: SMC alum and Weezer lead vocalist/guitarist Rivers Cuomo performed the band's hit cover of "Africa" by Toto. An SMC alum/faculty "all-star band" accompanied Rivers. While the Corsairs did not win, all had a good time!
Table Tennis Players Head to National Championships
SMC's Ayush Kapoor and Tiziano Aiello qualified to compete in singles and doubles events in the 2018 iSET College Table Tennis National Championships held April 20-22, 2018 in Round Rock, Texas. The championships were organized by the National Collegiate Table Tennis Association (NCTTA), and SMC was the only community college at the national tournament represented.
* * *