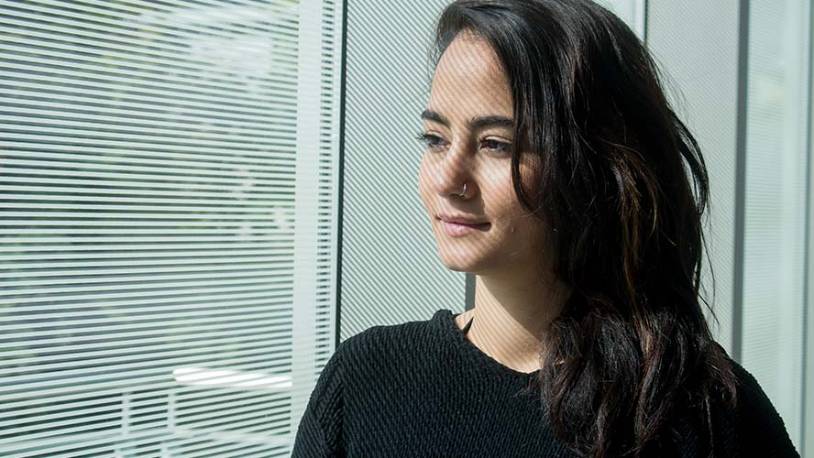 At age 11, Yanki Evliyaoğlu knew she wanted to someday work in the arts. While her family was supportive, she says she faced other challenges.
"I was in a city that was more conservative toward the arts and people who were interested in the arts," she says of her upbringing in eastern Turkey. "They were not rude or violent toward me. It was more like silent judgment." Her parents, however, encouraged her interest. "They specifically wanted me to pursue something I'm actually good at. So I was lucky in that way. But it was still a little hard for me because I didn't want to do what other people wanted to do."
When it came time to choose a college, Yanki knew just what she wanted. As she researched film and theatre programs in Los Angeles and New York, Santa Monica College stood out to her not only for its curriculum but also for its supportive environment, transfer rate — and, as importantly — its involvement in the community and beyond.
"Finding a school that wasn't just about learning in class but was also paying attention to what's going on in the world was really important to me," she says.
Finding her Role
Although she started out as a film major, Yanki soon switched to theatre arts. She wants to be a stage manager because she enjoys paying attention to every detail, striving to get things as perfect as possible.
"That's basically what stage management is about," she says. "You're in contact with every department of the theatre. And you have to arrange every part of putting on a play — from rehearsals and tech to performances. I never saw myself in an office, in front of a computer. I want to be doing things, communicating with people and, at the end, just watching people react to what I've created."
People have always noticed — since Yanki's childhood — that she is good at multitasking. While that's a key skill in her chosen field, it's also vital when you move to a new country on your own. "I don't have any family here, so it was very different having to do everything by myself," she says.
All the World's a Stage Here
"SMC was really welcoming, since day one," Yanki notes. "They don't care where you're from, what you do, what language you speak or what kind of an accent you have. I think it's really important — especially in a school like SMC, where we have so many international students. And I made friends on the first day of school!"
She also gained confidence by working at SMC's International Education Center (IEC) as a peer mentor, where she helps other international students adjust to life in the U.S. and at SMC. She appreciates the center's Intensive English Program, which helped her in her own transition. Although she had studied the language while growing up and spent a couple of summers in an English-immersion program in Vancouver — where her older sister lives — Yanki says that at first she was insecure about her skill level. "I was not as confident as I am today," she adds. "I have SMC to thank for that."
Yanki also appreciates that SMC's theatre curriculum focuses on practice rather than theory. One of her classes visited the Hansel and Gretel set at L.A. Opera in November. "We got to go backstage and watch their rehearsal," she says, adding that such experiences help students learn the inner workings of producing a stage show. Yanki will earn some additional hands-on experience in the spring semester: She's been selected to serve as stage manager for SMC's upcoming production of Shakespeare in Love.
Being a Voice
She's even taken her turn on stage, acting in Voices of Hope, a docudrama breaking the silence that too often shrouds crimes of domestic violence and sexual abuse. The play struck a deep chord because a number of her friends have endured assault.
"It was a little overwhelming, but their stories need to be heard," Yanki says of the play's real-life monologues. The play did not focus on victimization, she emphasizes, but rather strength and survival. "That's the most important part people should hear about, because we need that hope at this moment, with what's going on all around the world."
Shifting political times can give rise to concern even in someone as positive as Yanki. "I didn't actually feel it when I came here, but then there were some visa issues going on between Turkey and the U.S.," she explains. "They kind of stopped giving visas to Turkish citizens, which got me really nervous and anxious — specifically about my studies. Because I didn't want to risk going back to Turkey and not being able to come back."
However high tensions can become between nations, Yanki remains optimistic about relationships between individuals. "When I talk to people at SMC — and in my personal life outside school — I realize not everybody thinks the same way about immigrants or people from different countries," she says. "That helped me, because it was really depressing at first."
She also feels supported by SMC as she pursues internships and other opportunities. "The theatre department has so many collaborations with other places, where they can either help you get internships or advise you and give recommendation letters," says Yanki, who will finish the SMC program next spring and then plans to find an internship or a job as a production assistant to continue the learning process.
Yanki firmly believes we should all be true to ourselves. "A lot of people told me that I shouldn't be doing this," she says of her interest in the performing arts, "but I'm so proud that I am."
* * *