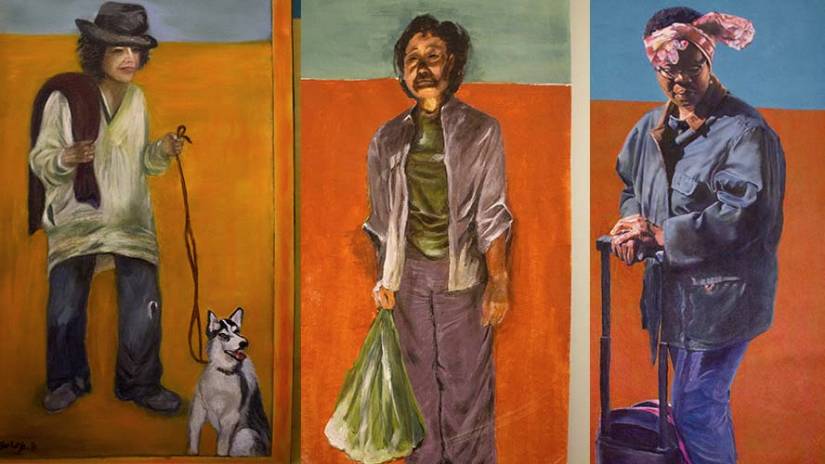 Picture yourself being homeless. Literally. That was the culminating project for Adam Harrison's intermediate painting class at SMC Emeritus last fall. Students were asked to produce a large-scale painting of themselves as if they were homeless.
"The class was about more than painting," says student Jill Meeshkan. "You're showing your emotion about something important going on in society. Homelessness can happen to anyone. It's really emotional, but it's a real truth in our lives."
Fellow student Linda MacEwen adds: "There were people I told about our project who said, 'Oh, I couldn't even begin to paint myself as homeless. That's my biggest fear.' I thought that was a really interesting reaction. These were experienced artists who said it was just too emotional for them. But Adam is a leader. He asked us to trust, jump in — and it was so worth it."
Adam came to SMC Emeritus as an adjunct professor in fall 2015 and has taught every semester since. Each term of his intermediate painting class tackles a different theme, some — like this one — more ambitious than others.
Art of Compassion
"The homeless theme wasn't 100 percent popular among everybody at first," he admits. "But some amazing things happened with that project. The class came together in a way I had not seen before and did not expect."
"Because of everyone's literal concern for the homeless, it ended up really bringing us together," Linda agrees.
Through the project, Adam and his students learned that one Emeritus student — not in their class — had experienced homelessness. "She had had a successful life, good career, family and everything, and then lost it all and lived in her car for a long time," he adds. "That was such an eye-opener for all of us. These are real people who just had a bad break, and we forget that sometimes."
As part of the assignment, students were each asked to interview a homeless person to help gain perspective on what it's like to be in his or her shoes. They learned not only about the plight of others but also about themselves — all while building their knowledge of both the basics and nuances of painting.
Technical Prowess
Each semester, Adam's classes typically take a field trip to the J. Paul Getty Museum, study a master artist or two, and develop their skills with progressively more challenging projects before tackling the final big assignment. They learn about color, form, painting materials, how to accurately measure distance and other valuable techniques.
"He is extremely talented," says student Gloria Vitto, who took the first class Adam taught at SMC and has re-enrolled with him every semester. "To watch him paint is unbelievable. He has taught us how to measure distances, parts of the body, what colors fall back and what colors come forward, which is very helpful in developing a painting. He's very inspiring and motivating."
A classically trained artist, Adam says he likes to work with big, bold color, with precise measuring systems. His work will be on exhibit this October in a solo show at the Long Beach Museum of Art (LBMA).
"As a former high school teacher and actress, I really appreciate excellent teaching," says Linda, another student who has taken multiple classes with Adam and other faculty at SMC Emeritus. "This is a great space to be able to share your experience with other artists."
Breadth and Depth
"I think it's a godsend to senior citizens, this Emeritus program," adds Gloria, who has taken classes here for the past eight years. "It's social and extremely educational. It's a marvelous, marvelous place. If you speak to most students, we'll all say it's a very important part of our lives."
For Jill, it became a refuge when she was diagnosed with cancer and had to step away from her career as a geologist. "I came here as a kind of therapy," she says. "It's really helped me. I love it here. It really gave me peace."
SMC Emeritus was established more than four decades ago and offers a broad range of free, non-credit classes catering to older adults and retirees, all supported through donations. The program serves more than 3,600 students annually with some 120 courses — and new ones in the works.
"It's a fantastic program," says Scott Silverman, associate dean, who joined SMC a little over a year ago. "The students love it. Once they join the Emeritus program, students continuously enroll in future semesters."
Courses include everything from gentle yoga to digital photography and from Shakespeare to bereavement support.
"I would recommend anyone look at the catalog for the breadth of subjects and classes," Linda says. "I think it's essential as we grow older to stay connected, to keep learning, to stay physically fit. We know that continuing to learn builds capillaries in your brain. So it has physiological benefits, too."
* * *