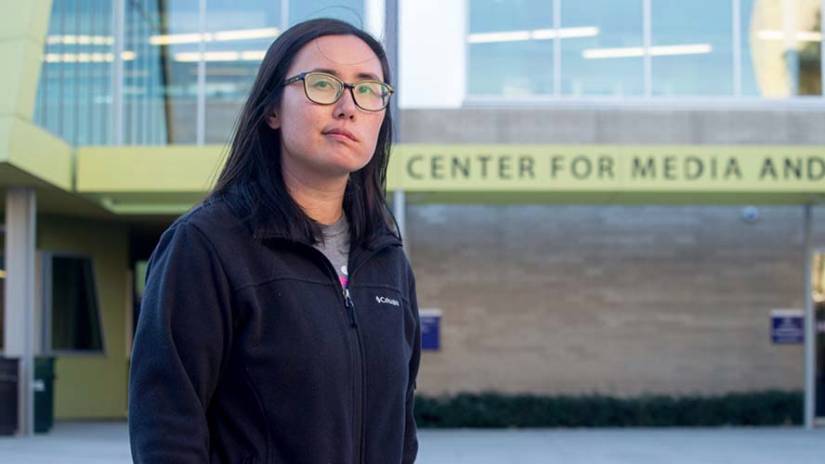 Standing on stage before hundreds of design professionals at Amazon's Seattle headquarters, Santa Monica College student Kathleen Hwang recently pitched a novel skill for Alexa—one that could actually make us better human beings.
She had beaten the odds spectacularly just getting there: surviving brain cancer that left her with disabilities, doubling down on a second bachelor's degree to pursue a more meaningful career and—perhaps her most gutsy move—stepping into the spotlight to be judged by superstars in her new profession as an interaction designer.
Kathleen was one of nine finalists selected to compete in the prestigious Student Design Charette at the 2019 Interaction Design Association (IxDA) global conference, held February 5-8 at the Amazon Conference Center. The other students all came from elite design schools in France, the United Kingdom, India, Costa Rica and the United States. Kathleen came from a fledgling program in Santa Monica, California.
Their challenge: "Craft an experience that unlocks empathy."
Kathleen and teammates Isabel Newsome from Georgia Tech and Akshita Mehta from India's National Institute of Design worked furiously over three days to come up with "Talkie."
The app, as they conceived it, would pair people from across the globe via voice-based interactive services like Amazon Alexa and Google Assistant. Users would talk for defined periods of time on some agreed-upon topic. It could be climate change for 5 minutes. Or abortion rights for 7 minutes. The conversation might get uncomfortable, but the goal is not to score debate points. Rather, Talkie is meant to mindfully build empathy by encouraging ordinary people to practice conflict-resolution strategies, such as active listening and participative dialogue.
"At the end, you rate the other person's communication skills," Kathleen explains. "You can leave comments and tips for improvement. We also would gamify the experience, so people would want to use the product again."
A Quick-Moving Inclusive Designer
Nothing like Talkie currently exists, but with Kathleen on the case, it could well materialize someday.
The intrepid Corsair graduates in June with 20 classmates who constitute the second cohort of SMC's path-breaking Bachelor of Science in Interaction Design (IxD).
"Kathleen is a wonderful, curious, self-reflective student," says Luke Johnson, the program's faculty lead for graphic design and interaction design. "She's someone who likes to move quickly, who knows exactly where she wants to leave her mark on the world, which is in inclusive design."
A sub-specialty within the IxD discipline, inclusive design puts accessibility at the center of everything, and the ability to empathize is its touchstone.
Creative Cancer Survivor
Though she didn't know it at the time, Kathleen's future as an inclusive designer was sealed in a hospital computer room when she was only 16.
Diagnosed with brain cancer, the San Gabriel teen had undergone two surgeries and radiation treatments that left her with significant physical and cognitive losses. After months of therapy, she finally made her way to the public computer room with a walker. Eager to chat with school friends, Kathleen found, frustratingly, that she couldn't access the technology she'd always taken for granted.
"I was still relearning how to move my arms and hands," she recalls, "and lacked the coordination to press the keys." Double-vision blurred the words on the screen.
In time she regained nearly all her functions, but the memory of technological exclusion stayed with her. She became a passionate advocate for people with disabilities, volunteering in hospitals. She went on to major in psychology at UCLA with a disability-studies minor. After graduating in 2011, she worked as a behavior therapist seeing pediatric clients with autism and other cognitive differences.
But the treatments she administered felt stubbornly paint-by-numbers.
"I was in a field where I just followed someone else's program plan," she says.
Starved for creative control, in 2015 she enrolled in a graphic design class at SMC. Years before, she'd won awards as the layout editor for her high school newspaper. When she heard about the new IxD pilot program, it immediately struck a chord, offering a way to blend her psychology training, disability advocacy and interest in design.
"Let's See What Happens"
The experience has exceeded Kathleen's expectations.
"I really love this program," she says. "I've developed a family here with my entire cohort and the faculty. We talk, we chat, we Slack each other all the time. It's a lot of work, but they're pushing us to be ready when we graduate."
When Luke, Kathleen's instructor in "Designing for Community Change," told the class about the IxDA student charette, Kathleen decided to go for it.
"I thought: 'What's the harm? Let's see what happens.' The brief was 'Scaling Empathy,' and that's something I really wanted to explore," she says.
Her selection as one of nine finalists was a triumph not only for Kathleen personally but for the SMC IxD program, now in its third year.
"This is a very prestigious conference," says Luke, who attended the Seattle gathering with fellow IxD core faculty member Maxim Safioulline. They were elated to find one of their students among the finalists. It was early validation that their efforts at SMC were paying off.
Mentoring by Heroes
While Talkie didn't win the charette—another team had that honor—all nine finalists were deeply enriched by the experience. During the conference, they participated in a Microsoft inclusive design workshop, heard from an expert panel on the science behind empathy-building, and received mentoring from world-famous inclusive designers Liz Jackson and John Norman.
"These are heroes in the field," says Luke, a seasoned industry professional who worked for Riot Games, NASA's Jet Propulsion Laboratory and Nokia before joining SMC last year as a tenure-track professor. "They're my heroes, and Kathleen got to meet them. They critiqued her work and gave feedback. It was an amazing opportunity."
And her journey is just beginning.
Upon graduation, Kathleen plans to hit the ground running as the creator of digital experiences for the Narrative Method, a Santa Monica-based non-profit that delivers empathy-building workshops for clients use storytelling.
It's not Talkie, but the mission is similar.
No one in the SMC IxD program will be shocked if somewhere down the line Kathleen finds a way to connect the dots.
* * *