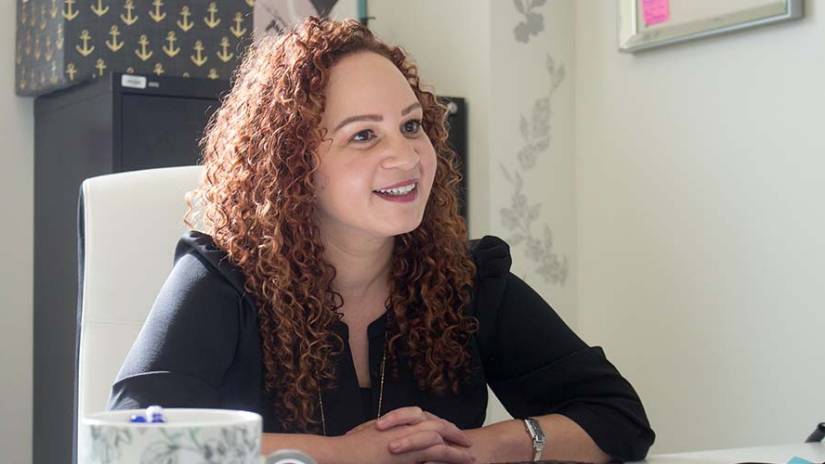 It's hard to gauge the impact of a single individual on a quite large institution. But in just two years at Santa Monica College, Yamissette Westerband has had a major impact on her students, her colleagues, and her department. And the impact a single member of her own family had on her still plays out today in her life as an educator.
Yamisette is SMC's first full-time professor of Women's, Gender and Sexuality Studies, formerly known as Women's Studies, a title she was instrumental in changing. "The title was not reflective of where the discipline is today," she explained. "It's now more inclusive and challenges the notions of the historical 1970s definition of white, middle-class feminism."
On Her Plate
She was also tasked with revamping the entire curriculum for her four sections of "Introduction to Women's, Gender and Sexuality Studies" and "Women, Gender and Sexuality in Popular Culture," two popular courses that fill up immediately. As if that weren't enough, she recently received approval to add a new class, "Introduction to LGBTQ Studies" to her course load beginning in the fall semester.
Christine Schultz, Chair of SMC's Department of Philosophy and Social Science describes Yamissette as, "A real leader on campus, in the community, among students, on women's and gender issues, and because she's the only full-time faculty expert on our campus specializing in this area, she's been our leader on Title IX issues."
She was rapidly recruited to SMC President Kathryn Jeffery's Presidential Task Force to create a Social Justice and Gender Equity Center on campus. In Fall 2018 she led the programming for SMC's Public Policy Institute's "There Goes the Neighborhood: Gentrification in the Context of Latinx, Queer Spaces, and Social Justice."
And she wowed fellow participants at the highly-competitive EPIC Seminar for Teaching Excellence at UCLA on Course Design and Assessment Seminar in Spring 2018, where she and fellow SMC Philosophy professors Amber Katherine and Ali Mohsen developed and facilitated an on-the-spot workshop about diversity and curriculum.
UCLA/EPIC instructor Tamara Levitz said, "Under Professor Westerband's guidance, participants were able to understand diversity and inclusion in course design in a very short period of time. Her teaching method, experience, knowledge, lesson plan, and leadership qualities resulted in a highly effective and convincing presentation. I think everybody in the seminar learned a great deal that day."
Falling Behind; Pushing Ahead
Born in Puerto Rico, the daughter of divorced parents, at age 11 Yamissette and her brother moved to the U.S. with their father, who was in graduate school, because educational opportunities here were more promising.
But she faced culture shock and an uphill battle: "I was a monolingual Spanish speaker taking English as a Second Language (ESL); the school was not diverse, the ESL program was not strong and I experienced racism for the first time."
She didn't adapt well and was held back one grade. "I went from being an A student to being a C and D student. I internalized the shame of having to repeat a grade and believed that I was dumb."
After junior high, she wanted to return to Puerto Rico, but her aunt and uncle invited her to live with them for the summer. Her aunt saw her potential and offered to take her in and become her mentor and tutor. After that, said Yamissette, "I went from being a struggling student to an Honors student serving in student government.
"My experiences in the educational system as an immigrant have deeply informed my career and educational trajectory. I am completely committed to working with underrepresented communities and view teaching as a form of social justice."
Student Activist, Personal Growth
From El Toro High School in Laguna Hills, Yamisette went on to UC Santa Barbara, where she came out as a lesbian. "I took my first Women's Studies class in my junior year, fell in love with it, and it changed my life."
During her senior year, she said, "I was starting to question everything. I began participating in a 'coming out' group, taking classes, reading queer texts, and it was the perfect storm, giving me the language I needed to understand and explain my experiences as an immigrant and queer Latina."
She stayed an extra year at UCSB to double-major in Women's Studies and became an activist, volunteering at the Rape Crisis Center, working with the Women's Center to help organize events like Take Back the Night, talks, workshops and rallies, and joining the Queer Student Union. She laughed, remembering that, "We even created a 'drag king' group that we presented at conferences!"
What is Home?
After UCSB, she returned to Puerto Rico to be with her mother. "I had the immigrant experience of 'what does home mean?' It was wonderful reconnecting with my family but I'd become really accustomed to American culture. So I was kind of an outsider in terms of my own community."
She also faced the challenge of coming out to her mother in a more conservative culture. Parents, she said, "have to deal with their own coming out and how to explain things to other people in the family and community." It was hard, but her mother eventually accepted Yamissette's identity. "For her it was most important that we have a good relationship."
After college, she worked in the fields of sexual assault, health education and LGBTQ organizing in Puerto Rico and Texas, later earning her Master's Degree in Gender Studies at University of Texas, Austin, and doing further post-graduate work for her Master's Degree in Social Work at University of Michigan. She returned to California for her Ph.D in Gender Studies at UCLA.
She fell in love with teaching while working under the academic mentorship of Dr. Daniel Solorzano, UCLA Professor, Graduate School of Education & Information Studies, writing her dissertation on the mentorship experiences of Latinas in Research 1 graduate programs. "Dr. Solorzano truly allowed me to make connections between my activist background, my love of teaching and education, and my feminist beliefs. Because of his classes I learned to create a classroom environment that is based on a liberatory and empowering educational model."
Students and Teachers Agree
Her love of teaching shines through, as does her involvement in the SMC community. According to department chair Christine Schultz, "Yamissette's subject matter is so very interesting and the students are really engaged. She receives the highest reviews in student and peer evaluations, and by those who have worked with her on college committees and the Social Justice-Gender Task Force."
Nicole Benhamou, a member of SMC's Scholars Program, said, "She's amazing; I've said over and over how much I love her course and tell people to take it. I've never felt more empowered as a woman or as a human being."
English literature major Albert Cueva says his girlfriend encouraged him to take the class because she loved it so much. "I never thought about everyday things like male privilege. Now I even talk with my father about why 'cat-calling' is wrong. I have great appreciation for what I've learned."
Psychology major Susan Voeltz believes that Yamissette is an "amazing teacher, she's passionate about her subject but she doesn't force her opinions on anyone. She's really all about spreading awareness and consciousness."
And Marta D'Ocon, a film production student, describes Yamissette's class as "one of the most eye-opening experiences of my life. It was life-changing for me."
Colleagues also admire her academic style. Wendi DeMorst, who served on Yamissette's hiring and evaluation committees said, "She has the pulse on what's going on with youth right now; she talks about modern day issues that students are interested in. She doesn't just take a theoretical look through books, she addresses how these things play out in our everyday lives."
And Yamissette notes that it's not just her passion that makes things work. She also creates a safe space for students to share their thoughts. "I work really hard to be empathetic and compassionate as an educator. It's not about brainwashing students whose beliefs are different. My role is to get them thinking critically about social justice issues."
* * *