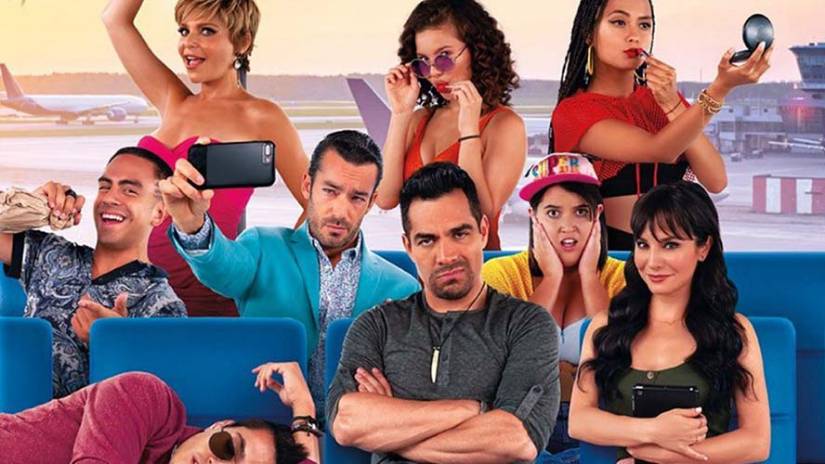 Network engineer Ish ShaBazz recently launched Capsicum, a daily-planner app for iOS inspired by beautiful paper-based planners. It was featured by Apple on the App Store, as well as by TechCrunch and CNET. Check out capsicum.app to learn more.
On March 16, Professors Alejandro Lee (Spanish) and Yukiko Tsuboi (Japanese) from the Department of Modern Languages and Cultures hosted a day of spring workshops on SMC's main campus. The four workshops were organized by the Modern and Classical Language Association of Southern California (MCLASC); over 50 world language instructors from across Southern California participated. And, beginning July 2019, Dr. Lee will also chair the College Level Examination Program's Spanish Test Development Committee, which is part of The College Board!
Lorrie Ivas is proud to report that the Photo & Fashion department was graced with two artistic speakers in February – both combining the best of marketing and creativity: the first was Mark Bozek, former VP of HSN and QVC—who is portrayed in the movie "Joy" by Bradley Cooper—and also writer/director of "The Times of Bill Cunningham." Mark came to speak to SMC students about Bill Cunningham, the internationally beloved and legendary first street fashion photographer. Students were then treated to a private screening afterwards. Just a week later, Donald Robertson, artist and busy SVP of Creative Projects for Estee Lauder (he created M.A.C.'s VivaGlam)—he is also called "the Andy Warhol of Instagram," (@drawbertson) came to campus twice to talk about his creative path. The talk, delivered to a full house, was peppered with invaluable life and career lessons.
On March 19 – 20, Lorrie Ivas and AnnMarie Leahy of Career Services attended Nike's Diversity X Design Student Apprenticeship Project meeting at Pensole University and Nike Headquarters in Portland. Plus, at the time of the submission of these brags, Lucky Brand's Social Compliance/Sustainability Manager Allison Charalambous was slated to come to campus on Monday, March 25 to kick off the Lucky Brand X SMC Chop Shop Challenge (repurposing denim scraps). Plus, the President of the California Fashion Association, Ilse Metchek, is scheduled to come to campus and present the state of the fashion business. "Definitely a busy March!" wrote Lorrie—and well, we can't help but agree.
Stephen Soucy, Associate Instructor, Department of Business, won the 2019 Ovation Award (LA Theatre Alliance-LA's top theater award) for Best Production of a Musical (Intimate Theatre) for Priscilla, Queen of the Desert at Celebration Theatre. Stephen Soucy, produced the show, and is also lead producer on the Broadway-bound, Romy and Michele: The Musical. Here is the Broadway World story. The Ovation Awards are the only peer-judged theatre awards in Los Angeles, created to recognize excellence in theatrical performance, production and design in the Greater Los Angeles area.
Art History Instructor Dr. Barbara Mendoza a session at the College Art Association Annual Conference in February, which she entitled: "'Her Public Voice': Teen Girls and Young Women in Ancient Contexts." The papers included the role of adornment and grooming, "erotic" play, and funerary commemorations and cult.
Ellen Reich, who teaches Creative Writing and Autobiography for Emeritus at the Malibu Senior Center, became Poet Laureate of Malibu on March 23. She will be the second Poet Laureate of Malibu following the spectacular Ricardo Mean Ybarra. A widely published poet, Ellen looks forward to advancing poetry in her community through workshops, readings and other poetry-related activities.
Scriptwriting Professor Laurence Rosenthal debuted NO MANCHES FRIDA 2: PARAISO DESTRUIDO, the sequel to his 2016 smash hit Mexican romcom NO MANCHES FRIDA at 457 theaters throughout the US on March 15! In addition to writing the original, Professor Rosenthal acted as Executive Producer on the sequel.
Debra Joseph-Locke, Ed.D, EOPS/CARE Supervisor/Guardian Scholars Coordinator is happy to announce that SMC's Guardian Scholars Program for foster youth was recently awarded a County of Los Angeles Commendation for its collaborative work with the County's Youth Development Services (YDS) for helping foster youth succeed (many SMC 'Guardian Scholars' have successfully transferred to UC Berkeley, UC Davis, UC Irvine, UCLA, USC, to name only a few). Guardian Scholars has served 474 students to date since its formation just a few years ago. UCLA was also recognized at this same event, which was the 6th annual YDS College Summit.
The Online News Association (ONA) selected SMC Journalism Assistant Professor Sharyn Obsatz to participate in a new year-long leadership-training program designed to strengthen local journalism communities. The training will focus on skills such as recruiting and managing diverse teams, mentorship and leading through influence. Sharyn is one of the ONA Los Angeles event coordinators, and she hopes to better connect SMC students to the Online News Association, the world's largest association of digital journalists.
Shelley Pearce, L.M.F.T., DSPS Counselor was part of an international tele-summit in March 2019. Entitled "Dharma and the Evolution of Conflict," the five-day symposium highlighted renowned teachers, authors, religious educators, psychologists, and mediators presenting their unique views on conflict, mediation, and healing our divides, including Integral Theory founder, Ken Wilber.
* * *