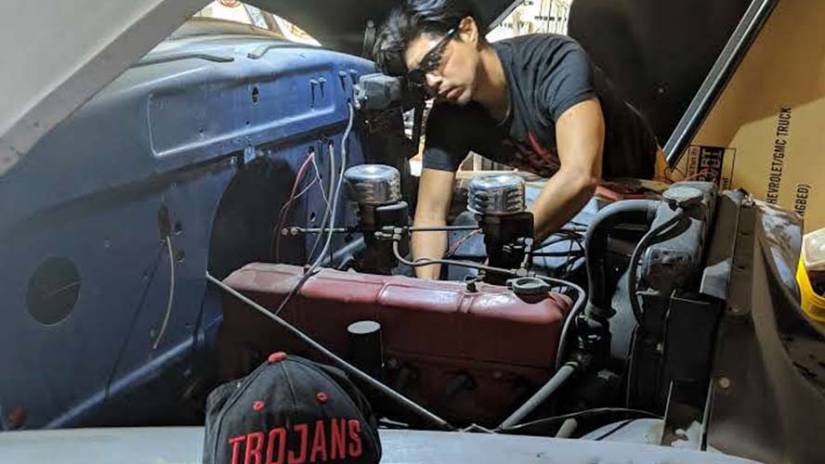 The path from starting community college to completing it is not always a straight line. No one knows this better than 28-year-old Walberto "Wally" Lozano Diaz.
He started at Santa Monica College in 2012, and will transfer in Fall 2019. He's already been accepted by Cal State University in Long Beach and in Los Angeles, but his dream is to attend the University of Southern California.
Along the way, he's been an exemplary student, but has struggled with anxiety that interfered with completion of some classes. To counteract his anxiety, Wally has been participating in resilience training, helping to reinforce his determination to finish his degree.
Beyond his Comfort Zone
An electrical engineering major at Santa Monica College, Wally grew up in Inglewood, where he attended City Honors College Preparatory Charter School (CHCPCS). The school offered extra credit community college-level courses taught by professors from El Camino College and SMC; Wally chose sociology, drawing and dance.
A self-described introvert, Wally took dance because, "It challenged me and pushed me out of my comfort zone to help me grow."
That is one of Wally's defining characteristics—to never settle for less.
From Tinkering to Engineering
Wally always enjoyed tinkering, taking things apart, then trying to figure out how to put them back together.
Raised by a single mother, an undocumented immigrant from Mexico, Inglewood wasn't the easiest place for him to grow up. His mother took any jobs she could to make ends meet. Witnessing how employers take advantage of immigrants made him think deeply about social injustice and shaped his reaction to others who struggle.
And though he had his share of confrontations with gangs, Wally avoided involvement by creating games and building things. "We found abandoned grocery carts, took the baskets off, created a braking system, and used the undercarriage as racing carts on downhill dirt slopes and streets," he said.
After graduating from City Honors and studying for a year at El Camino College, he stepped away from school to work in plumbing and construction for a few years while figuring out his direction.
STEM and Other Resources
Wally had some friends at SMC, and in 2015 he decided to enroll, at first majoring in mechanical engineering. In high school, he'd been a good math student but he found himself struggling with college-level calculus, taking it twice. He said he didn't know how to ask for help, withdrawing from some classes then starting over again.
A classmate asked if he knew about SMC's STEM (Science, Technology, Engineering, Math) Science and Research Initiative, an academic support program designed to help traditionally underrepresented students successfully complete their studies at SMC, transfer to a four-year research-oriented baccalaureate program and/or enter the STEM workforce.
The STEM Program offered him tutoring, counseling, scholarship, job and internship opportunities, and since joining the program in 2016 he has had major successes. Now he's "paying it forward" as a STEM Peer Mentor and math tutor for the Black Collegians and Adelante programs.
Wally also consulted with SMC's Center for Wellness and Wellbeing, where he discovered that anxiety was causing the panic attacks that resulted in his dropping in and out of classes. Since then, he has also started psychotherapy.
Tram Dang, SMC Professor of Physics and Engineering, has had Wally in several classes. She described him as someone who always puts the needs of others before his own. "He's so concerned with the success of others that he sometimes forgets himself. He's very serious and dedicated, especially when he believes what he's doing will improve the world around him." Since Wally shared his condition with her, Tram has made accommodations so that he can succeed.
Finding His Field Wally is now an electrical engineering major, a field that came into focus after going through two prestigious summer internships.
In 2017, in addition to participating in the Jet Propulsion Laboratory Undergraduate Scholars (JPLUS) program, and NASA's Community College Aerospace Scholars (NCAS) program, he was chosen for the SMC/UCLA Summer Scholars Research Program. He worked in the Sensors and Technology Laboratory, using 3-D printers to create integrated circuits, and developing a "recipe" incorporating metals into the medium the printers used to make them, giving him a combination of electrical engineering and manufacturing skills.
And in 2018, Wally was selected for a Base 11 Fellowship, focused on aerospace workforce development, in the USC Liquid Propulsion Laboratory at Viterbi School of Engineering, one of the America's leading engineering schools. He put his skills to work in the new context of an aerospace lab, and it solidified his desire to go to USC; he's waiting to hear back from them in May.
Dr. Nadia Sellami, Associate Director of the USC Keck School of Medicine Academic Support Program, met Wally when she was director of the research center where his UCLA internship took place. She said, "He was determined to get the most out of his experience. He used his time to network, learn and develop himself; he was reliable, mature and demonstrated integrity. And he showed that he was a real team player by making sure everyone in his cohort was integrated and included."
SMC Professor of Renewable Energies Stuart Cooley, noted that Wally also established a unique engineering club to test students' physical and mental resilience through practical exercises. "He did this all on his own. What he learns, he shares; his passion, infectious spirit and confidence in the fields he studies rubs off on others."
Walking from Hawthorne to SMC
For a few years, Wally has been participating in resilience exercises sponsored by Goruck, an organization with roots in military special forces training. The 50-mile Star Course required members to carry their provisions and a 30-pound weight in a rucksack for an 18-hour training, checking in at iconic Los Angeles destinations like City Hall, Griffith Park, Dodger Stadium and ending at Santa Monica Pier.
When they came through Skid Row, he wondered, "What do these folks tell themselves to keep going in the situation they're surviving in?" He also asks himself what he needs to do to keep pushing forward.
Professor Dang said, "It's so great that he's figured out a way to use resilience as a tool to learn how to get through difficult problems."
Practicing resilience on his own, Wally sometimes walks from home in Hawthorne to SMC, carrying the weighted rucksack. Along the way, he sees homeless people, who ask if he can spare any money. "I tell them I don't have the means, but I can share whatever I have to eat, and maybe have an honest conversation. And I can tell they really appreciate just being seen and heard."
Wally recognizes that it's taken him longer than others to follow his own path through college. But, he says the best part is that, "Resilience helps you feel good, knowing there's something on the other side. And once you reach it, it's not the end, it's just the beginning."
* * *