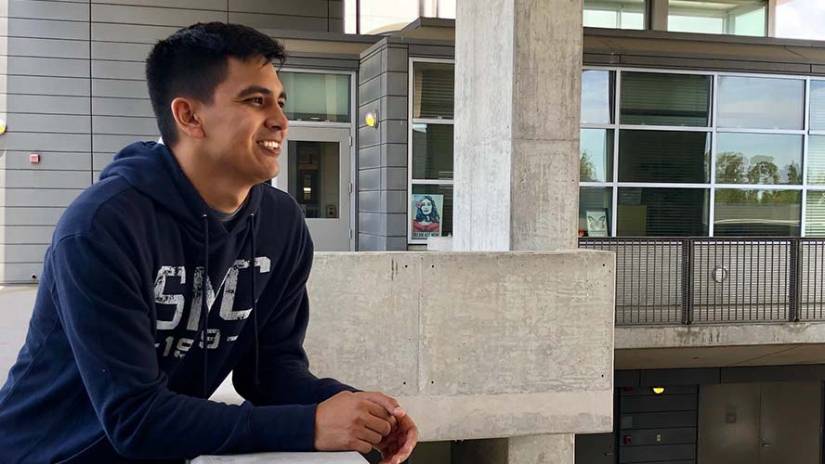 Two years ago, Abraham Barkhordar '17 knew next to nothing about applying to law schools, let alone getting into an elite Ivy. Hiring an admission coach—at a starting cost of $5,000—was not an option for this Corsair from Calabasas.
"So I did it on my own," says the history major who transferred to UCLA and graduated summa cum laude last spring. He joins Harvard's 1L class later this month (August).
Abraham did such a thorough job researching the subject that he packed his findings into a 45-page guidebook.
"Dreams to Reality: a Six-Step Law School Admission Guide" brings together everything you need to know about killer personal statements, LSAT study tricks, the lowdown on top-14 law schools—"all the stuff nobody talks about," Abraham says. Published in May, the Google Doc has received more than 25,000 page visits and garnered hundreds of likes in UCLA and SMC Facebook groups.
Abraham isn't in it for profit. His purpose is entirely altruistic.
"This guide has always been and always will be FREE," he writes in an introductory note.
"The law school application process is difficult," Abraham explains. "There's so much to know to get it right. Transfer students, especially, are at a disadvantage, because we're not primed for graduate school. Our whole focus is on transferring into a four-year college."
Abraham's plan of attack is validated by his results. He applied to seven schools, six of them in the Ivy League, and was accepted or wait-listed by all. Abraham ended up choosing Harvard, becoming one of only two 2019 UCLA grads admitted to the prestigious law school, which has produced 21 Supreme Court justices, including five currently on the bench.
It certainly helped that Abraham had 99th percentile LSAT scores and a near-perfect GPA. But as his online guide makes plain, there's much more to getting in than having great "stats."
A Family of Corsairs
Abraham's journey to Harvard Law began at SMC. Actually, the whole family's journey is rooted here. Mom and Dad met in Spanish class. Both were immigrants: Moe Barkhordar, a business major, came from Iran; Apolonia, a history major, came from the Philippines. (Abraham's younger siblings, Leyla '19 and Alex, are also Corsairs.) After graduating, the couple opened a currency exchange on 4th Street. The business did well, and the family moved to Calabasas when Abraham was a toddler.
He describes himself as an "average student" in high school. "I didn't have a care in the world, to be honest. I was really focused on water polo," he says.
The 6-foot, 150-pound driver loved playing with the Corsairs. (Abraham holds the record for most penalties drawn, "which means I got beat up a lot," he says with a laugh.)
The men's water polo schedule was tough. Daily practices started at 6 a.m., and there were weekend games during the season. The hour-long commute from Calabasas didn't help, but Abraham was happy. His teammates became his best friends.
Trial and Error
Enrolling at SMC, however, changed Abraham in ways he never anticipated.
"It ended up being the best decision I ever made," he reflects. "I had time to explore, to read on my own, find who I am and what I believe. It was trial and error."
Settling on a history major, Abraham blossomed as a scholar. He clicked with history professor Heather Bennett. Pretty soon, she was advising him about UC transfer options and encouraging him to consider grad school.
"Community college gives you a lot of perspective, and it gives you a second chance to do well," he says.
Abraham found time to work as a history and writing tutor and to pen articles for The Corsair. He considered careers in academia and museum curation. Then a summer internship with a medical malpractice lawyer brought epiphany.
"Watching her win cases, watching her clients cry when they got their settlements—it was just beautiful," Abraham recalls.
At UCLA, he worked harder than ever.
"Once I found what I really loved, it drove me," he says. "The reason I'm determined to go to law school is because I want to be fighting for those who are left behind. I think that's wrong, and I want to do something about it."
Living in the transfer dorm, Abraham got involved with the Pilipino Transfer Student Partnership and the UCLA Pre-Law Society. He volunteered at the California JusticeCorps legal aid clinic and worked as a research assistant to a UCLA communications professor specializing in constitutional law.
When it came time for law school applications, Abraham made a thorough study of the process. Judging by the results, it was time well-spent.
'Hey, I Can Do This'
Before leaving for Harvard, Abraham paid one last visit to SMC to catch up with Heather Bennett.
"We talked about the future. I gave her a Harvard mug and thanked her so much for all she'd done for me," he says.
Heather had contributed a letter of recommendation to Abraham's law school application package. More importantly, she'd been "a role model, inspiration and cheerleader." Like him, she had transferred to UCLA from SMC. She ended up earning a PhD from University of Pennsylvania.
"Having her around showed me, 'Hey, I can do this. I can go to an Ivy League,'" Abraham says.
Publishing "Dreams to Reality" is a way for Abraham to pay the debt forward.
"I wrote that guide to make law school more accessible for students like me," he says. Tomorrow's national leaders are attending Ivy League law schools today, Abraham explains. Bringing community college students into that mix is an important part of creating a better future for everyone.
"To know I'm helping already is really heartening," he says. "That's the feeling I want for the rest of my life," he says.