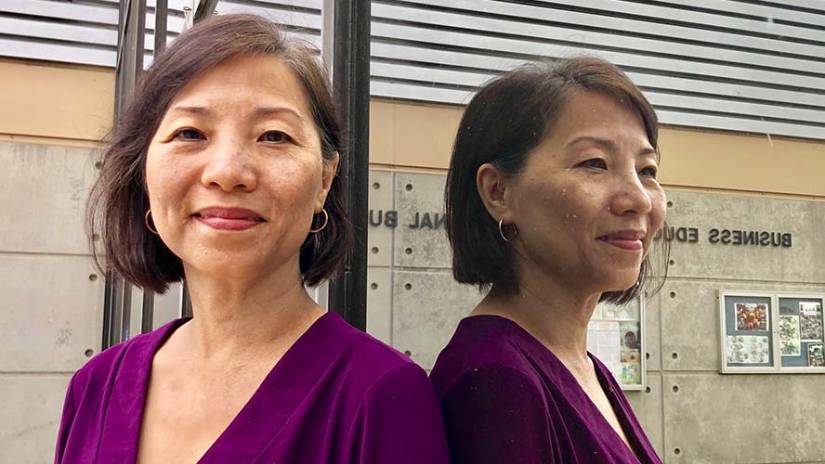 Santa Monica College Accounting Professor Jenny Resnick is passionate about instilling financial literacy in her students. In her classes and workshops, she strives to make learning fun, often incorporating music into her lessons.
"For example, if the topic is retirement planning, I might play 'When I'm 64,' to set the tone for the day," she says. But the lessons learned are serious — and important for students' overall wellbeing.
"Students tend to receive a lot of misleading information," Jenny says. For instance, one class member told Jenny her banker advised her not to pay off her credit card balance because she needed to build up credit. "I was dumbfounded. Credit card interest rates are sky high and students don't know better or aren't thinking it through — especially when they hear contradictory information from an authority figure like a banker."
Jenny speaks from authority herself. She joined SMC in 2002 after a 10-year career as a certified public accountant with such companies as PricewaterhouseCoopers, Mattel and American Honda. But her path to SMC was both circuitous and serendipitous. After growing up in Hong Kong, she earned a full-ride scholarship to college in Japan, then came to the U.S. to pursue her first master's degree in Japanese studies, intending to earn her PhD and return to Hong Kong to teach.
Plans changed when she met her future husband and decided to settle down in the U.S. And, instead of pursuing her PhD, she went to the University of Southern California to earn an MBA. At USC, her accounting professor inspired her to shift focus. "I just fell in love with the subject and found it was the key to understanding everything about business," Jenny says.
In her work as a CPA, she loved coaching staff but was less enamored of having to hire or fire people. So she explored the idea of transitioning to a teaching career and eventually found her way to SMC. Now she coaches students in how to manage their finances and make the most of their money. Not only does she teach accounting but she also has expanded to offer two personal finance courses as well as informal workshops that introduce students to the subject and build their awareness.
She laments the lack of financial literacy education, especially in high school, when students are thinking about the right college or university to attend. "Students are often pushed to go for the name school, the Ivy League, regardless of how much it is going to cost them or their parents," Jenny says. "They're often told that FAFSA [the Free Application for Federal Student Aid] is going to help them, but they're not informed that it often takes the form of loans that they have to pay back. Students are not well-advised about money matters."
So, in 2016, she coordinated a standing-room-only financial literacy concert at SMC's Main Stage featuring the rock band GOODING. Lead singer Gooding, the band's namesake, shared personal anecdotes and real-world examples to demystify finance. Soon after the event, she launched the series of personal finance workshops — usually three per semester.
She enlisted a number of other faculty members to help lead the workshops, which cover a wide range of topics and include resources and handouts students take can take with them. Colleagues and subjects include Gregory Brookins on debt management, Anthony Chan on investing basics, Patricia Halliday on saving and spending, Ming Lu on savings and budgeting, Cesar Rubio on tax planning, Erick Senko on auto loan debt, Victor Trippetti on investing and Sal Veas on business and career. Jenny covers smart banking and credit management. Starting this fall, Oscar Galindo from Counseling will present on financial aid.
Many of the students who attend the workshop become interested in taking additional courses for credit. Jenny was instrumental in helping develop a three-unit personal finance course — Business 45, Individual Financial Planning — that now satisfies the general education requirement for California State University as an alternative to upper-math, particularly for liberal arts students.
Patricia Tappan jumped at the chance to enroll in the course and earn her degree. "Algebra was always a requirement to get an Associate's Degree and beyond," she says. "I am not a young student, and I thought I would never be able to get beyond a certificate because I did not like algebra."
In addition to meeting her graduation requirements, she says the experience changed her life for the better. "I now know how to manage my credit to the point I pay very little or no interest and have a 750 credit score," she says. "I am more conscious on how I spend, invest and save money. I see my economical wealth steady and growing. I wished I knew all of the information given in this class in my early years. I would have been a millionaire by now."
Jenny's even helped at least one student improve her physical as well as fiscal health.
At one workshop, Jenny was explaining how savings can build over time through interest compounding. "I used the story of a guy who smoked two packs a day but decided to stop," she explains. "So he saved $20 a day over the next 40 years, which adds up to a couple of hundred thousand dollars. One student came up to me afterward and said: 'What you presented today really struck a chord with me. I'm going to stop smoking."
"Every student at Santa Monica College should take this class," Patricia says. "It is a treasure and there's no better person than Ms. Resnick to teach it."
* * *