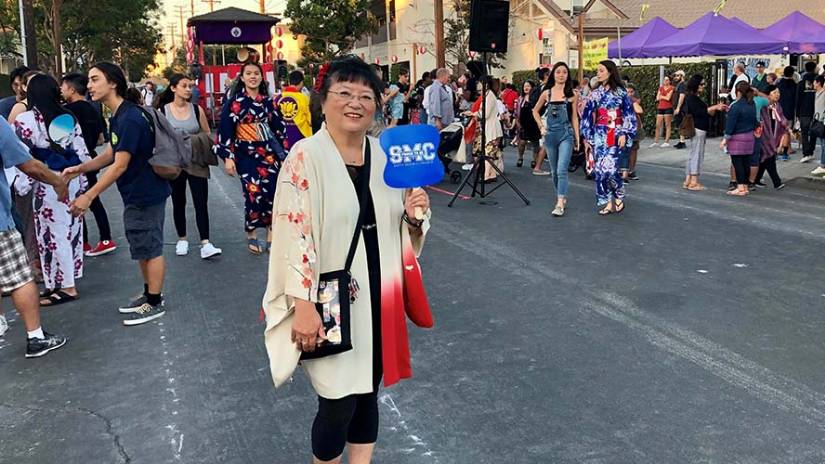 SMC in Focus asked readers to tell the rest of us what they were up to behind the scenes this summer! The entries were multifarious: from horseback riding in the redwoods to dancing Japanese folk dances at Buddhist Obon festivals to . . . well, spending all summer in jury duty! Congratulations to the first three who won bags of SMC swag: Audra Wells (Counseling); Martin Goldstein (Media Studies); and Kimberly Rios-Lam (Center for Wellness & Wellbeing). The regular "Bragging Rights" column follows these entries—enjoy!
---
Martin Goldstein, Associate Faculty (Media Studies) "This picture was taken during a two-hour ride into Redwood National Forest near Orick, California, in Humboldt County. The forest is all old growth redwoods, and has never been logged. They are truly magnificent and I felt duly humbled among them. I was up there to visit my daughter and my new grandchild, baby Baya, two months old, and that was pretty cool, too."
---
Kimberly Rios-Lam, Psy.D. (Center for Wellness & Wellbeing) "I am in my office at the end of the work day. I love working with students each day and have discovered my passion in working with community college students while being at SMC. My hopes are to make this space and environment as welcoming as possible to help make it a more personable experience for the students. Whether it's through a candy bowl, having an oil diffuser on, inspirational quotes on my walls or Center for Wellness & Wellbeing items to give out, I feel that my office allows me to share my identity and personality with students who come in to see me."
---
Dan Nannini and Audra Wells (Counseling) "Dan and Audra participated in AIDS/LifeCycle 2019, a 545-mile ride from San Francisco to Los Angeles co-produced by the LA LGBT Center and San Francisco AIDS Foundation! As we rode alongside 2000+ fellow riders, many "teams" were represented, large and small. We were a strong two-person team from Santa Monica College and we carried that proudly throughout our seven-day journey. Together, we raised $13,542 toward critical HIV/AIDS-related services and it was by far one of the most rewarding and challenging experiences of our lives. The entire effort raised nearly $17 million. To be a part of that was truly an honor and a privilege."
---
Judy Louff, Administrative Assistant (Theatre Arts) Judy Louff spends her summers dancing Japanese folk dances at Buddhist Obon festivals every Saturday and Sunday from June to mid-August. Obons can be found all over the world, but Judy mainly dances at festivals from Oxnard to San Diego, in Phoenix and at her home temple in West LA. "I've seen other SMC folks at Obons and encourage everyone to join in. I've even seen SMC International students attend wearing their yukatas!"
---
Chuck Brinkman IV (SMC adjunct counselor) Chuck was at Cheyenne Frontier Days, in Cheyenne, Wyoming from July 21-25. He writes: "This was a vacation. I have attended Frontier Days for several years. Always a fun time. This is a photo at the carnival entrance. There are 10 days of Rodeo, concerts, and other western events. I wore my SMC t-shirt and watched the Rodeo and enjoyed all the carnival events!"
---
Peggy Kline (Physical Science) Peggy with her new Volt. Her "faculty learning outcome" for fall 2019, she says, is to "find charging stations on campus and utilize them, with the goal of an electric-only commute."
---
Scott C. Silverman, Associate Dean (SMC Emeritus) "I spent most of my summer in jury duty at the Santa Monica Courthouse for LA Superior Court, June 17 thru July 29…and I took so many notes, the jury made me the foreperson. I learned a lot about the judicial system and process, and, if anyone asks, I have a lot of suggestions for any future jurors. [The] photo [is] of me with Judge Chester Horn.
---
SMC course materials buyer Jo Popadynetz participated in the Gay Games in Paris last year—winning a bronze medal with Deborah Fields Perez—Jo did not want to stop dancing and competing, but after the Gay Games and starting heavy duty strength training, Jo went into sepsis and—long story short—had to have surgery to correct a potentially life-threatening situation in her intestines. After a three-month recovery, she began training again with her sights set on the Eurogames in Rome this summer. Jo and her dance teacher/partner Liora Paniz won a bronze medal for a four-minute long showdance at the Eurogames Same-Sex Dance Competition. They danced to k.d. lang's cover of Leonard Cohen's Hallelujah, and had the perfect finale to their European adventure by going to London to see lang perform that very song. Jo writes: "I continue to encounter issues of homophobia. I have found ways to overcome that, when dancing you can't think about anything else. All of your troubles disappear. And when people can't accept what you are, move on. It's their problem not yours, is what I tell disillusioned youth, LGBTQ and otherwise."
---
Film Studies Instructor Sheila Laffey, PhD, attended the first International Forest Therapy Conference at Sonoma State University in July with 150 people from around the world. "Love Thy Nature"—the award winning film narrated by Liam Neeson on which Sheila served as associate producer—was presented by director Sylvie Rokab on opening night. Laffey reports how exciting it was to participate in outdoor immersive experiences among redwood trees, in a butterfly garden and along a pond, experiencing Shinrin-Yoku (literal translation: forest bathing), otherwise known as Nature Therapy.
---
Art History instructor Barbara Mendoza gave a talk entitled "The 'Brother of Pashasu: International Man of Mystery'" on July 13 at the Bowers Museum in Santa Ana. Dr. Mendoza—who is a specialist in ancient Egyptian and eastern Mediterranean art, archeology, and history—talked about faulty analysis might lead to artwork excavated in Egypt being presumed to be culturally of Egyptian origin.
---
Kimberly Rios-Lam, Psy.D.—who works in the Center for Wellness and Wellbeing—partnered with SMC's DREAM Program to present "Mental Wellness for Dreamers: Lunch and Learn Retreat". She presented to students and their families in Spanish, and provided information on mental health issues such as anxiety and depression; she also talked about coping skills and resources available both on-campus and off-campus. Dr. Ríos-Lam is pleased to note that she made this retreat interactive and a safe environment for group discussions throughout the presentation!
* * *